'Hindley Hammer' James Moorcroft credits 'Million Dollar' Crolla with title in sight
James Moorcroft has credited Anthony 'Million Dollar' Crolla for his massive improvements as he looks to inch closer to a title shot on Friday night.
Published 23rd Mar 2023, 15:09 BST

- 2 min read
Updated 23rd Mar 2023, 15:15 BST
Moorcroft, 30, faces Liverpool's Nathan Bennett at the University of Bolton Stadium, in a fight that earns the winner a shot at the English welterweight belt.
The Hindley-born boxer – who is cornered by Crolla – believes the teaching he has received from the former WBO world champion will help to realise his domestic title dreams.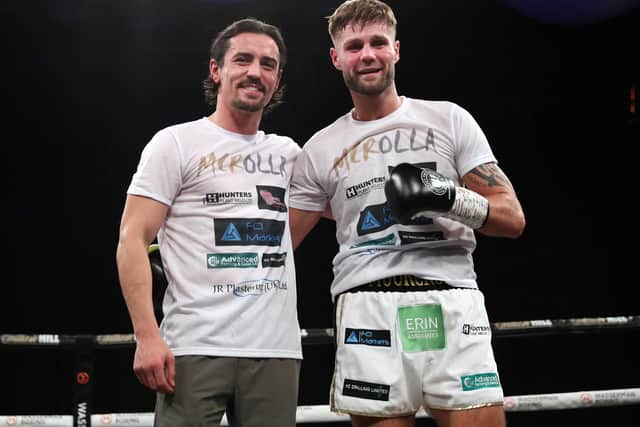 He said: "Ant's a former world champion, so what he doesn't know about boxing isn't worth knowing.
"I think he's forgotten more about the sport than I remember!
"I've been under Ant for two-and-a-half years now, and I can't believe what he's done for me.
"I came to him as a boy and here I am now as a man.
"It's not about training hard but about training right.
"I used to train a lot – maybe too much – but since he's come in we've cut down to training specific things and it's worked well.
"Whatever I do on the night I'll leave to Anthony, because if I can't listen to him I might as well be listening to nobody."
Moorcroft, whose record stands at 18-2, will be fighting in a 10-round bout for just the second time in his career, and faces his toughest opponent yet in Bennett.
The 29-year-old from Liverpool - who enjoyed a decorated amateur career at super lightweight - will move up in weight class to challenge Moorcroft.
But the 'Hindley Hammer' is confident that his gamep-lan accounts for the fresh challenge.
He said: "I'm not approaching the fight any differently. I know what I need to do to beat him.
"He's a brilliant fighter, he's fought for England, and he's only been beaten by the best.
"I've never had any amateur fights, but I do believe I'll have the edge on him.
"I'm bigger, faster and stronger than him in there and I'm looking forward to showing that on Friday.
"We've been given a big opportunity to fight live on Channel 5, which I've done before, but not this high up on the card...right underneath a world title fight.
"I'm buzzing to get in there."
However, despite calling the match-up 'personal' – and being the bookies' favourite at 4/11 – Moorcroft was full of praise for his Friday night dance partner, going as far as to call it a '50/50' match-up.
He added: "It's one I've been waiting for – these kinds of fights, the '50/50' fights.
"I'm looking forward to sharing the ring with him because – with how good he is – he'll bring the best out of me. It's going to be a 'thinking' fight.
"There's a lot of pride going into these fights, because we know each other.
"He's managed by my manager, and I want to be the number one welterweight in the management company, not number two.
"There's a lot going into this which is hidden, whoever wins this is going on to big things – come Friday night, it will be me."