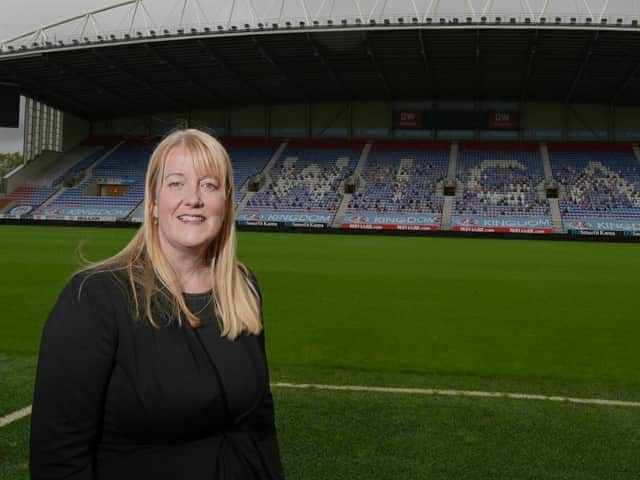 Caroline Molyneux at the DW Stadium
A Bahrain-based consortium are understood to be frontrunners, having taken part in 'preliminary checks' with the EFL.
According to the administrators, there are several other interested parties who are also at varying stages of the process.
And the fans group - who have raised more than £800,000 to ensure a 'Plan B' if no suitable proposal is forthcoming - are remaining positive of a successful resolution.
"We're still working very hard, every day, and we're getting regular updates from the administrators and the EFL," said Supporters Club chair Caroline Molyneux.
"There's not a lot we can say in terms of what's happening, because it's all genuinely still ongoing.
"But it is all positive...and when I say it's all positive, there's nothing negative coming out of there.
"What I can say is we remain really optimistic that something's going to happen in the next week...two...three.
"We can't put a timescale on anything, because we're not in control of that.
"As long as we're hearing vibes that are positive, then there's no reason for us to step in.
"In lots of cases, no news is good news, and we just have to trust the EFL processes are necessary and being done for the good of the football club."
Ms Molyneux also reiterated a Supporters Club buy-out remains very much an 'emergency option', after some fans questioned why they have remained in the background of the process.
"As far as the supporters' solution goes, the funds are still in escrow, with Crowdfunder," she added on Wednesday night's 'Progress With Unity' podcast.
"But the local solution still remains very much an emergency option, and that's exactly what it's only ever been - an emergency option to ensure Wigan Athletic will never be liquidated.
"I know you hear people asking why we just can't buy it out of administration.
"We raised more than £800,000 last year, but of course it would cost more like £5-7million to buy the club, so there's still a long way to go.
"We have plans in theory of where we could get to, but obviously we're hoping someone will come along with enough money to secure a long-term future for the club.
"We won't be taking the supporters' solution any further forward until it's really necessary, but we're ready to go if required."
Get 20% off our sports subscription package and stay up to date with all the latest Wigan Athletic news with a year's subscription to WiganToday for less than 9p a day. Use promo code TRANSFER20