Leam Richardson lifts lid on Wigan Athletic exit and the year since
Leam Richardson admits the year he's spent on the sidelines since being sacked by Wigan Athletic has been 'really good for me'.
Watch more of our videos on Shots! 
and live on Freeview channel 276
Visit Shots! now
And while desperate to get back into the game, the 44-year-old - who is one of the favourites for the current managerial vacancy at Rotherham - has been waiting for an opportunity that is 'right for me...and right for them'.
"Since leaving Wigan, the time has been really good for me," he said. "On a personal level, it's given me an opportunity to support my family.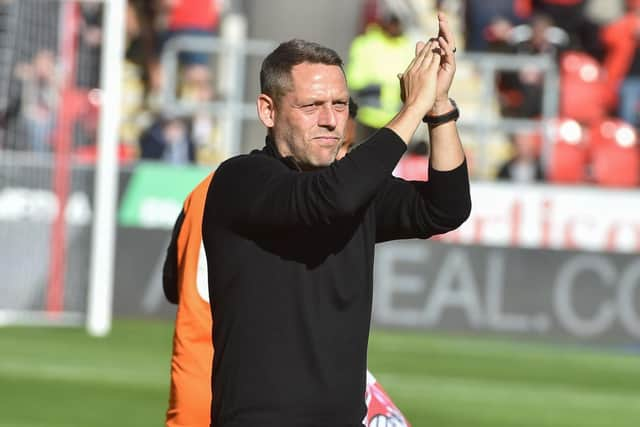 "Professionally, I've been able to reflect on my career, maintain what I believe in and discard some of the less important things.
"It has also allowed me to further my learning by observing other disciplines in sport.
"Importantly, too, I have been able to re-energise before focusing on the future and my next challenge.
"I'm sure, when that comes around, I'll know it's right for me.
"Just as importantly, I hope they will know I'm right for them."
Richardson has also been speaking about his departure from the DW - just over 12 months ago - which he suggested was a 'rash' decision by the then-board of directors and owners.
But with the promised recruitment drive last summer failing to materialise, and the wages not arriving on time for the first of several occasions, he felt the signs were perhaps there that all was not well.
"Weeks went by, though, and I felt something wasn't quite right," he told 'The Coaches' Voice'.
"The chief executive (Mal Brannigan) and I worked tirelessly within various parameters.
"We needed to be cute on timings and the type of player we added, so we could stabilise in the Championship along with the new ownership's vision.
"The season was starting in three weeks, and we had made several decisions.
"Loans went back and we released some lads whose contracts had expired, all based on the thinking we would be recruiting a younger, more expansive breed of player.
"Instead, I was informed, before the first game of the season back in the Championship, that no one at the football club would be getting paid.
"As you can imagine, thoughts of previous seasons came back to run through the football club.
"We started the season well, though. We only lost one of our first eight league games, and I think we were only a few points outside the top three.
"But we had a small squad, and over October we had five or six starters out.
"With the 2022 World Cup imminent, we ended up playing 20 league games by November 8 with a really thin, bare squad.
"An experienced international manager once told me: 'Often, I think a season is defined by your summer'.
"Our points per game at the time was still enough to keep us pushing forward in the division.
"I was very surprised, then, when my tenure came to an end.
"It was the club's prerogative, of course, but I still feel they could have had the belief and trust in what we were doing – and how far the club had progressed in such a short space of time.
"If you look at the really good organisations in football – in any industry, really – I don't think they make rash, irrational decisions
"Those that have continuity and consistency, that allow themselves the time to breathe and evolve, and where expectations meet reality, are the most successful."