PART ONE: Wigan Athletic: The 12th Man - 'I'm not going to defend the owners here. It is their mess not mine...but withdrawing your support will only hurt OUR football club'
Our panel of Latics experts assess the current situation, with the wages having been paid, but more communication needed to clarify the long-term plan...
Published 17th May 2023, 12:49 BST

- 10 min read
Updated 17th May 2023, 13:06 BST
A few folk have noticed I've been quiet. It's not that I'm hiding, or that I've been gagged from speaking. Or that there's stuff I know that I can't tell you. If I did tell you, what would be the point if you didn't believe me, or our chairman anyway. I've found that, throughout administration and now, people have formed their opinions about certain people or events, and won't change them even when presented with the facts otherwise. The truth is I simply don't know what to say about our current predicament. It's all desperately sad. Coupled with a poisonous atmosphere on social media and forums, and yeah I am struggling to see where we go from here. Anger is pointless. The anger has always been there from certain quarters, anger last year when we weren't winning the league convincingly enough, anger this year when we got relegated. Anger last year when we weren't spending enough to strengthen the squad, anger this year because we've spent so much we can't pay the wages. And what can we, the ordinary fans, do about it? Precious little. It seems, as per usual, everyone demands action but nobody wants to do the work. Those who are actually willing to attempt to do the work are getting attacked and ridiculed on a number of fronts, to the extent they must be wondering why they should bother? Again, another quick reminder that if you're one of those fans on social media who frequently says 'any other set our fans would be protesting or on the pitch at the last home game' then what exactly did YOU do about it? It seems it's always a case of 'do as I say, not as I do'. Put it simply, you are as bad as those fans you are accusing of inertia, if you are doing nothing yourself other than shouting into the void.
Now, let us move to the thorny issue of season tickets for next year. I completely understand many people wish to withhold their season ticket money in the face of uncertainty, but please can we dismiss this fallacy you are with-holding money from the owners. The fact of the matter is the owners (not directors) haven't taken a single penny out of the club since they bought it. They've just not been very good at putting the money in. And without going over old ground, they've not been very good at checking how much of that money has been going out either, on wages, agents fees and long-term commercial deals on things we arguably didn't need, while not addressing things we did need (a stadium deal, kit sponsorship, and - you might find this a bit of a shock, coming from me – but working towards a better relationship with our rugby friends rather than daft ideas about turning the seats blue). With-holding season ticket money will only mean less money to pay ordinary staff, less money to pay host families for Academy players, less money for Shaun Maloney – if he's still here – and he's already facing a fairly brutal summer. I'm not going to defend the owners here. It is their mess not mine, and they have lost a ridiculous amount of trust and faith over the past few months. But withdrawing your support will not hurt them, it will only hurt OUR football club. And as it is our football club, I am siding firmly with those folk who just want a club to watch, for their kids and grandkids to watch. And if we have to tumble down the leagues in the forthcoming seasons, then so be it.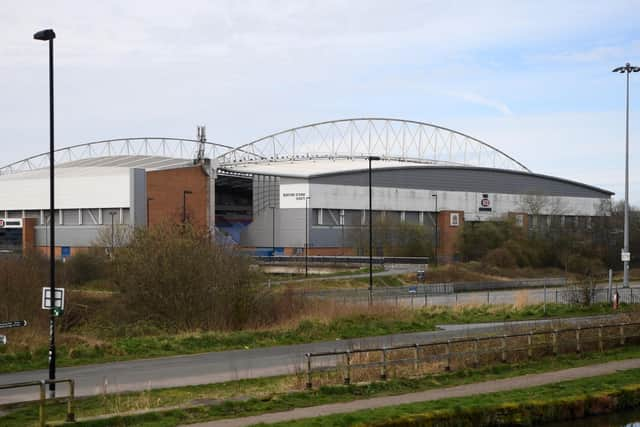 Then there is also the nuclear option: 'GET THEM OUT OF OUR CLUB' they cry! I'm only speculating here, but I reckon the thought of a 'destroy and exit' must have crossed their mind a few times during this current crisis, when anyone on social media frequently tells them repeatedly to please leave and expire. But where would that leave us? Wages getting paid late to not getting paid at all? It leaves us in the hands of Begbies Traynor, or maybe some other administrators, who I'm sure would be a far better alternative. Just mention the words 'Quantuma' to a Derby fan if you believe that. The problem we have is this isn't a situation like the one at West Brom, where the owners are using the football club's parachute payments to lend themselves money. Or indeed the Glazers at Manchester United, who bought the club with bank loans and used the club's revenue to pay it back. Or even the Oystons at Blackpool, who also made a considerable amount from the club, when there was another shareholder willing to take over. Older fans will remember Brighton fans' perpetually protesting for many years against Bill Archer, who sold off the Goldstone Ground for property, and they ended up exiled at Gillingham, and then a dog track for many years before their shiny new stadium got built. In a nutshell, I know exactly who some Latics fans are angry with. But if the owners did walk, well, what next? I'll be honest, I'd be happy if they sold up given the current turmoil. But unfortunately, some fans talk as if buying a football club is like buying a chip butty. Even outside of admin, the likes of Birmingham and Huddersfield have literally spent since last year trying to complete a sale and, dare I say it, they are in considerably better financial health than we are. Nobody buys or sells a football club, indeed any multi-million pound business, at the drop of a hat. Except Stanley Choi, and look how that ended up. There's due diligence, funding arrangements, negotiation, data room reviews, and then bid structure to be agreed, then the dreaded owners and directors test. The bottom line is that, whether you believe them or not, we're stuck with the owners, and it is evident we (the club and the owners) have a short to medium-term cash-flow problem.
Your only choice as a Wigan Athletic fan is to either help alleviate that, or you make it worse by walking away from the club (and if choosing the latter, any chance you can do it quietly?). We are told (add pinch of salt) the cash flow is sorted till the start of next season, but there is still going to be a massive gap between income and wage bill to find for the subsequent 12 months, due to the generous contracts handed out by those no longer with us. It's a real mess, but getting continually angry about it won't solve anything. Somebody, somewhere, is going to have to find that money, and the most likely source as it stands is still Talal and Mr Al Jasmi. It also makes a sale all the more difficult. Anybody looking to buy tomorrow would immediately face losing another £5-10m in the first year on top of what they have to pay to buy us, and I very much doubt anyone would do that. I've been reading misty eyed into the AZ Alkmaar story, and their owner. I mean, we're not that much different from Huddersfield are we? Apart from being a division lower, lower crowds, less commercial revenue, and probably a bigger wage bill. It would be very simplistic and wishful to think that, just because they've nearly bought one club, they will decide to instantly write a big cheque on a whim to buy another one. Especially one like ours, which appears to be running a large monthly deficit. Any potential buyer will simply let someone else fix that particular problem and come back in 12 months. There's no sentiment in football, and we were spoiled for too long by Dave Whelan underwriting the losses to realise this. Essentially, if your wish is to see the Bahrain group sell the club, then you are asking them to probably give it away for nothing, given any incoming buyer wouldn't want to foot the bill for a £15m wage bill over the next 12-18 months. If you just want them to 'get out of our club', then that really would see the club fall apart in front of our eyes - the Academy gone, ground sold off to you-know-who, players sold for a pittance, and no doubt Maloney gone too. And who could blame him? It is a sad quirk of modern football, that a club in our position can only ever soft-soap the owners into 'doing the right thing', as continually abusing them or trying to force them to walk will only leave us with far bigger problems.
So what do I want? Well, I'm not so naïve to suggest any of these words will stop the divisive, abusive nature of sections of our fanbase right now. There is a real need to work together and find a strong, coherent voice, but one group who have tried to do that are getting abuse and accusations already. I see the online noise, but I'm big enough to ignore it now. It's just fans letting off steam to make themselves feel better. It serves no purpose beyond that, other than a destructive one, but crack on if you wish. As to what I want from the owners, well, the financial commitment needs to be there, but we've been told that before. What needs to be different this time is some strong presence in the UK, a chief executive and non-exec committee monitoring the budgets on a monthly, weekly, daily basis, to ensure we are on track and, where there is a shortfall, an alert and assurance that money will be sent over BEFORE payday. Most of all, communication from a UK board member that this will be in place and a bit of honesty and transparency. Ultimately, football clubs are private companies. They don't have to be transparent, indeed it can be dangerous to be transparent - the more financial information is revealed publicly, the more agents can figure out how much they can fleece us for, rival clubs can lowball us on transfers, and so on. Even so, football clubs are not normal businesses, and anything more than we get currently would be a start. Things could get worse before they get better, and we are a long way off any sort of happy ending with this one. But a few simple steps...communicate where we are, get some proper trusted UK experience to run things, and have that Zoom meeting will do for one...and let's see where we get to…..
Well the players have been finally paid and a few quid put aside to see us through summer supposedly...yet again...so all is rosy in the world of the Tics...yet again - not! Now you can all gimme pelters all you want, I can handle it, but hear me out here. We could EASILY have been put into administration, and I honestly don't know how we aren't again, but IF it is Talal trying to find the cash - of this I've no idea - why haven't they just thrown in the towel? Well, I do believe HE wants to stay with the club, and is trying his best to get investors and cash together. Again, this is only my theory, but one thing I think we can all agree on is it's Al Jasmi that's got cold feet and has turned the tap off - or at least down to a dribble. Whether it's due to his son sadly passing, or how much it actually costs to run the club, we'll probably never know, and the info coming out of Bahrain has been quite frankly nothing short of pathetic. Nobody is any the wiser when it's radio silence, and we all need answers. So am I letting the Bahrainis off the hook? No, not at all. I'm just struggling to see, 'IF' they - Talal in particular - weren't committed to staying, why do they keep throwing away cash that they aren't going to get back? The trust between the hierarchy and the players, staff and fans of our club has gone, absolutely. This is why the explanations should be done in the well-documented Zoom call. And they should lay all their cards on the table. I doubt anyone would even blink if and when we slash the wages. Next season couldn't possibly be any worse than this year's absolute farce. We all just want a team to be able to watch, but commitments to paying ALL members of the club MUST be a priority. Yes, we've heard it all before, I know. But if they can't deliver that, that's where the EFL should come in and make them ringfence the wages minimum, and they need to sell up or walk away, simple as that. We cannot do another season like this one. The various supporters groups really need to be all over the owner, chairman and directors, as I've no doubt they are. But more transparency is needed to cut out the absolute vile, personal abuse that's been taking place on Twitter, and all aimed at the wrong people! We are all supporters of Wigan Athletic, and want only the best for our club, so keeping us ALL informed during these difficult times is paramount. The line has been well and truly crossed recently, mainly out of frustration I guess, but we're better than that. Save your anger for them that deserve it. It's going to be a rough ride this summer, I've no doubt, but I just want a team to come out the tunnel in August. Who's starting? I couldn't really care less to be honest, because we as fans support the team, whoever they are, not the owners, not at this time anyway. Right I'm off for a nice cold Strongbow and gonna try and forget this season ever happened...some chance!
Let's start on a positive, and the 10th anniversary FA Cup dinner on Saturday night. And congratulations to all who organised the event. Not only the fans, but you could see the players really enjoyed being in each other's company again,. To a man they posed for every photo, signed every autograph, and to hear Roberto Martinez and Graeme Jones speak in such glowing terms of our club again was emotional. Now my hangover was never going to let me make the Joseph's Goal game on Sunday(probably not if it had been Monday either) but it sounds like it went really well. So congratulations to the organisers who have done a brilliant job over the years on this event. Elsewhere, finally funds landed to pay the players/staff. Last time it was for two paydays, so it's hold-our-breath time, wait and see. Now I don't doubt Talal's enthusiasm for the club, but every payday missed hurts the players, staff, and every single supporter who has spent a single penny since they took over. A calm summer off the pitch would be nice but, given the restructuring that's on the way, none of us fans know what to expect team wise next season. Let's just hope the wage structure and contracts handed out are within our means for next season and beyond. Stay safe.