PART ONE: Wigan Athletic: The 12th Man - 'In the worst type of 'Groundhog Day' experience imaginable...it feels like, just as when we were in administration, the manager is having to run the club on his own...'
Our panel of Wigan Athletic experts struggle to come to terms with another week where their club has been battered from pillar to post...and assess what the future holds...
Published 25th May 2023, 15:52 BST

- 9 min read
'Plus ça change, plus c'est la même chose'. In the worst type of 'Groundhog Day' experience imaginable we are, yet again facing a wall of silence from the club. The board has disappeared completely - unless it's to brief snippets of things to people on LinkedIn - and the promise of jam tomorrow is exactly that. Never today, never yesterday, always tomorrow. With another four-point deduction inevitable, following the latest failure of funding, we'll start next season – if indeed we even make it that far – on minus eight points. It feels like, just as when we were in administration, that the manager is having to run the club on his own. Talal, lovely fella that he is notwithstanding, is in hiding. Gottman and Markham seem largely absent on a day-to-day basis. And we seemingly have no CEO following the departure of Mal Brannigan, which in no way was a dismissal as a result of massive overspend and the questionable awarding of contracts. The bottom line, though, is that we have very few options. As part of the fans group that has been talking almost daily about what is happening, because we don't have a financial stake in the club nor a board presence, all that can be done is to press for information. Anybody who thinks that is easy at the moment needs to wise up. We have no games, so there's nothing to boycott, other than refusing to buy season tickets. This isn't being defeatist, it's simply being practical. Were Al Jasmi to decide to sell up tomorrow, that will still take months to happen, and we will still need money to run the club in the meantime. If he simply decides he wants out immediately, we'd be in administration by the end of the week. At that point, we'd have every clown who rocked up last time chancing their arm again. Everything will go - the Academy, the DW Stadium, everything. There's no protection on anything at that stage, and we'll be cash-strapped tenants of the rugby before you can say 'how did we get to this'. Just demanding Al Jasmi's removal is neither practical nor wise. So we're left with just demanding answers, and whatever protests can be organised quickly, and which might have an impact. If you're one of those on social media taking pot shots at those involved in trying to get those answers, let me ask you this: What have you done? What will you do? The answers, I'm fairly sure, are 'nothing' and 'nothing'. Working on behalf of Latics fans has always been a thankless task, for the most part, and I'm amazed anybody still bothers. There's only so many times you can be called 'lapdogs', 'useless', 'happy clappers', 'gullible' or anything else, all preceded and succeeded by obscenities. And all because we put the effort in to try and help.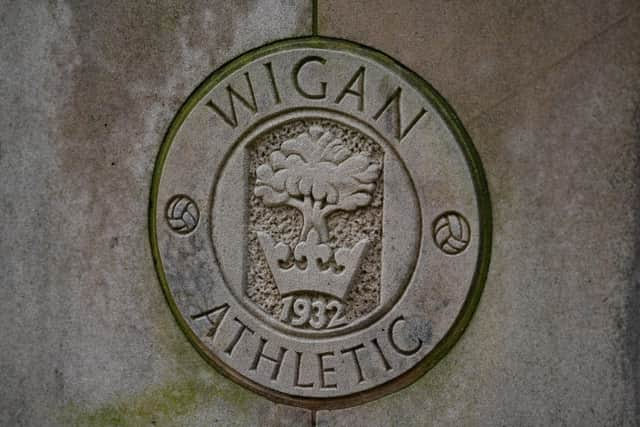 Living from hand to mouth episode 508... Of course, the Bahraini lads missed the deadline to pay the 125 per cent bond this week. Of course none of them - the directors included - had the decency to address us the fans with any statements or info. You remember us, the only stable thing about this sorry show of a club we now have. Of course the staff, players, management and anyone else involved with our club have no idea if they're going to get paid this month. It's an absolute joke what the owner is doing to Wigan Athletic. It may be a throwaway toy to him, but it's the life and soul to thousands of us, and the message is clear...GO, YOU'RE NOT WANTED. Sell up, give it, put it in administration...just do something and go away. We've had enough of you. Mr Al Jasmi reckons it's cost more than they thought to run the business than they anticipated. Did they not look at the books? Did they not appoint a football finance expert? LOL! Did they not sign every cheque put in front of them? Excuse after excuse, lie after lie, and broken promises after broken promises. They all mean nothing. There is no trust whatsoever between us and you any more. Someone said at least Stanley Choi just pulled the plug and walked away. These men are worse. They're watching us die slowly and trying to put kids' plasters on gaping wounds - and it can't go on. We as fans have all had enough. In blind faith, I - along with many others - bought our season tickets in the hope we'd ride out the storm. We paid our 'Believe' debit every month, hoping it'd help. We must've been stupid. I've little to no hope on seeing the season-ticket money again, and the 'Believe' fund debit has been cancelled. The only thing left is to cancel the Bahraini owner, his sidekick and all of the directors. None of you deserve to put our badge on ANYTHING. You've let us down far too many times. Whatever the future holds for us, I'll be there - same as you lot reading this - in whatever guise we are. Right now, we just need the life support switched off, and yet another reincarnation with someone who cares. I'll not hold my breath. Right I'm off drowning my sorrows...UP THE TICS!
Another deadline gone, nothing from chairman or owner, another minus four points for next season. What a shambles, what a mess, what a sad state of affairs. Clearly points deductions from the EFL don't work, and I suspect the ten grand fine will come out of our share of TV money. These fans groups - the chosen few, not one democratically voted for by the fanbase - let Talal off the hook by accepting his lies, telling us everything was going to be fine. As a fanbase, we have sleepwalked into this situation, no protest swallowed, every excuse made by the owner/chairman. And I don't know where we go from here. If nothing changes quickly, I can see the EFL doing what they did to Bury, and booting us out the league. The near future is bleak to say the least. Stay safe.
Is there any light at the end of this very dark tunnel for Wigan Athletic? The answer to that question will only be known once the current custodians of our club have left. Until that time, we are still going to be travelling - or should I say hurtling – out of control, through this very dark tunnel with no end in sight. In the last 12th man, I wrote about what it means to be a Latics supporter and, after discussing ideas of community, memories, and feeling, I concluded with this: 'Phoenix - you have two options now. Drastically improve, or leave'. That was written on May 17, and since then we've received a further three-point deduction for our Championship campaign (for late payment of wages in March 2023), a four-point deduction for our potential League One campaign (for late payment of wages in May 2023), and a further suspended four-point deduction for the failure of the owner, Mr Abdulrahman Al Jasmi, to deposit 125 per cent of the forecast monthly wage bill into a designated Club Account by Wednesday, May 24 (an Agreed Decision - for the second time after ignoring their first request earlier in 2023). Now, there were more requirements and penalties than just those outlined above, all of which you can locate on the EFL website, but the penalties were the consequential reaction from the EFL due to gross mismanagement and plain incompetence of those who sit at the top of the club. On Tuesday, May 23, we finally publicly received our Retained List after it was submitted to the EFL for the May 20 deadline - I hope we indeed met that deadline. Great, a chance to see how we have reduced the age profile and said goodb….wait, why are there only six players out of contract and leaving the club? Oh….James McClean IS under contract for next season, but wait, he says on his Instagram story that he agreed to extend last preseason…what is going on?! I have also read players may not have had relegation clauses in their contracts and, after receiving promotion bonuses and higher wages, how does that sound to you now we are going down a league after failing to pay wages five times in the higher league with more revenue? On Wednesday, May 24, we all said waiting and refreshing our Twitter feeds, the club website, and whatever else your platform for receiving updates is, for news that the 125 per cent EFL Bond deposit was paid. Then we waited. Then we waited some more. In the middle of this, I tweeted that I felt sorry for every staff member in every department of the club who, like us, were all sitting and waiting to see if their top-line management were going to ensure the future of our club by - this time - meeting the Agreed Decision. Those employed by the club rely on the club for their wages, their livelihood, and their future employment. It is a real shame to see them treated this way. Midnight came, and still no word from the club, other than a clip of Hugo Rodallega scoring against Portsmouth in 2009, birthday messages for Jordi Gomez and Kevin Langley, and another club of Gomez scoring against Everton. I understand birthday messages and 'on this day' clips are the norm for the club social media pages, but read the room…
Oh, and for the DM chats on LinkedIn between a supporter and one particular board member…! While I love to see fans are making voices known by any means, how unprofessional can you possibly be by answering one fan and not the entire fanbase? 'I'm happy to discuss unofficially if people want to ask me,' was one reply. What about when I was stood next to you, in a one-on-one conversation at the DW, and you looked me in the eyes and said the plans presented were looking good for the club, and you couldn't wait to increase the fan engagement and make this club a great place again? 'Plenty of comms lined up once we get things sorted'… How about 'Plenty of comms now, so we aren't all left in the dark and wondering if we'll have a club by the time the next 12th man comes out?' Because as we have unfortunately seen, a lot can happen in between these. With still no word from the club (officially), and more penalties from the EFL are no doubt imminent. It's been reported the club have asked for more time to pay the 125 per cent EFL Bond. There is allegedly a will to pay, but the financial situation is said to be complicated. While I am sure we would all welcome a further extension from the EFL, I struggle to see a world in which they don't refuse this request, and I can see the suspended four-point deduction being implemented, knocking us down to minus eight, before a football has been kicked in pre-season, even before players are back from their post-season holiday. Another payday is right around the corner, and I have heard it may be a double-payday too with other bills to pay. If we cannot pay these on time again, I suspect we are in for another round of points deductions - either implemented or suspended. Minus four points can drop you three or four places in League One, based off last season's tally, but we are beyond that now. Minus eight points would drop us even further down, and if we get to a minus 12 deduction, that would have dropped us from 14th to be relegated to League Two.
If the EFL deems us fit enough to start the season, and we continue to rack up these points deductions, then unless we are competing consistently as a top-half performing side, then May 2024 we could be preparing for life in another league, and not the one we want to be in. When Dave Whelan called time on owning this club, I was hopeful our next owners - IEC and Next Leader Fund - would provide the boost we needed to compete to get back in the Premier League one day. Clearly, it went in the complete opposite direction. When administration struck, it will be forever a moment I remember exactly where I was when I heard the news. It was a huge hit to our community, where many were wondering whether there was any light at the end of a very dark tunnel. To save us from the jaws of administration, it was Phoenix21 who swooped in and saved us and claimed that "Breaking News: Wigan Athletic Football Club will never go into administration again". Well, you're doing a pretty terrible job at keeping us away from that now. Even more worryingly, that tweet from the chairman, Talal Al Hammad, was written on July 1, 2021. As we near two years on from that date, who knows if the club will even survive to that point? To answer that question now...well, it certainly looks bleak. However, as fans we need to unite together and make our voices known so the board and owners cannot do anything but hear our calls for change. The joint statement from supporters that was put out, setting out demands for our owners to adhere to, is not the start to our calls for change, but is more fuel to the fire, and we all need to keep this pressure on for our club, and our community. We cannot let these current custodians of Wigan Athletic take away what we have all built since the founding day of our club in 1932, a date that sits proud on our badge. There will be better days, but we cannot give up on the fight.