PART ONE: Wigan Athletic: The 12th Man - 'It never ceases to amaze me how winning three games on the bounce can be forgotten in less than three days...'
Our panel of Latics experts assess the roadblock of defeat against Charlton after three wins on the bounce...and assess whether the glass is half full or half empty...
Watch more of our videos on Shots! 
and live on Freeview channel 276
Visit Shots! now
It never ceases to amaze me how winning three games on the bounce can be forgotten in less than three days. After the admittedly disappointing capitulation to Charlton - where 2-3 flattered us enormously - the internet has been alive with fans calling for the heads of Shaun Maloney and half a dozen players. Seriously, our fanbase is insane at the best of times, but we lose a game and it's like a big angry circus, full of clowns who can barely string a sentence together. That doesn't mean I'm defending the performance against Charlton, because there were players out there who really needed to prove a point and were found wanting. But bursting into tears on Twitter and Facebook is going a bit far. What I will say, though, is this. Once you get past the starting XI we've had in recent weeks, it definitely all starts to look a bit thin. Without Stephen Humphreys and Martial Godo especially, we offered nothing up front in the first half. The problem was we didn't keep defenders busy enough and, by not doing so, the opposition midfield didn't need to always be looking backwards instead of forwards. It meant Charlton just dominated us for most of the game. To add another 'however', however, it's impossible to play the same starting XI every Tuesday and Saturday for five weeks, which is pretty much what Maloney is having to deal with thanks to international breaks. That means people will come in and out, but it also means we have to expect formations and tactics to change depending on who is on the field at any given time. At the very least you'd have to hope those getting a chance from the fringes of the starting XI would put up a better show than they did against Charlton. You know what, though? We'll have days and nights like these, this season. It's not the end of the world, and I still think we'll end up winning more than we lose when the dust has settled. So take the make-up and big shoes off, and just roll with the punches before the wheels fall off your car.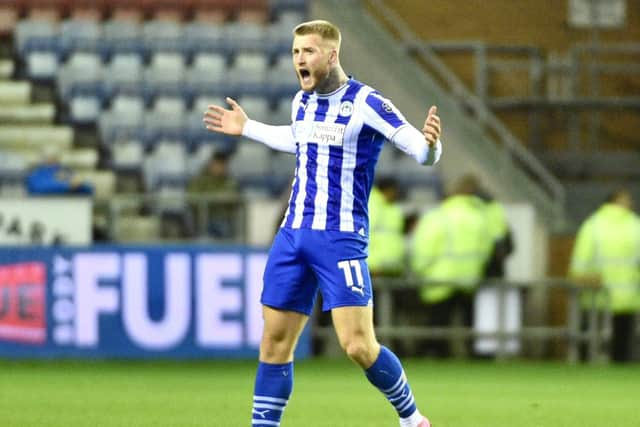 It took all of 43 minutes for Charlton to score three goals and completely take the wind out of our sails on Tuesday night at the DW. Our three consecutive 2-0 victories were all but a distant memory by half-time. A much more positive performance in the second half, accompanied by two late consolation goals, breathed life into what had been a mostly non-competitive match. The full-time whistle failed to hide the harsh truth, however. We had suffered what felt like a very self-inflicted loss and, in doing so, undid a whole lot of progress from the past week-and-a-half. Shaun Maloney stood front and centre as the main culprit to blame due to his team selection and the effect it had on our dreadful first-half showing. To his credit, Maloney accepted full responsibility in his post-match interview for his decision to drop an in-form Stephen Humphrys and Martial Godo from the starting XI. My take on the matter is we must forgive Maloney and move onwards. Our club is still in the very early stages of a major rebuild. There are few things at the DW that can be described as anything other than 'a work in progress'. The primary goal for this season has not changed, regardless of whether we've won three matches on the bounce or have lost four in a row. The number one objective in July remains the number one objective in November - and that is survival. Maloney is a young manager who is still learning on the job, and we must give him the same grace we give our young playing squad when they make mistakes. We have to stand behind the gaffer and our players at their highest and lowest moments. It's the only way we'll achieve our current objective and be able to move onto bigger ones. There's no denying Tuesday's loss will make the upcoming return trip to Exeter a bit less appealing for many fans. Why get excited for the first round of the FA Cup and another nearly 500-mile round trip when we can barely stay above the relegation zone in the league? Maloney will have his work cut out for him leading up to the match as he, once again, tries to strike a balance between rotating the squad and putting the strongest, most cohesive team possible on the pitch. Regardless of what happens in Exeter, we will have to immediately shift our attention back to the league as in-form Peterborough visit the DW for our return to league action next Tuesday. We cannot allow ourselves to fall into the same hole that saw us lose six of seven league matches between late August and early October. Kudos again to the traveling fan contingent who are making the trip back to Devon this weekend. Let's pick the team up and start another winning run.
The phrase is 'from the sublime to the ridiculous'. On Saturday, we had a very sound technical performance that, on the back of two wins, gave us hope for a solid end-of-season position. Don't let people tell you it was only against 10 men, and we should have had a 'ponful'. Teams who go down to 10 don't leave the defence light, they shore it up even more, and the way through is difficult. Many will remember that fateful night years ago against Bristol Rovers, when they were down to just seven, and how hard it was to break them down. A defensive mindset is hard to counter. It was, of course, a shame it was Chey Dunkley who had to leave, but the fact he was put in that position so early on as we carved our way through speaks volumes. Three wins on the trot, and finally we seemed to have a winning team. Which makes the decision to change that team for Tuesday all the harder to understand or swallow. In particular, the dropping of Martial Godo was dumbfounding. He has been a revelation and, as he is on loan from Fulham, why not play him every game you can? Particularly with an FA Cup weekend coming up, when some tweaking would be acceptable. It is fair to say, and I think Shaun hinted at this in his post-match comments, the replacements who presumably have been begging for a starting slot let themselves down badly. As well as letting Shaun and the fans down too. There is no easy way of saying it - this was a horrorshow reminiscent of the Kolo Toure era, with players seeming disconnected from the action, with their 'get up and go' more 'got up and went'. Second-half substitutions to reinstate our more recent successful team made a quick impact. I don't normally select players for particular criticism, but Thelo Aasgaard had a shocker of a first half in my opinion. But surrounded by better players, he improved vastly in the second half, doing what he does best, running at defences and shooting. But too little, too late. We needed a goal in the first 15 minutes of the half, it didn't come, and we went home ultimately entertained, but rueing what might have been. I dearly hope Shaun has learned his lesson. Don't change a winning team unless you have to.
After two very good wins over Oxford and Shrewsbury, Latics were so far off the pace in the first half of the 3-2 defeat to Charlton and found themselves 3-0 down at half-time. Perhaps the margin of the deficit was somewhat harsh, but Latics certainly deserved to be trailing. There was absolutely no drive going forwards in the first half, and that was entirely due to the fact Shaun Maloney chose to leave Stephen Humphrys and Martial Godo on the bench. As a spectator, that seemed like a pretty bizarre decision. The duo have been superb of late - Godo due to his trickery and dribbling ability, and Humphrys' drives forwards with such direct intent, with the ability to score great goals with either foot. Fair play to the gaffer for admitting his mistake, though. Having been electric prior to his suspension, Charlie Wyke has lost his touch if this game is anything to go by. Although I'd argue having both Humphrys and Wyke in the same line-up with Maloney's system wasn't ever going to work long-term. Humphs is a striker who's been converted into a winger. He still has the direct eye for goal of a striker, but he also lacks the crossing ability of a traditional wideman. Wyke is decent with his feet, but he is certainly more of a target man and, under Maloney's patient, possession based style of football, perhaps he isn't as suited to be the side's main goalscorer as Humphrys is, despite his great start to the campaign. It isn't all bad, though. Callum McManaman and namesake Lang have looked ace off the bench lately. But as made evident in the Charlton game, that shouldn't warrant Lang a place in the starting XI over either Humphrys or Godo. We also missed the injured Steven Sessegnon, as sadly Tom Pearce looks to be a mere shadow of his former self. On the whole, Jordan Jones has been solid in an unfamiliar wing-back role, but that should be nothing more than a stop-gap realistically. I don't want to over criticise Maloney here, though. Circumstances have dealt him such a tough hand and, on the whole, he is dealing with it all well. All eyes on the FA Cup tie with Exeter now, and we know how much that competition means to Maloney. Let's hope Latics can play like we all know they can, and not like the performance in the opening 45 minutes against Charlton.
Last week, when I wrote my last 12th man, we had just beaten Oxford United 2-0 at home, and we were about to play Shrewsbury. We were 21st, and they were 15th, and I said it would "not be easy but we have the confidence now to push forward and go in search of a third consecutive win". Well, we did that, and it was made much easier by the Red Card for Chey Dunkley! I also talked about how we should not worry about our League position, and how it would sort itself out in the end. Whilst the recent loss to Charlton is disappointing, especially after that first-half performance - which I will get on to in a moment - it isn't a result that particularly worries me at this moment in time. We are up in 19th, and we can put another good run together with the fixtures we have coming up if the team focuses and plays like we know they can. Michael Appleton has the Addicks playing some very good football, and their two recent losses prior to our match were the only two they have lost under his Management, so let's not get beat down with a 3-2 loss to them. At the start of the season, Latics were sitting at rock bottom with a -8 point deduction to clear before we could even think about pushing up the table. Now, it's the start of November, we have played just 15 of our 46-game season, and we are now only out of the relegation zone, but we have the most wins out of any side outside of the top 7 places. 14 points isn't exactly setting the league alight, but zooming out and looking at the big picture, what this squad has achieved already is very impressive. Sure, there have been hiccups along the way and some really poor performances, but we have been going up against some very good sides and our fixture congestion has been pretty intense of late. What I will say is that the first half against Charlton reminded me very much of the Bristol Rovers game, and the Fleetwood Town EFL Trophy first half. It simply was not good enough, but Shaun Maloney has admitted a mistake in the team selection and he has sent a very clear message to the squad with his post-match interview. Our full focus needs to now be on the FA Cup trip to Exeter City, and that is a game we have a very good chance of winning. Our League game against them did seem like a snatch and run to take the full three points, but they have picked up just 1 point in their last 5, and they recently lost Demetri Mitchell to injury - who I thought was one of their best players against us last time out. A victory in the cup will no doubt boost the morale of the whole club, especially for the younger players who will be desperate to grab their first senior FA Cup victory, and that should ignite another spark when coming back to League One football. I for one am excited for it, and no matter what we should back this team all the way to the very end of the season. Take the rough with the smooth, we will be ok in the end. Up the Tics.