PART THREE: Wigan Athletic: The 12th Man - 'This club is worth fighting for. We showed that in 2020, and we'll show it again in 2023...'
Our panel of Latics experts assess the current situation, with the wages having been paid, but more communication needed to clarify the long-term plan...
Published 18th May 2023, 09:55 BST

- 12 min read
Updated 18th May 2023, 09:56 BST
As Winston Churchill once famously said: 'If you're going through hell, keep going'. I'm inclined to think that, given our current situation, this has some resonance. That certainly seems to be the attitude of our club legend and manager, Mr Shaun Maloney. Personally, I've been inspired by the dignity and leadership he's demonstrated when repeatedly asked to publicly comment on what is going on with our beloved club, when it's clear he's been pretty much as in the dark as the rest of us. If there's a light in the darkness, he's the guy holding a massive torch! I've read lots of comments about the irony of the celebrations marking the 10th anniversary of our historic FA Cup win, and what a shame it came at a time when our club feels like it's in crisis. However, having attended the excellent anniversary dinner, and having had the opportunity to speak with key figures in the club's past and present, I walked away with a completely different perspective. All whom I had the opportunity to speak to, while acknowledging the horrendous position we've been in (and are currently in), conveyed a much needed optimism that things will work out okay. The general theme I got from ex-players and ex-managers was we were so lucky to have Mr Whelan as our owner and chairman, and people like him are a rarity in football. There was also unanimous agreement that Maloney is the right man to lead our club forward, and help start to bring the good times back. Roberto Martinez made a point of saying how he's spoken to the current chairman, and expressed that Wigan Athletic is a special club, different from other clubs with our culture, family and fanbase. It gave me some level of comfort to know people like Roberto who care deeply about this club are doing what they can behind the scenes to help. At the time of writing, everyone at the club has now been paid and we're told funds are in place to pay the remaining wage bill up to the start of next season. I, like many others, have an understandable level of scepticism as to whether this will indeed be the case. There are also grave concerns about what the words 'until we finalise a sustainable budget for next season' actually mean. What's clear, I think, is that assuming the remaining wage obligations are met, any budget for next season is likely to be significantly less than what we've had over the past two seasons. With hindsight, I think as fans we probably would have accepted that from day one of the Phoenix 2021 takeover, given we'd just emerged from the dark days of administration. What is concerning is that the decision making in terms of player contracts and management and the obscene sums of money spaffed away over the last few years smells strongly of incompetence. That doesn't exactly inspire confidence for the season ahead. On a brighter note, though, if the owners truly listen to our fanbase and appoint a chief executive we know and trust - yes, Mr Jackson, I mean you - we may be able to start the long journey of bringing some stability to our club, and may in the fullness of time start to rebuild an element of trust in our owners.
The owners must communicate with us openly and honestly now. We're all grown-ups, we understand things are not all sunshine and rainbows, and I'm sure we'll respect some hard truths as long as we feel they're being straight with us. This is becoming more critical to the immediate future of our club given I, like many others, have held back on renewing my season tickets until Phoenix 2021 can give some reassurance we'll still have a club next season. Blanket statements like 'Mr Al Jasmi and I are fully committed to the club' are not enough when we've heard similar sentiments before, and then a few weeks later, wages haven't been paid again. There have clearly been lots of issues behind the scenes, and I think we've got a right to know more detail about what went on and what will be done differently in the future. I understand the calls for Phoenix 2021 to sell up and ship out. However, I genuinely don't believe there are a host of rich benefactors waiting in the wings to buy our club...at least not with genuine good intentions. In summary, I think we're stuck with what we've got. We've just got to hope and pray Mr Al Jasmi and Talal Al Hammad have finally learned some hard lessons, and will make good on the promises they've made in the short and long term. If I put my severely dented optimistic hat on for a second, I can't help but think Mr Al Jasmi's ownership represents in some part the perception of Bahrain as a nation in the UK (it's on the back of our player's shirts for one). I'd like to think Bahraini national pride will also have a part to play in making sure Mr Al Jasmi's ownership of our club ultimately brings some success rather than international embarrassment. We can but 'Hope' (the Believe mantra is on a sabbatical at the moment). I can't leave these ponderings without a comment on the recent in-fighting across our fanbase. This club means so much to each and every one of us, it's understandable how upset, angry and frustrated many of us have been. It's also comprehensible that many want to direct that anger somewhere, anywhere! What is quite upsetting is to see occasions when that frustration is directed towards people who are only trying to do their best for the club. Ricky Gervais tweeted a few years ago that 'Twitter is like being able to read every toilet wall in the world'. I do think there's some truth in that as it can be a pretty brutal place to operate at times...not just in relation to Wigan Athletic! Having said that, I'd implore us as fans to find a way to come together. I've never been prouder as a Tic than to see the way we conducted ourselves during administration. The acts of kindness, support and coming together were at times truly inspiring. I was part of a Wigan Athletic supporters' mental health group for a time during administration and COVID, and I believe the mutual support and encouragement between fans genuinely helped a lot of people. Perhaps we need similar initiatives during these current trying times. What is clear is that we're much stronger united than divided. That unity and passion certainly went some way to getting us through admin. It also went a long way to us winning the FA Cup 10 years ago! I'll take some heart in the words of our current gaffer: 'I'm all in', and in the words of a former gaffer: 'Sin Miedo'.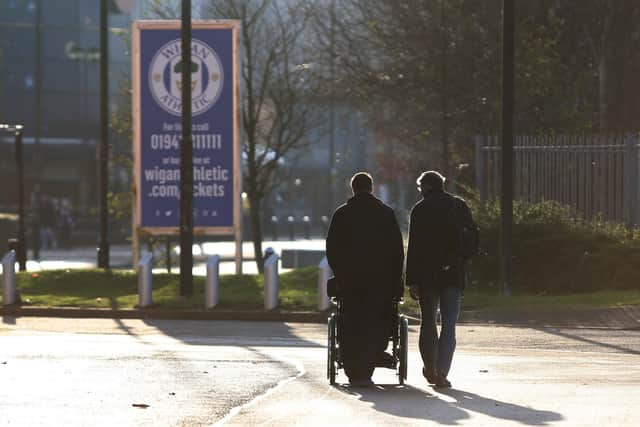 Wigan Twitter and online forums are always interesting places to read the latest opinions of the average Latics fan. There's always a debate or disagreement going on about something, be it tactics, transfers or player performances. On the subject of our current owners, however, the fans seem to be in widespread agreement in wanting Phoenix 2021 to sell the club. In his statement on 24 March, after the previous late wage fiasco, the chairman said 'I can assure you the late payment of wages will not happen again. It simply cannot happen again'. Strong words yet, barely six weeks later, we were back in the same situation. The big question is whether there's a way back for Phoenix 2021 to regain trust among the fanbase. The short answer for many fans is simply 'no'. The argument being it's not the first, second, third or even fourth time this has happened. It's the fifth time (and that's excluding the alleged sixth time, when wages dropped into bank accounts later than normal on pay day). A smack in the face to all who listened to, and accepted the apologies of, the board in March, and a decisive factor to the trust being completely broken between a large portion of the fanbase towards the owners...something I completely understand. The connection we as supporters have for the club is a highly emotive one. We care about our club, we love our club, and a lot of damage has been done by Phoenix 2021...an awful lot of damage. It hurts. Season ticket numbers are rumoured to be dramatically down, a number of fans have stopped contributing towards the Fans Fund, and it's hard to see how bridges can be rebuilt. I've tried to take a view without the emotion involved, to see just how that trust could be rebuilt, given we're hearing the group are not looking to sell the club. For the board to even have a chance of rebuilding trust, it's going to take an almighty effort. It may never happen and will never be recovered for some...understandably so. But the first step to doing so was paying the outstanding wages. Simple as that. Second, as per the statement put out by Independent Latics, the board must confirm to fans that: the wage bill has been settled; there are no other creditors waiting for payment; funding is in place to get to the start of the season; and plans are in place to deliver on the owners' intention to run the club sustainably. My additional point on top of this would be to confirm funds have been deposited into the EFL-requested holding account to prevent wages being paid late again, with an independent party provided with proof to confirm.
Also, we need a face-to-face fans forum. I can hear many of you shouting at your papers and screens 'we've had this and heard it all before'. I hear you. That's why the next one must be different. Talal Al Hammad, Tom Markham, Oliver Gottmann and the club's owner, Abdulrahman Al-Jasmi, all need to come together to hold a face-to-face meeting with any and all supporters who wish to be present, to answer any questions put to them. I'd go as far as to say this should be held in the stands of the stadium, if need be, if demand is high enough. Everyone should have the chance to attend. At this meeting, fans should be given the opportunity to put their hand up and ask a question directly to the board and owner. At the last fans forum, with Mal Brannigan and Shaun Maloney, questions were written down and vetted before being answered. In my opinion, this is wrong. What kind of message are you sending out to fans if you're worried about the questions you're going to get, where you need to check and verify them before you answer them? This needs to be a public forum with the board and owners, allowing fans to ask open, honest but respectful questions to them directly. There will be anger, frustration and high emotions, so being respectful in a face-to-face setting is so important to getting the answers we're after. This cannot just be lip service and this cannot simply be forgotten. If the group is serious about running the club for the short, medium and long term, then they need to prove it to us. They need to show us they are accountable, they genuinely want to rebuild that trust, and they have the best interests of the club and town to heart. How they do that, aside from the above suggestions, I don't know. But it won't be easy. If all the above happens, and we are let down again, things could get ugly very quickly. It's safe to assume there would be protests and demonstrations against the owners, which you would imagine wouldn't stop until Phoenix 2021 sells the club. Lastly, a message directly to Phoenix 2021. Don't take us for mugs, don't try to sweep issues under the carpet, and don't make promises you can't keep. If you want to run the club sustainably, and can afford to do so, then prove it and stop messing us around once and for all. If not, do what's best for the club and put us up for sale at a reasonable price. It's way past time to step up. We're waiting.
Where do we go from here? I feel like I've used that phrase quite a lot this year. Too many times. So after 10 excruciating days, the remaining salaries owed to playing and non-playing staff at Wigan Athletic were settled in full. Once again, as with the previous four (that we know of) occasions, it should never have reached this point. Let's recap where we are then. After the late payment of salaries in March, CEO Mal Brannigan left the business while the chairman reaffirmed the ownership group's commitment to the club. Supporters groups were told by the chairman, and the board, that the wages issue simply could not and would not happen again. April's payday came and went without incident, but come May we were back once again to square one. What damage this latest episode has done to both the club and our reputation is immeasurable. Who would want to sign for the club in its current situation? What players would want to stay in the current situation? Not many from either camp, I would wager. One of the biggest issues of the latest episode is the silence. I understand sometimes silence is necessary, and I'm not advocating a blow-by-blow running commentary from the club, but having zero communication from the initial statement for a period of 10 days is simply unacceptable. Not only is it unacceptable, it's also deeply unhelpful. It encourages all sorts of rumour, half-truths and false narratives to develop. Don't treat people like mugs, all we're asking for is some honesty. If we are deep in the financial mire (like it seems we are) tell us. If the owner has removed his support (for example), tell us. It then allows us as a fanbase to mobilise and attempt to come up with solutions. Until we get some clear communication from those in charge, we haven't a clue what we're facing, let alone how to counteract it. So what do we know? We have been relegated back to League One. This in itself isn't necessarily a surprise, we've made a habit of storming to the League One title, and making ridiculous decisions the following season. Furthermore, the chairman has claimed the club has vastly overspent from the agreed budgets put in place when the ownership group took over following administration. This overspend, we presume, is what is leading to the current liquidity issues. This does nothing to answer why, in late March, the chairman met with supporters groups representatives, and told them a property sale had seen funds now ringfenced to get the club through to the end of the season and beyond. Why wasn't this money available to call upon before the Rotherham game, to ensure all salaries were paid in full and on time? It seems our old friend the international banking transfer was to blame for the delay, but the chairman had told those aforementioned supporters groups the money would be placed in a UK bank for the club to draw upon as and when required.
These questions remain unanswered and, until there is a satisfactory response, we can't move on. Certainly not in any meaningful way. The chairman has promised an on the record zoom meeting with Wigan Today, along with similar to the independent Latics supporters group. At the time of writing, these remain nothing more than unfulfilled promises. We are told statements are on the way to explain a board and staffing restructure, and that the EFL have agreed these. We should be reassured the EFL are involved and approve, but those with memories stretching back to July 2020 may well think that's more of a curse than a blessing. So once again we are in limbo. Last weekend showed so much of the good side of our football club and our town. Two fantastic events that brought back the FA Cup-winning side to raise essential funds for the award-winning Community Trust, while the Joseph's Goal Legends match on Sunday afternoon saw some of the greatest players we've ever had the privilege to call ours turned out in aid of a charity trying to improve the lives of children and families worldwide. That's what we should be focussing on now, and that's the kind of spirit we need to take forward. This club is worth fighting for. We showed that in 2020, and we'll show it again in 2023. But we need those custodians of our club to start showing that same fight. I hope that honesty, as mentioned above, prevails and we get a true understanding, be that (preferably) from the owner or the chairman. Until we get that, we're fighting a losing battle. Shaun Maloney deserves better than this, those kids taking in their first game on Sunday deserve better than this. Everyone who cares about our town and our football club deserves better than this. It's time for the owners to deliver on that.