PART TWO: Wigan Athletic: The 12th Man - 'If the plan is still not to sell up then this club, its staff and its fans need to know why. The trust has gone, your time is up...'
Our panel of Latics experts are on their knees, praying for some good news to lift the doom and gloom in and around the DW Stadium...
Published 11th May 2023, 15:58 BST

- 9 min read
Updated 11th May 2023, 17:40 BST
Once again, you get the gut-wrenching feeling that Wigan Athletic is on life support. Administration in 2020 came out of the blue, with our Hong Kong ownership giving no forewarning. This time Phoenix 2021, ironically our one-time saviours, are giving us plenty of reason to believe we are in an equally perilous position. For all the hierarchy's errors - and boy, have there been some this season - one key thing that has been missing throughout is the truth. 'It won't happen again' - repeat x4. 'It simply cannot happen again' - just seven weeks ago. 'The money is going in tomorrow' - repeat to fade. Their excuses wore thin at the time, from bank holidays to whatever else they claimed. Latics fans kept faith though, it's all they could do, but the trust and loyalty built up through the takeover and early success has now evaporated and been replaced by fear, anger and betrayal. Mr Al Jasmi and Talal Al Hammad, your conduct has been deplorable. The betrayal Wiganers feel is the trust and faith they placed in you and the ownership being treated with such contempt. It's becoming increasingly clear Mr Al Jasmi doesn't want to know anymore, yet you won't admit that. Open communication to supporters should be applauded but, whenever you've attempted it, it's been anything but open. You've continued to mislead and put those dedicated and passionate supporters who have engaged with you in difficult positions. If you didn't lie to their faces, Talal, who has lied to yours? I've read some really awful accusations thrown at those supporters by their fellow fans, and I genuinely wonder if pitting them against each other is part of your ploy. In the middle of all this is a proud football club and a staff-base that deserves respect and, most important of all, security. We have a playing squad that is clearly not strong enough for the Championship, but has put everything they can into surviving against the odds. Only to have their efforts torn up by the powers that be. So many of those players will leave, some completely understandably didn't feel like they could play their last game on Monday. I hope you feel total shame. This is not a game, it's people's livelihoods, careers of footballers, and a club the fans and this town holds dear. It's time to be honest about the situation for the first time. If the plan is still not to sell up then this club, its staff and its fans need to know why. The trust has gone, your time is up.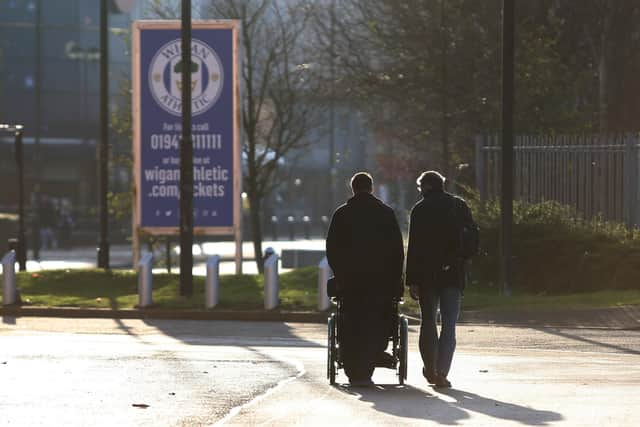 This week pop-pickers, we have a fantabulous feast of magical, musical memories, as we reflect on what's been a mind-boggling rollercoaster ride these past few days for the Band of Beautiful Brothers - and Sisters - at WAFC. Here we go...hold onto your hats now: At 10, It's Money For Nothing (especially wages), by Dire Straits (very dire). At 9, we have Little Arrows (lots and lots of them), by Indie Latics and the SC. (Watch your backs people). A new entry at 8, it's How Can I Be Sure, by Shaun Maloney. Bouncing back into the charts at 7, after a couple of weeks out, it's Money For Nothing (especially wages), by Dire Straits (very dire). Another one finding its way back into the Top Ten at 6 is Tell Me Lies, by Fleetwood Mac. New in at 5, is The Sun Ain't Gonna Shine Any More, by the Walk-all over the Fanbase-er Brothers. And that's closely followed at 4 by No Brass In Pocket, by The Pretenders And so, to this week's top 3! At 3, we have Our House (has been sold but the money's disappeared), by Madness (absolute Madness!). And just pipped for the top spot, staying at No 2 is Where's Your Money Gone, by Muddle of the Board.….. And top of the hit parade…for a 10th consecutive week... it's No 1… Give Me Just A Little More Time, by Chairman of the Board. (Genuinely untouched!). All right? … not 'arf … ta-ra!
I've been a season ticket holder for over 50 years. I'm not saying that to brag or boast – I just want to get some of my comments into context. This has been the worst year for me personally in all those years. During the early Springfield Park years we had some dodgy owners and equally dodgy goings-on. If some of the snowflakes who have been moaning on Twitter this last week had been alive back then – they would probably have fainted away at the 'lack of information!' But it's been an awful year for me for several reasons. The obvious ones of course – the same shambles that every other fan has had to endure but someone, somewhere decided to really put me and the rest of the family through the wringer this season. Just before the first game, my younger brother suddenly and unexpectedly passed away. Unbelievably, six weeks later, my younger sister also passed away – again it was a total shock. I guess at times like these, sport and certain other things take a back seat and you try to reassess what is truly important in life. So it's been hard. Eight of us sat together each game in the same seats that we've used since the stadium opened and now my brother was missing. Each week has been torture. The kids have taken it in turn to sit next to me in Andrew's seat but they have been hurting as well. But, as usual, at times like this, people rose to the occasion. Certain people over the last few days have been lashing out, looking for someone to blame – so they probably won't enjoy what I'm going to say next.
A few days after my sister passed away, Mal Brannigan rang me. He had no need to, he didn't know me and there was nothing in it for him. But he called anyway. We had a long chat and it helped me to talk. We spoke again on other occasions. Other people from within the club continued to call to check how we were doing and they've helped with various tributes. The Supporters Club was very supportive. I've known Caroline Molyneux, the chair of the committee, since she was a very small girl growing up in the same street in Pemberton as me – I knew her dad, Harold, very well. True Latics supporters all their lives. Caroline worked non-stop behind the scenes during admin and continues to do so. Several people do the same - without pay and alongside their 'real' jobs. I was also contacted by Paul and Emma Kendrick – and many, many others within the Wigan Athletic family – who felt our pain and wanted to help. So to read some of social media comments this week has been, quite frankly, sickening. According to reports, it seems to be that Mal Brannigan overspent. In fact it sounds like he overspent in a big way but I guess we'll only know when the full story comes out. I speak as I find, maybe I'm not the best judge of character but as far as our family is concerned - I'll always be grateful to him. But some of the comments that have been directed towards the various fans groups, and to the editor of this very page, have gone way too far. It seems that in this brave new world of ours, some people expect the right to know everything – straight away. They have no concept of non-disclosure agreements or delicate situations – they stamp their feet and lash out at people who are trying to help. Lisa Nandy, for example, simply cannot win. If she attends a game, she gets stick. And if she stays away, the same people accuse her of not being interested. And the cowards among them do it behind a mask – never revealing their names or their faces – just a stupid Twitter handle they think may be amusing. The only crumb of comfort we can take from these pathetic postings is that hopefully they may be from people not associated with the club, who are trying to stir trouble. Because if they are from people who really think they are supporters – then we are in serious trouble. Sadly this is beginning to divide the true fanbase and is diverting us from the real problem – the board. We don't know the full facts yet, and I'm not going to throw a tantrum 'because some people know and I don't'. But even without the full facts, it was obvious terrible mistakes were made. Giving Leam Richardson a contract, then sacking him within a few weeks, then repeating the exercise with Kolo Toure, were cock-ups of the highest order. We were all hopeful at the start of this adventure that, although the owner and chairman had little or no football experience, they seemed to have put an experienced team together to run things. Sadly, it seems that notion couldn't have been further from the truth. Most teams suffer from a lack of funds, ironically it looks like we had the money, but we spent it on some magic beans, and now the purse is empty. So what next? 'Sell up and move on!' seems to be gaining traction in certain quarters. But unless a buyer is already in place, then touting us around the marketplace, in the middle of a recession, is not going to be an easy task. And above it all looms the figure of Mr Lenagan. Will he reappear again and, if he does, what will be the reaction? All I can say is we need to stick together. We did it last time and we'll do it again. Bill Shankly had a very famous quote – 'Some people think football is a matter of life and death. I assure you that it's more serious than that.' From my experience over the last few months I can't totally agree with that statement, but I fully understand people who live their lives by it. I prefer another one of Bill's quotes – 'The socialism I believe in is everybody working for the same goal and everybody having a share in the rewards. That's how I see football, that's how I see life.'
Well as the wages fiasco took yet another twist last week, I can honestly say I am now trying my absolute best to picture what our club will be in two or three years' time. Choosing to look past the reality of what looks to be another gut-wrenching summer of doom and gloom. Anxiously trying to manifest a happier outcome while keeping the thoughts of another stint in administration at arm's length. Should the latter come to fruition, we already know the script. Fire sale of what assets we have then, at the point where we have been all but bled dry; cross every finger that a suitable owner comes in to save the day. If there is truth behind the murmurings that we have been up for sale since the first reports months previous. Then it's hard not to envisage us potentially falling through the same trap door that other fantastic clubs - Bury, Macclesfield to name a few - unfortunately couldn't avoid. Personally, I believe the lure of football and the riches it can bring will be enough to spark interest in one or two interested parties. Providing the club is salvageable and the damage isn't too long-term, then I do think we would be sold … eventually. This then brings me back to my original point. What the club would look like in two or three years' time. I think it's been proven the only way we can initially be sustainable would be to commit fully to our Academy. The work that started almost 15 years ago, when Roberto Martinez became manager, is paying off. Led by Gregor Rioch, his team have been a real credit to us fans and the club. Whether it's Stephen Crainey in the Professional Phase. Jake Campbell and Jay Cochrane in the Youth and Foundation phases respectfully. Or Sean Rowlinson and the analytical department. All the staff working tirelessly in our Academy should hold their heads high. I think they have proven already they can be the production line for the club. As fans, why not commit to this and put our support and trust behind them? Twice now owners with promised riches have come to town, then proceeded to damage the reputation and very existence of our club. Longevity and sustainability should be our only goals as a club. We have to accept, as fans, we will have successful seasons as well as seasons of struggle and things not going to plan. No doubt it's a rollercoaster, but knowing I have a team to watch and support every Saturday afternoon is enough for me. Win, lose or draw on the pitch, it sure beats the nonsense fans, players and staff have had to put up with over the last four or five years under owners who seem to be mismanaging our club over and over. Lastly, I would like to wish any affected players and staff, who are still waiting on money to pay bills etc, or fans whose wellbeing and mental health is being affected by the events which are unfolding, the very best. Reach out to people if you need it, don't suffer alone.