PART TWO: Wigan Athletic: The 12th Man - 'If you have a gambler in your family, do you forgive them and try to get them help? Or do you throw them out?'
Our panel of Wigan Athletic experts struggle to come to terms with another week where their club has been battered from pillar to post...and assess what the future holds...
Published 25th May 2023, 16:47 BST

- 10 min read
Anybody who knows me will tell you I like to gamble. It's not something I'm particularly proud of, but it doesn't bother me either. I know gambling can ruin lives, and I follow a strict set of rules to make sure it doesn't ruin mine. And the first and most important rule is: Don't gamble with money you don't have. And this convoluted path finally leads me to where I'm trying to go. I think the Latics fanbase are in a toxic relationship with a leadership team who are, basically, a set of very bad gamblers. I think more or less every decision Talal and his team have taken over the last 18 months or so has had an element of risk in it. And almost every decision went badly wrong. They gambled on sticking with the majority of the team that got us promoted. And I couldn't argue too much with that. Give them a chance to prove themselves and, if it doesn't work, enter the market in January. The gamble didn't work, and hardly any decent reinforcements appeared in January. Leam Richardson was our hero last season, but things didn't go quite as well this year. Either back him to the hilt or ask him to leave. Don't give him a new contract and then sack him three weeks later! No idea what that all cost but another expensive – and crazy – gamble. The biggest, craziest gamble of all was of course the Kolo experiment. Allegedly costing around £4 million, and effectively consigning is to League One. You even begin to question things like the 'Believe' Fans Fund scheme. I think it's a great idea and all our family are members. In exchange for our support we've received, scarves, shirts, goodie boxes, games, etc, and a healthy discount in various places. But when you stand back and look at the cost of these 'freebies', and the admin costs involved in running the scheme, can it really be making any money? Or is it another gamble that flopped? I hope not. But anyway, that's all water under the bridge now. The fact of the matter is, somehow, they have allegedly spent £20 million pounds – a large portion of which I'm guessing could and should have been used to pay the wages. In effect, they have been dipping into the housekeeping money to fund their gambling habit. But does that make them bad people? Or are they just naïve and inexperienced, trying their best to please everyone and ending up with the complete opposite? My opinion is, and this won't go down well with some people, is they are simply out of their depth. They have painted themselves into a corner and are keeping quiet in the hope of the cavalry riding to their rescue. One thing is sure – this does not seem to be a group who are trying to asset strip the club. So what next? If you have a gambler in your family, do you forgive them and try to get them help? Or do you throw them out? Reading some of the more forceful comments on social media over the last couple of days, it seems some people have run out of patience. They want them gone at all costs. But is that a realistic course of action? The main stumbling block for the majority of people is the deafening silence. I have no answer to that at all. I could pass on a few rumours, but that wouldn't help anyone. All I will say is, once again, some of the more vociferous on social media are looking for someone, anyone, to lash out at. We all know where the blame lies so please, try to vent your frustration in the right direction. And whatever happens in the days and weeks to come...we need to stick together.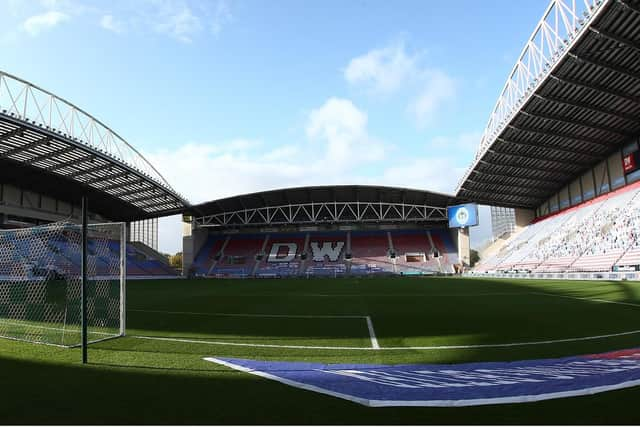 Before the 2023/24 season has even begun, and a ball has been kicked, Wigan Athletic have already been dealt a blow, as they come to terms with life in League One. The EFL have handed Latics a four-point deduction - soon to become eight! Presumably to teach the owners a lesson. You don't mess with the EFL, don't mess with us, for we can be as vindictive as the Corleone family or the House of Windsor, when it comes to meting out punishment for financial transgressions. And there will be no hesitation from the EFL to impose further sanctions, as they put the boot in, should there be any further financial shortcomings. However, from previous instances in the past, the threat of points deduction carries little or no weight where Mr Al Jasmi and Mr Al Hammad are concerned. With more soothing reassurances to assuage the anger and wrath of the long-suffering Latics fans, they continue to trot out their same mantra, as they ply their trade like salesmen peddling their wares out of the back of a wagon. When is the penny (or Bahraini Dinar) going to drop with these owners? The Latics faithful have reached the end of their tether and had enough of this nonsense! There is the added threat (like the sword of Damocles) of more deductions, should there be more late payments. Up until now, I have been prepared to give the benefit of the doubt to the owners. Yes, they did save Latics two years ago. But now, there can be no more delays, excuses, or prevarication. I suspect the hearts of the owners are no longer interested in the club. The novelty of a new toy has worn off, as their interests appear to lie elsewhere. If this is the case, then why don't they pack their bags and sling their hook? Should they decide to sell up, it is difficult to imagine right now who would want to take over at Latics? I do not expect there to be the type of bidding war currently going on at Old Trafford. Latics will need all the help and good fortune they can get next season. They don't need to be hamstrung and handicapped with financial constraints and burdened with uncertainty. For any aspiring players out there, who are available for signing, how many of them would want to play for Wigan next season, not knowing for certain if you are going to get paid? Al Jasmi and Al Hammad, you are in the last-chance saloon!
The situation at Latics has continued to spiral downwards. The club has failed to meet another critical deadline related to its finances and a subsequent four-point deduction looms. It's sad that a best-case scenario for our current problems sees us starting the 2023/24 season with only eight points in the hole. The chance the EFL will give us clearance to start the new season seems less and less likely with each passing day. Regardless of whether our ownership group is desperately broke, indifferent to its most basic responsibilities, or completely negligent despite good intentions, they have consistently failed their employees and our fanbase for too long. The lack of communication from the board and our chairman can only be interpreted as a sign of ineptitude. Actions do speak louder than words, but providing a little bit of transparency on our status should be the bare minimum expectation between a club and its stakeholders. I'm not going to give the ownership an ultimatum on what to do next. I know so very little about the happenings behind the scenes. Is it only a matter of time before we enter administration? Are Phoenix 21 on the brink of a financial breakthrough? Will the club be sold to more competent owners? I feel clueless about our future. I just want stability. There's no question Mr Al Jasmi has invested a tremendous amount into the club over the past two years. Unfortunately, a significant portion of that investment has been poorly mismanaged. The likelihood of Phoenix 21 turning a profit on their investment has diminished significantly over the past 12 months. At some point, they may choose to cut their losses. My only hope is that, when that day comes, they choose to step away with dignity and not debilitate the club during the process. I admittedly struggle to see a positive outcome for our future. With play-off finals, cup finals, and the Premier League's final matchday approaching, there would typically be much to look forward to as a football fan. Maybe some of us will still be able to detach from Latics for a few hours and enjoy the sport for all the excitement it brings. Our corner of the football universe is very dark at the moment. Let's stick together as much as possible.
This can't continue, it needs to end now. Enough lies, enough misinformation. Enough already. Another day and another seemingly missed deadline. Nothing but silence from the club. Despite what you may read, it isn't the club that is at fault here. The fault lays firmly at the feet of the owner, the chairman, and the board of directors. Owning a football club is not easy. It's big business, and it's a business that, in any other logical world, would make no sense. You sink millions in for little or no return. In our case, we need tens of millions to just stand still. But all of that was known when Phoenix 21 became custodians of our great club. We were told budgets had been agreed, and the aim was to return us to the Championship and become a stable second-tier club with workable budgets and an emerging Academy set-up. Now it seems, from the heavy leaking, that budgets were not adhered to. In any serious way at least. Over £20million was sunk into the club in the space of 18 months, and it's all gone. £20million is not an insignificant sum, and I share the owners' frustration that money that should have kept us going has gone. But where was the oversight on that spending? Who was signing the cheques? It wasn't the supporters, but we are now the ones bearing the brunt of that pain. Now we can speculate as to where and why it has gone, but that doesn't solve the issue of our short-term future. But we can't tackle the short term until we find out what is actually going on. This publication, alongside numerous supporters groups and representatives, have spent every waking hour (since the latest debacle began) trying to ascertain what exactly is our situation. As I stated last week, we can't mobilise and organise to offer solutions without knowing why. Why were salaries late again, when we had been told it would never happen again? Why was the 125 per cent bond not paid on time, when a hugely damaging four-point deduction was hanging over our heads, following the initial four-point deduction? Why do these liquidity issues keep happening? Is it because, as we suspect, budgets have been exceeded so much that there simply isn't the money there to pay people? Why have we heard nothing from the former chief executive in relation to this? A promised meeting between the chairman and fans representatives that was due to happen as soon as the season has ended evolved into a Zoom meeting with Wigan Today that still hasn't materialised. Long promised statements on a board restructure haven't materialised. In communication with a supporter online earlier this week, an account purporting to be from one Oliver Gottman explained there was lots of communication waiting to go out, but until the money was there it's pointless. We're stuck in a never-ending cycle of deadlines and silence and increasingly there seems to be no way out. Supporters have been promised that money to cover the next two seasons salaries for all club employees and players is on its way. But we were promised this at the end of March, and told it would not happen again. Supporters and the local press quite rightly feel like they are being taken for fools. That may not be the ownership group's intention but, without communication from them, it is sadly the impression we are left with. Wigan Today backed calls on Wednesday night from supporters groups for an urgent call to arms. A demand for:* Immediate communication from the owner and chairman in regards to the latest issues and the short term future of Wigan Athletic;* A restructure of the club board, including the installation of an experienced football administrator with knowledge of the club and local area at his or hers heart;* HONESTY about the ownership groups ability to fund the club going forward.The consensus among some seems to be that, if we get through to the summer, a vast reduction in the wage bill - either through relegation clauses or a fire sale - could get us back on a level footing. But we need to reach that point to begin with and, until we hear from the owners, it feels as though we are up a creek without a paddle. All of the above is ifs and buts. I don't control the actions of Wigan Athletic, and neither do you. All we can do is urge the owners to do the right thing. We need to mobilise as one, the factions across twitter that look increasingly like the Judean People's Front will do none of us any good. Be it the Supporters Club, the Independent Latics group, Progress with Unity podcast, Pie at Night podcast, Mudhutter fanzine or the recently formed Travel Club, we all have one aim. And that aim is to see Wigan Athletic remain as a going concern, so our children and their children have a football club to watch. It's time to rise up as one and state with a unified voice. Enough is enough. The ball is in your court, Phoenix 21. Right the wrongs and tell us what is happening with our beloved football club. If you can't right those wrongs, then step aside and allow us to try and find someone who can.