Sam Morsy says fasting during Ramadan has 'done wonders for me'
Latics skipper Sam Morsy has spoken of the enjoyment and benefits of completing Ramadan during the lockdown.
Published 27th May 2020, 11:59 BST

- 3 min read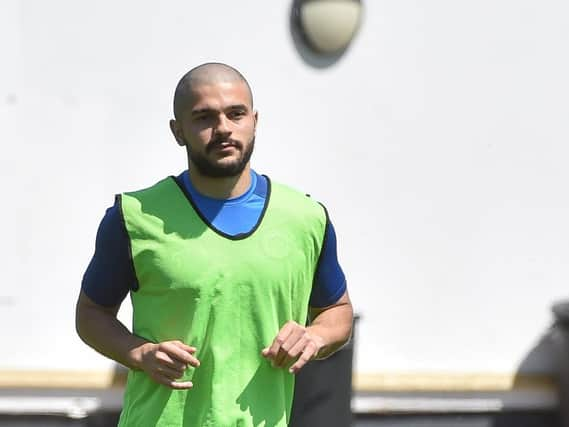 The ninth month of the Islamic calendar, Ramadan is observed by Muslims worldwide as a month of fasting, prayer, reflection and community.
While it can be tough keeping to the rules – which include not eating during daylight hours – during the football season, Morsy says it's actually helped him come to terms with the long periods of inactivity during lockdown.
"It's actually done wonders for me," the Egypt international said.
"You've got training, reading, studying, praying - you're going through the day ticking things off - and before you know it you're almost ready to break fast, and then it's on to another day.
"It's a time to enjoy – they say you're starving your belly but feeding your soul – and I think it's definitely been enjoyable.
"Though I suppose the only people who can vouch for that are the people who are doing it and feeling the benefit.
"To Joe Bloggs on the street, the idea of not eating or drinking during the day... I can see how some might fail to see the enjoyment!
"But it is an important time for Muslims – and it's open to everyone.
"One of my best friends in football, Nathan Smith, is not Muslim, but has been observing Ramadan with me this time.
"He wanted to feel what it's like, and he's told me he feels amazing as well – spiritually as much as anything.
"He's had time to think, because your clarity becomes clear when you're fasting, and he's enjoyed it.
"Islam's not supposed to be something where you literally struggle, and it's really hard. It's about enjoying it, and that's what you have to do."
Morsy's dad – through whom he qualifies to play for Egypt – runs a Mosque in his hometown of Wolverhampton, where Ramadan has been hugely different this year due to lockdown.
"At the Mosque in Wolverhampton, over 200 Muslims usually break fast together every night during Ramadan," revealed Morsy. "He is usually there every day, all hours, and him not being there has been something he's had to adjust to.
"It's been about him finding other ways to connect, be it on the phone, radio, Zoom...anything to stay in touch.
"What we haven't got at the moment is freedom to move around, but what we do have is quality time indoors, which we have to make the most of."
The 28-year-old thanks Latics' staff for their understanding while Morsy completed Ramadan, which ended on Saturday.
"The physios have been very good with me particularly during Ramadan, because some of the work can be challenging while the body is fasting. There was one work-out which left me dizzy and with a headache, and it's nice to have that system, that back-up, to get you through," he said.
"The management team as a whole have been very understanding, in helping me to make sure I don't pick up any injuries.
"It is tough, but it is something that has to be done, and there's no shortcuts involved."
Morsy sported a savage skinhead haircut when he returned to training with his team-mates on Monday, and said he's happy to proceed – with caution – towards a return to on-field matters.
"The coaches have put in a strict protocol in terms of when we come into the training ground, where we can go, how many are allowed at once, and when we have to leave," Morsy said.
"We're going to be tested twice a week for the return to 'phase 1' as they call it, and no-contact football, three players on the pitch at a time, staying socially distanced.
"They've assured us it's going to be safer than going to a supermarket, and safety of course if of paramount importance."