This is our time to shine, insists Wigan Athletic starlet
Kyle Joseph admits Wigan Athletic's stars of tomorrow are revelling in their opportunities to become stars of today in the club's hour of need.
Published 4th Nov 2020, 12:02 BST

- 2 min read
Updated 4th Nov 2020, 18:31 BST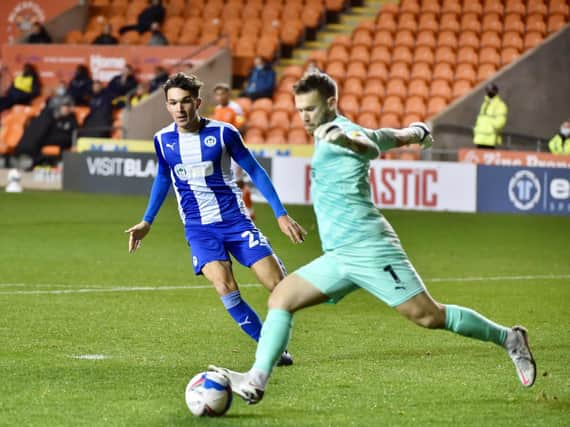 Having hit the post off the bench against Northampton on Saturday, he repeated the trick at Bloomfield Road after a similarly clever turn.
And he says the opportunity to show what they can do is exactly what he and his pals have been waiting for.
"These games are creating great opportunities for lads like myself," Joseph said.
"We've all been waiting for these chances for a few years now.
"We've had to take a lot on the chin early on, and we might be a bit early ahead of the usual development.
"But I think we're taking to it like a duck to water.
"These opportunities are what we've been asking for, so now we've got to keep working hard, harder than we've done before."
After a few months of carnage off the field, the emergence of so much locally-produced talent has hinted at a bright long-term future for the club.
It's further proof of the fabulous effort behind the scenes by Gregor Rioch and his coaches, the players – and their families.
"First of all, I'd like to thank my mum and dad for helping me get to this stage of my career because without their support I wouldn't be in the position that I am," acknowledged Joseph.
"I'd also like to thank the Academy staff...Gregor Rioch has given me a chance at the club and Kenny Williams took me from playing football on the park as a very raw player to the Academy here.
"They've believed in me all the way and hopefully this can now be the start of something special."
And the 19-year-old admits he couldn't have a better teacher on the field than skipper Joe Garner.
"Joe is brilliant," recognised Joseph. "I work with him and watch his movement in training, I'm trying to take parts of his game and add them to mine.
"We played off each other well, we seem to be on the same wavelength and hopefully we get to continue with this good partnership we're creating.
"Joe's played nearly 500 games in his career, he's scored a lot of goals, he's someone I can work with, and he's going to be a big influence on my career moving forwards."
Next up for Latics is the Sunday's visit of Chorley in the FA Cup first round.
"It was disappointing not to get a result at Blackpool, but we've got to keep looking forward, keep our heads up and go again against Chorley," added Joseph.
Special offer: Get 15% off our digital sports subscription - read unlimited Wigan Athletic and Wigan Warriors stories for less than 60p a week! Click here