Wigan Athletic boss set for face-to-face meeting with owners in Bahrain
Shaun Maloney will jet out to Bahrain after Saturday's trip to Watford for face-to-face meetings with the club's owners.
Published 15th Mar 2023, 11:47 GMT

- 2 min read
Updated 15th Mar 2023, 11:47 GMT
The Latics boss confirmed after Tuesday night's 1-1 draw against Coventry at the DW that the wages due for last Friday had still not arrived.
He does, however, remain positive of a swift resolution to the issue.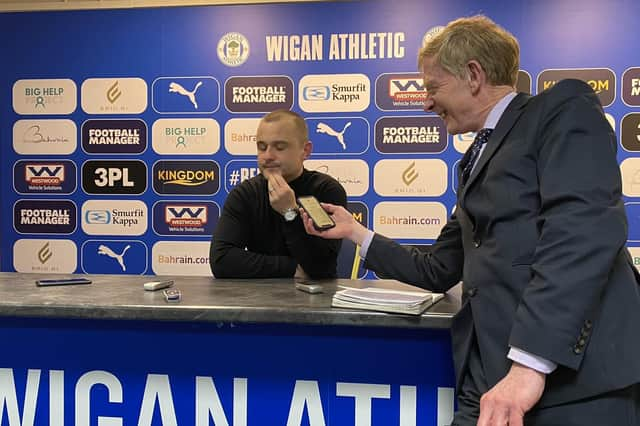 "The next time we do media will be probably Thursday, or if not Saturday," Maloney said.
"Hopefully by then we all have more positive news, I'm very hopeful of that.
"That would be the best case scenario for everyone."
Maloney says he has been in contact with chairman Talal Al Hammad regarding the issue, although CEO Mal Brannigan has been more involved with 'relaying the information'.
But the Latics boss will get the chance to catch up with Talal during the international break, with Latics having a fortnight off following the trip to Vicarage Road.
"I spoke to the chairman a few days ago on Zoom and via text messages," he said.
"But it's mainly Mal who's been the one that's been relaying the information.
"I am due to go over to Bahrain on Saturday - and that's something that's been due for a month now, well before any of this happened.
"So I'm looking forward to going out there and meeting the chairman again in person.
"Yeah, it's a vital time for everyone."
Maloney expects a decision before then on whether the club will face a three-point deduction - suspended by the EFL following their previous breach just before Christmas - which would further hamper their chances of avoiding the drop.
"I'm led to believe that might be in the next couple of days, maybe Thursday," added Maloney, who admits the situation is 'cruel' to a group of players doing everything within their control on the pitch.
"Yes, but that's the situation we're in," he said.
"We knew when they gave us that indication - and it was before my time here - what their thoughts might be.
"Yes it would be cruel, but I can't really control any of that.
"And it's very difficult to control the emotions of thinking that could be possible, particularly the way the players have been, fighting for their team-mates and fighting for the club."