Wigan Athletic chief 'concerned' over 'difficulties' facing authorities
Wigan Athletic boss Paul Cook reckons the football authorities have a near-impossible job on their hands when it comes to handling the return to action.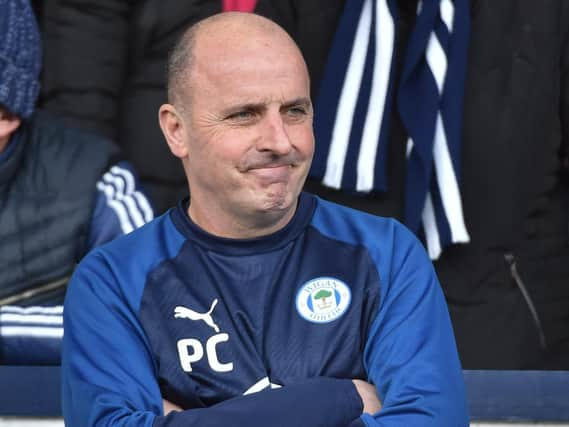 Latics were more disappointed than most with the suspension of play, having gone seven games unbeaten and recorded four clean sheets in a row.
That resurgence had seen them climb two points clear of the drop zone, with nine matches remaining.
Indeed, if the lockdown had occurred a week or two earlier, Latics could have been sweating on their future now, with one of the options on the table being to stop the season and take the current standings as final – a scenario Cook would find less than ideal.
"It's so difficult," he conceded. "Look at Charlton Athletic...they've been in the relegation zone for 20 minutes during the whole campaign, having just dropped in there.
"Yet if people deem the league position should stand, they would be in the bottom three.
"With nine games still to go, the difficulties for the authorities and the people who run the game are huge.
"Looking at previous years, there's always one team that makes a late run for the play-offs, or escapes from relegation on the last day with a late goal – and that's what makes this time of year so exciting for football."
If, and perhaps when, the campaign does resume – most likely behind closed doors – Cook admits Latics will have to start all over again, with all the momentum generated by their brilliant run lost.
"That's a concern, without a shadow of a doubt," he added on Sky Sports News.
"I heard (Burnley manager) Sean Dyche saying in an interview how important it would be for people to adapt quickly.
"And I think that is very much a key point.
"When the season stopped, we had gone seven games unbeaten.
"For a team in the relegation battle, who had been in the bottom three for a lot of the season, to go seven games unbeaten is massive.
"We'd won at West Brom and Leeds without conceding, we were in a really good vein of form.
"Momentum is such a big thing in football – good momentum and bad momentum – and it can be so hard to get out of.
"For us to be starting again from scratch, on a level playing field, it's not going to be eas y."