Wigan Athletic new-boy planning for long-term stay
Matty Palmer has only been with Wigan Athletic a matter of days – but he's already looking ahead to signing his next contract!
Published 23rd Oct 2020, 13:06 BST

- 2 min read
Updated 23rd Oct 2020, 13:10 BST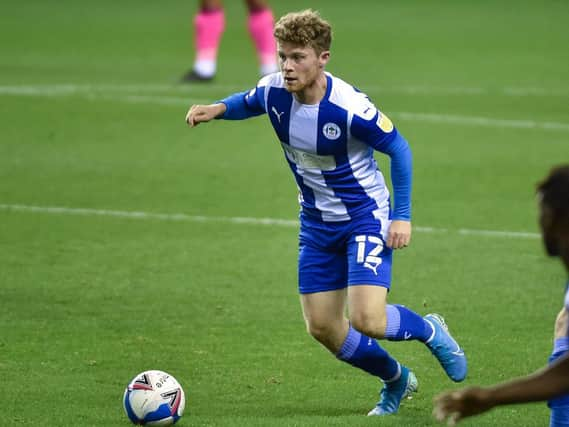 The 25-year-old midfielder joined Latics from Swindon just minutes before last Friday's transfer deadline, initially on loan until January 4.
After making his debut in the midweek defeat to Peterborough, Palmer's determined to show between now and then he's worthy of keeping on – to the end of the season and beyond.
"I'm already hoping that will be longer than just until January, that's the aim, I'd love that," he told Wigan Today.
"In football, though, you always have to take it game by game, and all I can focus on is getting into the side and performing week in, week out.
"We'll see where that takes us, but certainly I'm hoping to still be here at the end of the season."
Despite beating the deadline by mere minutes, Palmer has been linked with Latics for several weeks.
However, due to the club's current predicament, he had to wait to put pen to paper.
"I was linked here for four or five weeks, and it was a bit of an unsettling period for me," Palmer acknowledged.
"Obviously I wanted to come here straight away, and it was frustrating at times not to be able to.
"It's finally happened though and I'm delighted to be here.
"This is a big club, a well-known club, that's done well in the past.
"Obviously they were in the Championship last season and did really well, before what happened, happened.
"This is obviously a very new team, with some young players in it. But from what I've seen there's a lot of quality here and hopefully I can add to that.
"I've played a lot of games for my age, and if I can add a bit of experience then that will help.
"Having played two seasons in the Championship I feel I can bring something to the group that can help us.
"I like to get on the ball, put my foot on it and try to dictate play.
"Further forward, hopefully I can chip in with some goals and assists, which is always nice."
There was another huge factor behind Palmer's desire to join Latics – manager John Sheridan.
"I played under the manager at Oldham, and probably played some of my best football during that period," he added.
"That was obviously a huge factor in me wanting to come here, and hopefully I'll be able to do something similar here.
"I know he works a certain way, which works for me, and he obviously likes the way I work, so that gives me confidence.
"I just feel as a player he gets me, which doesn't end up being the case with every single manager you play for.
"On a personal level, he knows what makes me tick as a player.
"From my point of view, I know exactly what he wants from a central midfielder.
"It worked last time at Oldham, and hopefully it can work again here."