Wigan Athletic: The 12th Man: 'Did it really have to be like this? Absolutely not...'
Our panel of Wigan Athletic experts assess the damage done by seven months of administration, and whether the Tony Frampton-led consortium can possibly start the healing process...
Published 15th Jan 2021, 10:26 BST

- 14 min read
Updated 15th Jan 2021, 10:30 BST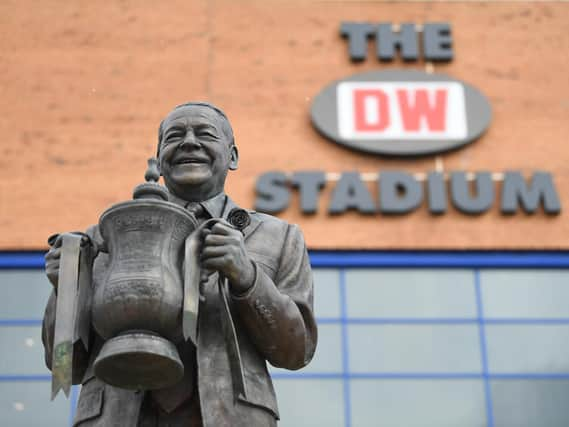 The more things change, the more they stay the same. Here we still are, still going through the takeover, albeit with a different prospective buyer, and still not knowing if and when it will all be over, or what state we'll be in. The longer it goes on, the worse things get, with Latics losing players left right and centre either for a pitifully small fee or, in many cases, for no fee at all. I know the admins literally live week to week when it comes to paying the bills, but they don't seem to grasp that asking a fee – and a fair one - gets us past surviving for just the next week. I suspect Paul Stanley likes to play the role of football chairman, making all the decisions but, in this case, he gets to walk away without it costing him a penny and potentially costing us everything. The frontrunner in the bidding process appears to be Far East-based businessman Alistair Jeffries, with the UK end of the bid being led by Tony Frampton. Many things have been said by Frampton in the past month or so, some of which would have probably been better left unsaid as they started to creep into the realms of the unlikely. He is still insistent the aim is to invest not just in Latics, but in the town. We won't know the outcome until as and when the papers are signed, and Jeffries owns the club. However, as one of the first people to interview Frampton in depth, back when we all still assumed the Spanish were as good as home and dry, and as someone who has spoken to him a number of times since, I'm actually quite optimistic about his involvement. We all know that, to understand Wigan, you have to be a Wiganer, and Frampton is a Wiganer. It's true he hasn't lived in the town for some years, but we're not people who just stop being Wiganers because we live somewhere else. He comes back to the town regularly, and has been here since before the Spanish bid collapsed. Frampton's history is not as a Latics fan, and the consortium originally looked at buying Sunderland, until it was realised they are in a bigger mess than even we are. But once that process fell by the wayside, he brought Jeffries to us. That says something. Rumours of Ian Lenagan being involved in the bid are simply not true - although the two men are familiar to each other. Jeffries has no desire to be involved with Lenagan, or Wigan Warriors, or even rugby league full stop. Which is why he wants to buy Latics, and not them. But let's face facts. Without Frampton, it's very unlikely Jeffries would even be considering buying a third tier club in administration. Am I the slightest bit worried about the outcome? Absolutely. But only because I'd be worried about any buyer coming in brand new. The fact is I'm more relaxed about Jeffries and Frampton than I would be about most new buyers. Things do seem to be moving along at some pace now, so it hopefully won't be too much longer until we have new owners. If we get to have a Wiganer involved in it when the ink is dry, then I'm okay with that.
Can I start by saying thank you to Mr Kendrick for letting me briefly escape from my torture chamber to pen this piece. I decided a few weeks ago, that rather than continue to wait for Begbies to actually do the job they have been brought in to do, I would suffer considerably less pain if I could just hide away in a dungeon, while I am hit about the face and body with sticks by a bunch of random people. Rumour has it those at the front of the queue are all rugby fans. Let's be clear, it is not physical torture, but this is mental torture of the highest order, and it has been going on now for SEVEN MONTHS. Did it really have to be like this? Absolutely not, you will not change my mind on that. So many mistakes have been made: the way the bidding process has been organised, unprofessional and contradictory comments in the media and on social media, continuing to put forward unsuitable buyers rather than open up the process, players sold for a pittance. But hey! You'll get some great sell-on fees (after we've taken our cut, obviously)... Perhaps with us being a football club in administration, I'm not sure we should have expected anything else, other than a series of continual pain and disappointment, as everything we hold dear gets ripped to shreds. But seriously? Does it really need to be so painful? We have had one very decent Championship team sold off for a quarter of their value along with several very promising kids, who in today's market could be worth £20-30million each or even more in a year or two. Yet the vultures continue to circle and try to pick the bones out of the rest, with Leeds and Tottenham being prominent. We have always been a selling club, let's face it. Plus we can't be too virtuous, we have also been guilty in the past of picking up players on the cheap from other clubs in financial turmoil: Roy Carroll and Victor Moses spring to mind. But Premier League clubs farming out small change to plunder our players, who have barely broken into our first team, is absolutely disgusting. I don't know what is worse: Leeds signing Gelhardt and not even sticking him in their squad, or Spurs actually playing 16-year-old Alfie Devine and getting all the praise for blooding a youngster, complete with 'he's one of our own' sycophancy. No, he's not! You stole him from a club, who spent years developing him and would have continued to do so, as he was only 15 when he left! Then we move to Kyle Joseph, who is next on the bargain basement hitlist. Now, again, it is difficult to be too derisory about the fact Blackpool are bidding for him. I've moaned above about Premier League clubs prizing away our young assets and sticking them in their reserves, so you've got to assume Blackpool would play him. It would be a sideways move, but to a club who are probably in better shape than us right now. Oh, how tides change from a few years back: it is probably worth considering this, given our current plight! And what with him having Scottish ancestry, Blackpool is technically their second home! But please, please, please, can't we just enjoy him for a bit and then sell him in a year or two, when he is more of the finished article. The same goes for Tottenham and Rangers' interest. For Spurs, it is pure payback for our youngsters walloping them in the FA Youth Cup last year. Well, they won't let that happen again, they'll just sign them all for 2 per cent of one Pierre-Emile Hojbjerg. As for Rangers, well any player up there will be treated like a God. Any half-decent player can do well playing for Rangers or Celtic and, for Joseph, he could probably score a panful. But then so could I, against teams like Ross County or Hamilton, and therein lies the problem. The only additional development and exposure he would get would be the odd European game, swiftly followed by elimination from said competition. But I'll pipe down before I get a tidal wave of Caledonian abuse.
Enough moaning but, please, we just want it to stop. We have somehow managed to completely rebuild a side based on youth, and it seems now everyone wants to take a bite out of that too. I am pretty sure the sheer scale of it, simply hasn't been seen anywhere else, and all we as fans are left with, is wondering what could have been. What can we do but look forward? It is testament to our current predicament I am actually scared we are playing Rochdale at the weekend. They are free scoring and we are still in turmoil. Dare I say it, for them to do the double over us would be something of a scalp, and they would rightly enjoy it. There are also a nervous few weeks ahead, where the season could get cancelled, which for us would mean automatic relegation under points per game, unless we can get a few quickfire wins. Unfortunately, so much of our future still lies in the hands of the administrators, who now appear to have reverted to a process which they should have done at the start. By setting off a bidding race and ensuring the bidder is acceptable, before giving them exclusivity to complete. Of course, the problem we have now, is we will run out of cash very soon, so that time we had at the beginning is no longer available. Furthermore, the bidder who is successful (and I still hope and pray there is at least one) will be one of their choosing and not ours. The Spanish were very determined to get the club, however it transpired the only people among their consortium who did, were the ones who it subsequently appears were not to be trusted. So quickest or most determined, does not necessarily equal the best. And I mean the best for Wigan Athletic, not Begbies Traynor, who, if it isn't evident by now, may have different objectives. I don't know exactly who is out there. There is talk of one or two nasties, which we really don't deserve, after months of suffering, but I am leaning now towards the Tony Frampton bid. Sure, he got a bit carried away, and there might be concerns over Far East money, but they seem legitimate enough to at least pay the bills every month. And most fans are neither interested or swayed by talk of pumping millions in or running a huge community programme. A monorail from Wigan Central to the DW Stadium is a deal-breaker for me, however. Even so, I expect no news this week, and maybe no news next week either, so we can't even think beyond that. We just need to get somebody in to get us out of this horrible limbo...and the sooner the better!
A period of calm if you can call it, with no football and not much coming out the administrators. But it looks like Tony Frampton's gang are in pole position for the takeover. Now whatever we thought of his outlandish claims pre-Christmas, we are now in dire need of this bid to be successful. On the field, a new recruit and a couple of contract extensions going into the game at Rochdale. We will miss Tom James, thanks for your efforts, also Matty Palmer. Stay safe.
We have reached the halfway point of January, and one's take on how the new year has started for Wigan Athletic can go in many different directions. One could recognise we haven't lost a match in exactly a month, while another could respond we're still 23rd in the league table. One could make note of the return of Callum Lang, the re-signing of Dan Gardner, the professional contract signed by Thelo Aasgaard, and the new signing of a Championship-calibre defender in Tendayi Darkiwa. Someone else could just as easily acknowledge the recent departures of midfielder Matty Palmer, starting centre-back pair Curtis Tilt and Darnell Johnson, and most notably, club hero Kal Naismith. Regardless of how rose-tinted your glasses are, or whether you consider your glass to be half-empty or half-full, all Latics fans should agree that nothing is more important to the club now than to land the right owners in as timely a manner as possible. The most ideal bidder will put forth an offer that will prevent Wigan from incurring a 15-point deduction this season, prioritise the future of our prized academy with further investment, and establish the core of a first-team squad that will not only survive in League One this season, but has the potential to push their way back up the league table in the coming years. Time is not our friend in these proceedings, and that unfortunately limits our ability to score the perfect offer from the perfect bidder. I've shared what some would call "blind optimism" in favor of the Spanish consortium over the past several months, and I will continue to offer that same support to whomever emerges as our frontrunner in the coming days. Recent reports indicate Tony Frampton and his Far East are leading the pack. Regardless of how our best takeover candidate now stacks up against our best candidate from four months ago, we are in a position where we must move forward with that party as soon as possible. We are on the verge of losing the last of our most sellable assets if we cannot find sources to fund the club beyond the next few weeks. Our club that has been stripped down to the bone in 2020 may have to start taking offers for its bone marrow in 2021. We are approaching the end to our 18-day break from play, and the allure of watching Latics on the pitch still remains despite the massive uncertainties surrounding our squad. Our trip to Rochdale on Saturday presents an opportunity for redemption, as we are just one month removed from the 'Drubbing at the DW' where Rochdale annihilated us to the tune of 5-0. Despite scoring seven goals over their past two matches, Rochdale still sit right outside the relegation places in the league table, and have not won themselves since their victory over Latics in mid-December. Playing with a threadbare squad during the coldest month of the year makes it all the more important for Leam Richardson to light a fire under this young squad. It could only be a matter of weeks before the realisation of a future in League Two truly manifests itself for Latics. At that same point in time, we could also be on the path to our most stable run as a club in years with new ownership in place and the future of several young starlets secured. This is still a contentious time for our beloved club, but it is not a time to panic. Plenty of favorable outcomes are still possible for Latics.
Another week, another week being none the wiser to if we will be taken over any time soon. The amount of rumours and lack of clarity is painful to say the least. A surprisingly positive signing with Tendayi Darikwa joining the club, not sure how we've pulled that one off in the circumstances! Should be a good player for us, probably one of the best full-backs in the league when fit. Big game Saturday against Rochdale, don't think people realise how big it is getting Callum Lang back at Wigan. Proven track record of scoring goals at weaker League One sides, to think what he could do with a stronger team is really positive. On the negative side, we have no takeover news of any kind from anyone, and people making up stuff doesn't help by the way. Sean McGurk and Kyle Joseph's contracts are a priority now. We need to get them lads held down at the club before they're sold for a jammie dodger. A centre-back would be nice too.
Maybe this time next week we'll have a new owner, who knows?! If the Frampton group are in pole position, then maybe we have to go with it. The interviews he has done though left me feeling 'nah this mon is a fly by night'. Sliding roof, Premier League, just a football club to support will do me! No disrespect, but we are getting desperate, so maybe this is last-chance saloon. EFL, I hope you are listening. The transfer window has opened and it's been good to hear we've extended some contracts. Need a few more reinforcements...but no owner, no money? I'm just getting exhausted with the whole sorry mess, and not sure what to feel. Let's try and stay positive.
Thirteen weeks and six days. Thirteen weeks and six days literally thrown away. The best part of four months being told it's nearly done, it's just a few days away, all's fine, we're just dotting the I's and crossing the T's. Being told not to worry about another week passing by as it'll definitely be done next week. There's very few words to describe the anger I felt last week, and the anger wasn't solely about on-pitch matters. In this hellish period for our football club, on the pitch has always come second. But I felt anger for those who have been affected by this takeover far more than those of us who are merely football supporters. It was no secret a number of staff had been informed by the Spanish consortium they would be facing large salary cuts or redundancy. A number of staff, including the first-team medical staff and head of HR, decided they would jump before they were pushed, leaving jobs they had been in for a long time. How must they have felt as the takeover finally collapsed last week? What about those who were made redundant back in the summer? So many people...affected and still being affected by our situation. It's important to remember this situation goes a lot deeper than the visible turmoil on the pitch. Begbies' deadline of last Friday evening saw a number of parties expressing interest, with formal negotiations underway with a number of bidders - subject to proof of funds. One of the loudest parties left on the sidelines when the Spanish consortium entered into talks was the much-publicised bid of Wigan ex-pat Tony Frampton, financed by Alistair Jeffries. Frampton had made it clear he was convinced the Spanish bid was doomed to failure, and he and his group could be installed within a few weeks. Frampton's bid has been well documented, and some of the plans we've heard are extravagant to say the least. A sliding roof on the stadium anyone? But equally there's clearly a lot of money within the group. Matters have progressed through the week, and we're now awaiting a further update from the administrators to confirm the bid is being progressed.
We're very quickly approaching the 'last-chance saloon' in this process, and it may well be Frampton becomes the Wiganer returning home to save his local football club. I understand the worries of Frampton's links with rugby league, and indeed his fondness for a number of other football clubs. But let's face it, we're fast running out of options, and it seems Frampton and co are the only show in town. We have to hope it hasn't been hot air over the last few months, and the most unlikely takeover in living memory can get over the line. Especially if the other options are Norman Smurthwaite and disqualified company director Saul Loggenberg, whom one national publication suggested was a credible option over the weekend. After a Covid-enforced absence, Latics return to on-field matters on Saturday against a Rochdale side who inflicted our heaviest defeat of the season back in December. The vultures are once again circling the DW, with Kyle Joseph and Tom Pearce the latest to be linked with a move away - moves that could well happen for as long as Begbies are in charge and the ownership situation has yet to be resolved. There are also a number of loan players including Darnell Johnson, Curtis Tilt and Matty Palmer who have returned to their parent clubs since we last played. There were a couple of bright bits of news among the gloom this week, as Dan Gardner and Thelo Aasgaard signed new contracts with the club. We also brought in another Leam Richardson-connected signing in Tendayi Darikwa, who arrives from Nottingham Forest until the end of the season. It's ironic we tried and failed to sign Darikwa in brighter days, and he comes with a fantastic pedigree, who Leam knows well, and hopefully he can hit the ground running. We're in desperate need of reinforcements, but even more worrying is those we can lose. We just have to hope Leam and Gregor Rioch can keep the show on the road for as long as possible. It's been a horrific seven months for our football club...but we just have to hope brighter days are ahead.
Thanks for reading. If you value what we do and are able to support us, a digital subscription is just £1 for your first month. Try us today by clicking here and viewing our offers ...