Wigan Athletic: The 12th Man - 'I don't know where we go from here, I really don't. But I hope someone, somewhere, does...'
In the first part of this week's 12th Man, our panel of Latics experts try to find positives from an increasingly gloomy situation...
Published 25th Jan 2023, 12:12 BST

- 10 min read
Updated 25th Jan 2023, 12:21 BST
So is it the players or is it the manager? Until the last week and a half, Kolo Toure was still having to deal with what was Leam Richardson's team which, let's be honest, was made up mostly of decent League One players, but not much more. Should it be argued, then, that Richardson shouldn't have been sacked, assuming the board didn't provide any finds in the summer? None of us know, really, do we? The fact is, however, that no manager is going to survive a run of results as bad as we had in the last weeks of the Richardson era. Now that Toure is getting no more out of the players than had been seen before, though, it's fair to at least ask the question. What started with the promise of a new dawn from a man who was a top class Premier League player, and who had played – and coached – under some top class managers is starting to resemble a vanity project that has absolutely no future. Toure's lack of experience at this level, and general lack of experience as a manager is manifesting itself in puzzling team selections and even more puzzling game management. I'm not advocating for changing managers every three months, so what do we do? Three draws and six losses, in all competitions, does not exactly inspire confidence. There have been some occasional bright moments but, generally, even the most enthusiastic and optimistic Latics fan has had his and her resolve tested this season. As I sit here, typing this, I can see no outcome to this season but relegation. Actually being relegated does not make me nervous, from a footballing point of view, but we're not owned by Dave Whelan any more. We're owned by someone who will want to see a return on his investment, and that return is not 50 quid telly money and sub-10,000 crowds. Should we go down, I suspect we'll be looking for yet more new owners, but it's fair to say there was hardly a credible queue last time, and that's the real worry. The cost of sacking Toure and his staff, should it come to that, will no doubt be considerable. And then there's the small matter of finding a new manager, one willing to come to a club with players he has had no say in signing. We will find a new manager, there are loads of them looking for a job, but we really can't afford another mistake, and other people's mistakes are all that's out there. I don't know where we go from here, I really don't. But I hope someone, somewhere, does.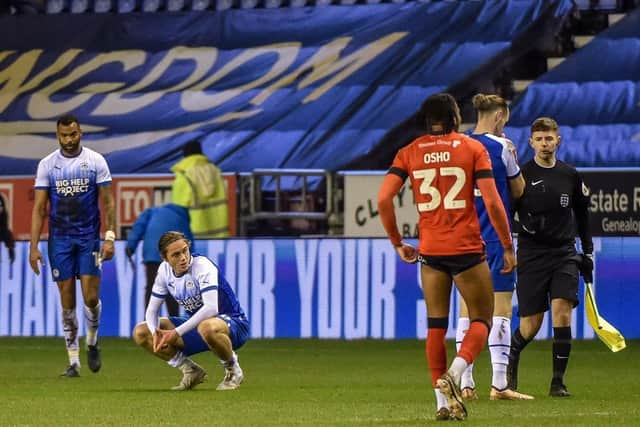 The noise is all negative around Wigan Athletic at the moment and it's easy to see why I'll not bore you with stats but we can all see why. Now Kolo is either mad or delusional if could see positives out of Saturday's performance. While you can never account for centre-back blunders, we never did enough as a team. The next week of the transfer window is important. If we had Joe Gelhardt on Saturday, he would have struggled to get a touch of the ball. I'm still willing to give Kolo a chance to get his own players in and hopefully Charlie Wyke back fit. Nice break for them to work hard in training before we next play. Stay safe.
These last few weeks have been somewhat of a rollercoaster! Not helped by the negative aspect of social media. At what point was it deemed acceptable to directly message the chairman and members of the board demanding answers for what 'some people' have decided is a shambolic January transfer window!? Some of the comments… I mean, wow? I've seen some saying 'You said that actions would speak louder than words, you need to make a statement tonight'...isn't the whole 'actions speak louder than words' the complete opposite of a statement? Or is that just me? I saw a meltdown on Monday night with people saying we're League One-bound because we have loaned Josh Stones out! The mind boggles. So here's my penny's worth. Do I think we should have sacked Leam? No, I don't. However, that decision was made and we have to move on. Do I think Kolo was the correct appointment? I don't know. I'm just a supporter with no involvement in the recruitment process. But the fact is the board thought so, and here we are. Results have been poor to say the least but, not just that, the performances have been terrible. The atmosphere in the stadium is the worst I have felt in a long time. A lot of the fanbase have already turned on Kolo and are shouting for him to go. But let's be honest, is that really going to happen? Kolo's appointment wasn't a Sam Allardyce 'come and get us out of trouble' appointment. It's clear to me that by bringing in Kolo, they wanted a fresh young coach who wants to play an attractive style of football. That won't happen overnight. It's a risk, I think we all knew that. The three signings are clearly 'Kolo signings', and the little we have seen of Azeez and especially Tiehi, you can see what they could bring once they are settled. And Caulker (mistake on Saturday aside) looks a class above what we have already in defence! Hopefully this little break we have now gives more time on the training ground and freshens them up ready to go again on February 6. Confidence is a massive factor. And you can feel the confidence is low in the team when you're inside the ground. Mistakes are made because things are being over thought. Officiating has been terrible (and I don't think that's my biased fan talk coming out), Ashley Fletcher's disallowed goal the most recent. Again, all adding to the slump in confidence. Now who's job is it to pick them up? Kolo? The players? The board? The fans? It's all of the above! When things are tough, people need support. They need faith. They need a kick up the backside. But that isn't down to one individual person. It's a collective. Is it too much to ask to give Kolo time and get some belief back around the place? Honestly, I walk away from that ground every week and say to my wife 'I still think we're going to come good' and, do you know what, I still believe we could have that second half of the season push for the play-offs! I know people will read that and think I am living in cuckooland, and the fact is I probably am. But isn't it better to believe that than believe we are doomed and going back down?! Honestly, that little bit of luck and the fans in full voice getting behind the lads and I believe our first win under Kolo is around the corner, and the confidence will start to filter back in. The 'process' Kolo keeps alluding to will take time. We still have a week left of the transfer window, so plenty of time to get the 'right' people in the door. So let's just get behind them, keep the faith, and keep believing. As for the 'lack of communication' from the club...this doesn't bother me one bit. Maybe just maybe they're busy behind the scenes to do what is needed to support Kolo? Sometimes things don't work out, but do they really need to update us on every corner? No! I mean, does that happen anywhere else? Talal put a post out a few weeks back, surely he doesn't have to keep repeating himself? They said they are working to improve things, so let them do their bit and we'll do ours by supporting them.
Saturday was quite frankly another example of the fact Wigan Athletic are seemingly not good enough to retain their Championship status. It's grim being a Latics fan at the moment, and no football supporter should ever be happy their team isn't in action on the weekend, but that's the predicament we find ourselves in - and who can blame us? It'll be nice to soak in some good quality FA Cup football, without being frustrated by our own team. I had a glimmer of hope and a wave of belief when it looked like talented Latics Academy product Joe Gelhardt was returning from Leeds. But if that doesn't happen after all, then I can't see us staying up. Christ Tiehi looked good on his debut against Luton and had the sort of confidence and skill to take on opposition players. Something which the vast majority of the squad lack. Steven Caulker's mistake was frustrating. He was brought in to add solidity to a struggling defence and to do virtually anything other than give the ball away deep into his own half. As with any other rational Latics fan, I will be forever grateful to Talal and co for rescuing the club in our time of need. However, they shouldn't be immune to criticism. Why didn't the board invest more heavily in the squad over the summer? I appreciate the financial risks at play to a degree, but surely relegation isn't going to do their bank accounts any favours. Charlie Wyke and Jason Kerr get injured and - boom - our season is done. Where's the depth? It isn't the players' fault. They were all very good League One players, but the Championship is a different beast. Curtis Tilt, for example, was initially brought into the squad to prevent us from getting relegated to League Two. How, then, are we now in a situation where he starts virtually every Championship game? The board should have spent the money they put towards Richardson's sacking towards buying new players for him instead. Leam was brilliant at getting the best out of a group of players who, by and large, aren't good enough for the league they're in. Kolo isn't. It's bonkers. I can't even blame Kolo so much as I feel sorry for him, though. They've chucked a managerial baby into a river which has a crocodile in it. If you look at the early season results, Richardson wasn't that severely out of his depth. He deserved better. I didn't want to be looking back on this at this point, but we were never this rubbish with Richardson at the helm. Three consecutive 4-1 defeats over Christmas. It's poor. It's not getting any better for the foreseeable future either.
There was a young manager called Toure, And when he came to the Tics, we said "hooray". But out on the pitch, We could all see the hitch, That his style was more porridge than puree.
So this likeable young coach called Kolo, Was so lovely, he'd give y' his last Rolo. But his greatest offence was putting out a defence. With more holes than a packet of Polo.
So now, it's all down to the board. This time, can they strike the right chord? Do they stick? Do they twist? Do they have a long list? Or will Talal fall on his sword?
It can't continue, can it? Played: Nine, Lost: Six, Won: Zero, Drawn: Two, For: Eight, Against: 21 By all stretches it's an abysmal record, by some stretch the worst record that a Wigan Athletic manager will have started with. Is there any way of turning this around? The chances are becoming slimmer by the week. The Luton double-header was a must win, on both accounts. Many said before the FA Cup match that they didn't care whether we won as long as we did in the league. Well guess what, we lost both. So gone with it were the chances of a cup run that could have helped to lift the doom and gloom somewhat. Also gone was the chance of a fair old pay day for progressing, and the possibility of a decent draw in the fifth round if we'd have got past Grimsby. Also gone was the opportunity for a first win under Kolo Toure. After Tuesday, it felt as though Saturday was the epitome of 'must win', there was no other way to describe it. But once again this Latics side managed to not win, and one must wonder whether we ever will achieve a win under Kolo? It certainly doesn't feel that way at the moment. I don't want to keep mentioning Leam Richardson, he's gone and he isn't coming back. But would the record above be the same if Leam was still in charge? It's become abundantly clear as the season has gone on that this set of players - despite the heroics of last season - are struggling badly at this level. But despite all of that, I simply can't accept we wouldn't have fared as badly over the last nine games with the previous manager, or a halfway house of the assistant manager who, when last in charge, got our last win in the last 17 matches. Those of us who tend to look at things with a glass half full perspective have tried to remain positive, tried to remain understanding of a novice board and novice management team negotiating a notoriously difficult league, but even I'm struggling to find any silver linings at the moment. Kolo's appointment has quickly become a disastrous one, not only similar to those of Owen Coyle, Malky Mackay and Warren Joyce that preceded him, but worse. This is no sleight on Kolo himself, who I'm sure is hurting as much as we are, and who I am sure is a lovely bloke and quite possibly a very good coach. But none of that sets him up for half a season managing a club on a shoestring budget in the Championship. It's a mistake Latics have made before with the appointment of Joyce. It was bad under him, but even then we managed to pick up the odd win. At the minute, we look as far away from a win as I do starting centre-forward against Blackburn next week. Someone made the comparison with Roberto Martinez earlier this week and that, even when we lost heavily, you could at least see the method in the madness, and when it came together, it was glorious. But this isn't someone playing possession-based football like Roberto, this is someone with no discernible style at all. The Millwall and Sheffield United performances apart, I've seen nothing in the Kolo era that sets it apart from what went before. The only difference being the players here previously would run through brick walls for their manager. That has now sadly disappeared. I truly hope I'm wrong and we will go on a swashbuckling period of football (or at least pick up some results) ala 2011/12 and 2019/20, but I really fear for us. I fear for our future as a Championship club, and I fear what comes next.