Wigan Athletic: The 12th Man - 'Let's face it, Michael Caine had longer in 'Escape to Victory' to get a team together than we did - and probably a bigger budget...'
Our panel of 12th Men run the rule over more evidence that steering HMS Wigan Athletic towards calmer waters will take some time...
Published 23rd Oct 2020, 09:56 BST

- 13 min read
Updated 25th Oct 2020, 13:30 BST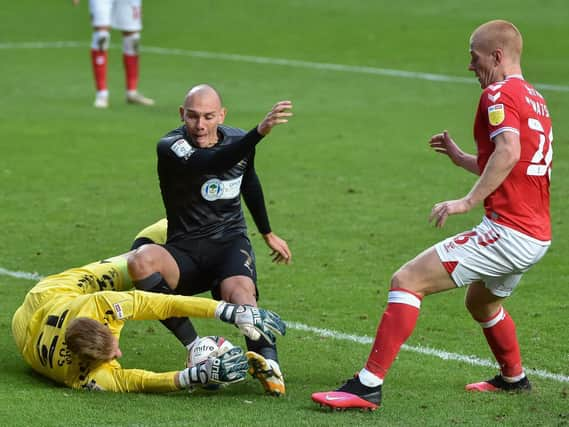 Right, let's have a look at this league table then, for the first time in months. Oops, that's not good is it! To be fair, it is the first time in a while I have resumed myself to the mundane duties of seeing where we are. In my head, while watching the last two games versus Charlton and Peterborough, I figured we were slightly lacking in quality and cohesiveness compared to our opposition, but we weren't miles away from them. If they are going to be not far off the top six, then we are maybe looking at finishing somewhere in the bottom half, as things stand. I'd be tempted to say we should be safe enough to be somewhere between 16th and 19th but, given we are in the relegation zone already, it's easy to get nervous and start scrambling around to identify three four worse teams than us, even at this early stage. It is a sad state of affairs, but we are going to have to accept it takes any club a good two years to stabilise, following a period of administration. So if we can stay up this season, it will be a miracle. Looking at the team from Tuesday, it was made up of the following: five first-team professionals left over from last year, none of whom were always first-choice starters; two on-loan centre halves (and when your defensive core doesn't actually consist of your own players, that always makes me feel uneasy); and four players of moderate ability at this level, signed on short-term contracts. Every single player on the bench was from the Under 23's squad. So if you are expecting miracles, or even regular, steady victories, then I suggest you give David Blaine a call. We are going to struggle this year, and struggling may well be the 'new normal' for Wigan Athletic. Just like it was, all those years ago, before Dave Whelan rocked up by ridiculous promises of getting in the Premier League. It seems some of our younger/dafter fans seem to think League One is beneath us, while failing to realise that, without a large cash injection from Big Dave, we probably would have never made it any higher than the third tier in the first place. I promise I'm not going to use the 'as long as we've got a team to watch' line again. It still is exceptionally valid, but I know it loses impact over time, especially from those whom, now they have got a team to watch, are demanding more of them, despite their limited ability and numbers. We have fallen a long way since July 1, and this season is all about clawing back from a position of near extinction. Most of this team hasn't played together, so will improve as the season goes on. And of course, January will give us an opportunity to strengthen, and perhaps offer players the security of a longer-term contract, and we can start to become a proper football club again. The good ship, HMS Wigan Athletic, is still in the slow process of turning away from the iceberg, and I can only ask that fans can show patience, as we will undoubtedly face choppy waters for a few more months yet. If/when the new owners come in, I have no expectation whatsoever - from everything I hear - that they will be splashing the cash. Again, 'we just want our club to be sustainable' is another quote that is getting a tad tiresome. It is absolutely true most of us do, but I just hope that sustainable doesn't get perceived as being miserly. And I pray to the God of Liddell the new owners don't end up actually being miserly. They have a good base to work from here. The administrators have done the dirty work for them now (which is why, it was no great surprise, there was suddenly a last-minute rush of bidders). It does need some investment, firstly to keep us in League One and a little more for us to be competitive at this level, but only a moderate amount. Plus, being a well-run club doesn't just involve investing on the field. If the new owners can engage with the fans early on and protect the golden nugget that is our academy, I am sure that goodwill will go a long way in the right quarters. After the initial euphoria of being bought, my enthusiasm is a little more tempered now. I do think there will be tough times ahead, and fans need to be realistic about what we can achieve in future. There might be more disappointment than excitement, but the excitement more than makes up for it. It's still the same football club. It might not feel that way right now, and we might have to accept a little bit less out of it, but it has given us enough joy in these past 20 years to last us all a lifetime.
'All's quiet on the Western Front' seems to be the position we're in at the moment regarding the takeover, and I suppose no news is good news, hopefully anyway. Even Krasner is quiet, he might actually be doing something for his extortionate fee, so with no news on Paella Park it's back to the on-field antics this week. I see some Tics fans are getting restless with performances and I don't get why. Let's face it, Michael Caine had longer in 'Escape to Victory' to get a team together than we did - and probably a bigger budget...them Eastern European's couldn't have been cheap being brought in for him. Until the takeover is complete and we see what the Senor gives us budget-wise, we're relying on this team to simply avoid relegation. There's no other objective this season, that's a simple fact and shouldn't be overlooked. The teams we are putting out, in my eyes, are easily capable of staying up. I've yet to see anything like a decent side so far, it seems a really poor division we're in. Unlike League Two, which must be full of brilliant teams if the lads from Horwich are struggling so bad, what with them being such a massive attraction themselves like...LOL. We, as Tics fans, need to keep getting behind the team as best we can in these weird times, not slagging them off. We've still a team to support when we can, let's hang on lads and lasses. Right, I'm off to Barrow for a 'Bow and to see the statue of the self-styled messiah Ian Evatt. UP THE TICS!
It's a bit weird, at the moment, being a Latics fan. The takeover, we have to assume, is progressing seeing as how we have had no news to the contrary, or at all, in the last few weeks. We still don't know a massive amount about the new owners, other than a bit about the principal player, Jose Miguel Garrido Cristo. We know he has a football history with lower league Spanish clubs, none of which seem to have involved anything like the trauma we've been through since July. A positive sign? Perhaps, but time is the great exposer of good and bad, and we'll have to wait to see what happens. Another director has been added to the company information this week, which means things probably are moving towards completion. For once, it looks like the EFL and Rick Parry are actually having a proper look at someone who wants to buy a football club. It's a shame they didn't put as much effort into helping us out that they did into trying to sell their member clubs to the highest Premier League billionaire bidder. The organisation is like one big clown car, but it's always someone else's wheels that come off, and never theirs. On field, it's about as good as we had any right to expect. The squad is a shadow of what it was, even when we were in League One last time round. It wouldn't have been a huge surprise if we were already struggling to stay in touch at the very bottom, but a couple of decent wins, and actually half-decent performances for the most part, have kept us (just) out of relegation places so far. John Sheridan wouldn't have been many people's first choice for manager, but we were begging instead of choosing, and he's just about holding everything together. A big nod for that needs to go to those who have stuck around this season, especially players like Joe Garner and Kal Naismith, who could probably have found other clubs quite easily. Even if they wanted to leave but never found the deal they wanted, they haven't let it show, and their commitment to the cause has been admirable. If we can win something along the lines of one in three, then all will be rosy enough to keep us up. We don't know what, if any, investment will be forthcoming but, regardless, we can do very little now until January in terms of getting players in. But, look, whatever happens we have a club. There was a time in July and August when that didn't look likely. Let's be grateful for that, and hope the new owners bring a lift in performance to just hoist us a bit further away from the bottom three. We've lost three in a row, but we won two in a row before that, so it's not an impossible task if by some miracle we keep everyone relatively fit.
We are now three weeks further down the line from the announcement of the successful bidders to buy the club and every fan is eagerly awaiting news. Right from the outset, the administrators said it would take around 2-3 weeks from the bid being accepted for it to pass through the EFL tests and for the approval for the takeover to be granted. We are right in that time slot now and the wait is agonizing. But it is a wait I am pretty sure most of the fans are happy to endure. We need to make sure every possible test is done in-depth and with real scrutiny. The last thing the club needs is a repeat of the last two situations which ultimately nearly lead to the demise of the club itself, so while it is frustrating and nothing seems to be moving along, we have to be patient right now and let the powers-that-be do their work. On the field, we have a group of decent players trying desperately to look like a team, but they are struggling right now and that is totally understandable. We have right-backs playing left-back, we have right-wingers playing centre back and central midfielders changing weekly. There are new players working their hardest to make an impression and it is all difficult to watch at times. This is what administration has done to the club, destroyed years of work and given us a gloomy outlook. But there is hope, there is a glimmer of real hope in some of the youngsters coming through. Alex Perry for me stands out just above Chris Merrie in the heart of our midfield. A little more experience and maturity and we could have a couple of real players on our hands there. The likes of Ollie Crankshaw, Charlie Jolley, Adam Long and Emeka Obi have shone in spells too and, if we can use their energy and enthusiasm in the right matches at the right time, we won't go far wrong. Lee Evans and Kal Naismith have been consistently good for me, Gavin Massey is hit and miss, Joe Garner causes defences all kinds of problems, but we are still short in a number of areas. However, we have to deal with that and understand where we are. Those of us long enough in the tooth have seen this all before, it isn't pretty and at times it really saps your energy. But when all is said and done, the team is still there, in the third tier of English football, and we are fighting. That right now, until the EFL rubber-stamps things will have to do. Get behind the team, good or bad and let's look to the future.
Another loss in midweek, but some good play during the game. No excuses from me, but new players and staff need time to settle in. Some are on short-term contracts, so for this reason I'm just happy to be watching Wigan Athletic. Right attitude, some will say not, we should be winning these games. But I'm of the opinion that if this takeover wasn't to happen and it collapses, we potentially won't have a club to follow. I'm supporting our club until I can no more! Anyway, no news is good news on the new owners? Let's hope to hear something very soon, and hopefully slowly but surely move on from this sorry mess. Up the Tics!
The arrival of midweek league matches and a return to the DW Stadium did break up the monotony of the five-day work week for many of us, but it unfortunately did not break Latics' streak of losing results. Even with Halloween coming up, the 'unforgiving' ghosts that haunted us in the Championship still lingeras we re-navigate League One. This time around we have replaced the 'Ghost of Dropped Points' with the 'Ghost of Cursed Shooting Boots'. There may also be a witch casting spells on our defensive third of the pitch that cause brief but intense lapses of concentration. Despite any supernatural forces that may be working against Latics at the moment, the players' effort on the pitch has remained strong and seemingly unaffected. When you compare the 90-minute performance at Charlton last Saturday to Ipswich just five weeks prior, our quality has improved dramatically in many key areas of the pitch. Yet, through seven matches we find ourselves in the relegation places of the league table, positioned 21st of 24 teams. At this point in the season one year ago, we were fresh off the summer spending spree of 2019, and sitting on less points (five) through seven matches than we are right now (six). Kieffer Moore and Jamal Lowe had both not yet opened their Latics scoring accounts, while Antonee Robinson and Cedric Kipre were still many matches away from solidifying their statuses as future Premier League prospects. It took last year's squad nearly six months to find their footing and build the partnerships necessary to consistently produce positive results. One can only hope the same process is accelerated this season. Going on 300 consecutive minutes of goalless League One football has been quite discouraging. However, the glass-half-full viewer will point towards Kal Naismith's superb man-of-the-match effort from the right wing against Posh. They will make mention of Lee Evans settling into a deeper midfield position, and how he has slowly gained power towards being the engine this team needs to control games in the centre of the pitch. They will take the positive titbits shown by Joe Garner and Will Keane as a budding attacking partnership, and have confidence the pair can create goals for each other within a short matter of time. They will be inspired by Viv Solomon-Otabor's run through the Peterborough defence in the closing seconds of Tuesday's match, and recognize how quickly magic can be created with the ball at his feet. We must remain patient and maintain full support as Wigan Athletic develop on the pitch. The wait for the confirmation of our new owners has been long and stressful. The wait for Latics to settle into League One this season has proved a challenge in itself. As a wise man once said during an early 2009 television interview (that has recently made its rounds again on social media), let Latics gel. We're going to be all right.
It's been a bruising couple of weeks. Let's take a look at Saturday's trip to Charlton, where things fell apart last season (if we ignore Choi, Au Yeung and the EFL that is). Comparing the performance with that at Crewe was like night and day. Charlton was like the other committed performances we've seen this season and Latics really should have left the capital with at least a point, if not all three. Latics have since been charged by the FA for failing to control their players in the 83rd minute. Difficult to remember if this followed the referee failing to award Latics a second stonewall penalty of the match, or if it was when he denied a perfectly good Joe Garner goal that the assistant referee had seen no issue with. I for one thought the protests were muted considering the refereeing display we had been treated to. Charlton will do well this season, they've managed to retain a big portion of their squad from last season and have added really well. While their own ownership struggles are at an end with the arrival of Thomas Sandgaard, ours continue. An initial period of 2-3 weeks was envisaged for the Spanish takeover to be completed, and we're now past that mark - with no further updates forthcoming. Rumours abounded of issues with the deal at the weekend. Seemingly not substantiated, but you can see exactly why Wiganers are getting worried. Once again there is very little we can do but wait, and pray the deal to secure the future of our football club passes before much longer. Back on the pitch, Latics faced Peterborough on Tuesday, and for the first 20 minutes of each half you would have been hard pressed to know which side is at the bottom of the table and which is at the top. Sadly, football is about 90 minutes, and Latics' inability to capitalise on some excellent possession and chances in the Peterborough half meant yet another defensive lapse was punished and Peterborough took all three points. We're not playing badly by any stretch, but if we're not careful we'll be cut off before too long. The senior players know they'll be playing more football this season than they have for a long time, with the condensed season and administration meaning we are carrying a relatively small squad. Matty Palmer was impressive on his debut, and hopefully his arrival can bolster the engine room and allow Lee Evans to dictate the attacking side of our game that bit more. Luckily in this league you don't have time to focus on the defeats, as another game is right around the corner. We've had a punishing introduction back to life in League One, facing many of the sides expected to be competing at the top come May. The next 10 days see us face three sides that aren't promotion favourites, and hopefully that gives us time to reset and pick up as many points as possible. Keep the faith with the lads, it's a cobbled together team doing their best, and hopefully we can get back on track against Plymouth. We all need a lift at the moment.