Wigan Athletic: The 12th Man - 'Our chances of staying up have been whittled down to the bone...however, there is still plenty of reason to tune in to our remaining five matches...'
Our panel of Latics experts try to plot a way out of the present predicament...with one eye on next season already...
Published 13th Apr 2023, 21:05 BST

- 8 min read
Watch more of our videos on Shots!
and live on Freeview channel 276
Visit Shots! now
As the season draws to a close, we saw the two sides to Wigan Athletic over Easter. A battling performance at Sheffield United, who look destined for another short stay in the Premier League, and an abysmal performance against a treading-water Swansea City. For me, this season can't end quickly enough. It's been a disaster since October on and off the pitch, and I'm sure we'll see a very different Wigan Athletic next season. Player wise anyway. Again, I'm not going to start bitching about who should go and who should stay. That's Shaun Maloney's job, and he's seen enough of them all now to know who he wants and who he doesn't. Whichever league we're in - and it's a sure bet we'll be back in League One - we just need some stability, starting with the owners. Cut your cloth accordingly and stick to it. I'm in the camp were relegation doesn't bother me, if we just stay stable. The upheavals this season - again, mainly the owners' fault - cannot be allowed to happen again. Yes, we've heard Talal's rallying call, but the streets don't forget that easily, and they've still got plenty of bridges to build with the fans. I've absolutely no doubt Maloney has earmarked the youth as where we'll be heading next season, and again I've no problem with that. Building around hopefully Jack Whatmough, Jason Kerr, Thelo Aasgaard, Charlie Hughes and now Scott Smith. Saturday sees one of the first - if not the first - fixtures we all look for at the start of the season...Blackpool away. With a reduced allocation this time, though - thanks to Lancs police - selling out in under an hour. Yes, I know, Leeds would've sold out quicker. All this means is plenty of Wiganers now mooching around Blackpool with no tickets...well done! It's also the annual Joseph's Goal walk, setting off on Friday morning, when around 70 Wigan fans - and one Oldham supporter! - will saunter their way through various ale houses en route to the seaside, raising much needed funds for the great charity associated with our club. If you want to donate, please give it to the WN6 lot because, as usual, the WN5 lads have led the way in donations. Furthermore reaffirming the No.1 postcode in Wigan! Right, I'm off getting my sun cream and shorts out for the walk, I've been told it's going to be blistering hot on Fri/Sat, and I'll be carrying much-needed fluids - 'Bow - for hydration. See you at the seaside!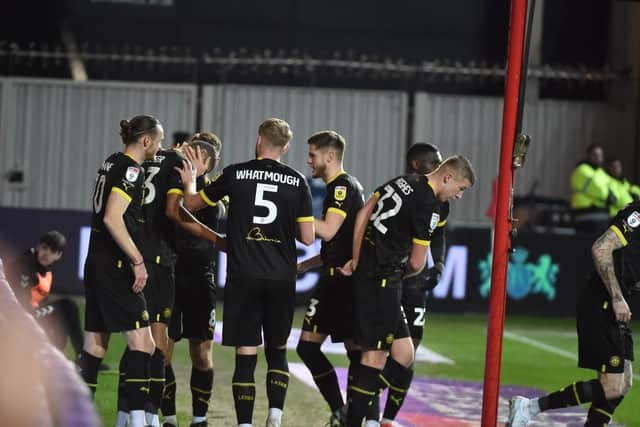 The fat lady hasn't sung yet, but she has completed her inhale, and the next sound she produces will be the one that seals our fate. We needed a minimum of three points from the two Easter weekend fixtures. We could hardly create a clear-cut chance in front of goal, yet alone salvage a point from either match. Our opponents, Sheffield United and Swansea City, had no problem creating scoring opportunities for themselves. The three chances that were converted between the two sides helped produce winning results for both. Our chances of staying up have been whittled down to the bone, and most Latics fans have accepted that a future in League One awaits. However, there is still plenty of reason to tune in to our remaining five matches. Shaun Maloney will assuredly be given the opportunity to lead the club through the quiet summer months and into next season. How will Shaun motivate the lads regardless of whether we're still in survival contention or already relegated? How will the young lads in the Academy be integrated into the squad over this final stretch? Will these last few performances allow us to go into the summer with our heads held high? Barring an unforeseen catastrophe, Wigan Athletic will still compete as a professional club when the 2023/24 season kicks off. Therefore, every event from this point forward will have an impact on our status once the slate is wiped clean again. This weekend's trip to Blackpool represents what is arguably our last chance to catch lightning in a bottle and start a streak of winning results that will see us playing meaningful football come May. Several dozen ambitious fans will make the trek from Wigan to Bloomfield Road entirely by foot for Joseph's Goal. Credit to everyone who will be participating in this year's charity walk. I wish all of you a safe journey and few physical ailments along the way. If there was ever a group of people who deserved a happy outcome at the end of an away day, it's those who are raising tens of thousands of pounds which will go directly towards critical NKH research. I encourage anyone who has a little to give to contribute to the fundraiser. We haven't celebrated a win away from the DW since the beginning of October, at Rotherham. If we only win one more match before this season wraps up, victory at Blackpool this weekend would mark a special moment in a season where genuine celebrations have been few and far between. I hope we can put aside the recent drama, heartbreak, and pessimism for a few more days and come together for a cause that is way bigger than football. Three points on Saturday would be welcomed as well. Up the Joseph's Goal walkers and up the Tics!
Resigned to our fate! The wheels on the bus have all now come loose, the players were in for a load of abuse. The manager too, he copped for some stick, as he's labelled as clueless as t' previous incumbent (couldn't think of a rhyme there). Whatever small hope we all had deep inside, has nigh on all gone, it's just withered and died. There is good news, though, season tickets are on sale, (though God knows who'll buy 'em, unless they're on th' ale). There's a general feeling you see going round, that the old Latics mojo's nowhere to be found. The usual tale of another great escape, is just pie in the sky, paper talk, it's just crepe. But 'owd on a minute, what's the worst that can be done? Another lovely season in lovely League One? A better chance for the kids to come through and to shine, (and of course for the moaners to whinge and to whine). But does it really matter wherever we play though? We're t' Latics, the believers, aye, Sin Miedo.
So the proverbial fat lady is warming her throat to serenade us to League One. Nobody really expected us to turn over Sheffield United, but the performance against Swansea City was almost a surrender to our fate, which was disappointing. Now on to our trip to the seaside for what my mate calls the 'El Crapico' derby. Maybe that's all what's left to play for - not finishing bottom of the league. A win would be great, but who knows. Season tickets launched this week and, no matter how bad this season has been, it still fills us with hope of a new beginning, a fresh start, and a path to glory. Good luck to the walkers this weekend. Stay safe.
The home defeat to Swansea City on Easter Monday more than likely spelled the end of Wigan Athletic's latest short-lived tenure in the second tier. Although Shaun Maloney has undoubtedly delivered on his pledge to make Latics a harder team to beat, the way in which our defence was ripped open by a singular pass on two goal-resulting occasions was a painful showcase of the ineptitude which has been present all campaign long. Along with (presumably) the vast majority of the fanbase, I have resigned to the 'fact' Wigan will be playing League One football next season. However statistically, by the metric of the average position of upcoming opponents, Latics have the second easiest run-in in the Championship. Trips to Reading and Blackpool, who won't have proper managers in the dugout, could prove fruitful for Maloney's Tics. Surely there's just too much ground to make up now, though. After being crowned champions of the arguably strongest League One division to date last campaign, this Championship season has been one of 'what ifs' for Latics. What if Jason Kerr, Jordan Cousins and Charlie Wyke had been fit all campaign? What if the wages weren't paid late on FOUR occasions? What if that mismanagement didn't lead to a three-point deduction? What if Leam Richardson was never dismissed from his duties? What if Shaun Maloney was appointed when Kolo Toure was? What if Nathan Broadhead was never recalled by Everton? What if Jesse Marsch didn't behave like a seven-year-old who didn't like the rules of 'swapsies' regarding Joe Gelhardt? Those questions are all, for the most part, unanswerable. But if you think back to when it was sunny, and those successful away trips to Birmingham, Huddersfield and Rotherham, Wyke's influence was huge. Kerr's impact on the home win over Blackburn Rovers was massive as well. It'd probably be fair to say that if Maloney was appointed to start off with, instead of Kolo, then we may be in a much better spot. The difference in average points per game between those two alone speaks volumes. Richardson has a track record when it comes to keeping Wigan Athletic sides away from trouble, despite a lack of sufficient backing. He might have done it again! All in all, though, we are still Wigan Athletic whatever happens, and we could be a useful League One outfit next campaign.
When Shaun Maloney took over as manager at the end of January, Wigan Athletic were bottom of the Championship, with 18 games left to save themselves from relegation. There was a hope and an expectation that a 'new manager' effect would transform the fortunes and performances, to achieve what Neil Warnock is currently doing at Huddersfield. There has been some (albeit) small improvement, but not much, and certainly not enough to avoid the impending threat of the inevitable relegation that awaits. With only five more games left to save themselves, Latics are still bottom of the Championship and eight points from 'safety' - a place that looks even further away after two more goalless losses incurred over a disappointing Easter programme. What we saw over this period was hardly the stuff of fire and brimstone that was needed to eke out the much-needed valuable points. Having watched the Swansea game, it was a case of 'same old Latics'. They rarely threatened the Swansea goal and never really looked like scoring...and I doubt if they would have scored had they played for another 90 minutes. To make it even worse, they were caught with a counter sucker-punch, by conceding two almost identical goals by the same player! For the rest of the game, Latics were chasing shadows, and I have seen too many games like this. An all-too-often propensity for giving easy goals due to poor marking, but most of all an inability to create real chances, let alone score goals. At best, Latics can barely muster one goal per game. Indeed, the last time they scored two goals in a game was against 10-man Blackpool on November 11! How often have we heard those dreaded words: 'Wigan Athletic nil'? It felt at times as if Latics had renamed themselves 'Wigan Athletic nil'! It is the lack of goals that will see Latics ignominiously relegated back to League One, after only one season in the Championship. It is still mathematically possible for Latics to avoid the drop, and every game is a 'must win' now. It is credit to the club and those loyal supporters who have got tickets for the Blackpool game on Saturday...5,000 tickets could easily have been sold for that game. By all means, let's keep the faith and don't give up just yet, but a reality check is much-needed right now. The inquests and post-mortems as to what has gone wrong can wait, and will be held at the end of this miserable wretched season. But for now, fingers crossed?