Wigan Athletic: The 12th Man - Part 2 - 'Back Kolo, let him get rid of who doesn't want to be here...and let him bring in who does want to be here. Because if he doesn't, we'll simply drift back into League One with a whimper...'
In the second of a bumper 12th Man, our panel of Latics experts try to plot a way out of the current doom and gloom at the DW Stadium – and search for positives heading into the New Year...
Published 6th Jan 2023, 10:17 BST

- 18 min read
Watch more of our videos on Shots!
and live on Freeview channel 276
Visit Shots! now
Well the season of goodwill to all men - assuming you can still say men, I don't want to assume anyone's gender - has come and gone, and the players certainly did give a lot of goodwill out...to Boro, Sunderland and Hull...with the freedom of the pitch to do whatever they wanted it seemed! An absolute wretched run of form has seen our fans revert to type...by abusing the owner, chairman, manager, players and each other on social media, with all the goodwill from last season firmly thrown out the window. Of course, most of it is frustration at what we're seeing on the pitch. Let's be honest, it's dire at best, but bitching amongst ourselves isn't going to help anyone. We've enough to contend with - the fans of other clubs having a swipe at us - without imploding on ourselves. This week has seen some very good points put across by folk on Twitter about our predicament and some absolute ballacks spouted also, with Talal and Kolo bearing most of the abuse. It really isn't a good look, lads. Personally, I think all this stems from last summer and the lack of investment from our Bahraini gods. The team that limped over the line simply wasn't good enough to compete in this division and, whether Leam and his blind loyalty to the crux of that side or - which is more likely - the funds simply weren't available, we went basically with what we had, and that for me and many others was the start of the inevitable. Now Leam will always get a drink in Wigan for what he did, but I did think the time was right for him to go. His stubbornness to change anything til it was too late, and playing his favourites no matter what form they were in, was his undoing for me. People don't agree on that, and that's fine. But taking off our 'What-happened-in-admin-Charlie-Wyke-etc' glasses, he'd have surely gone before he did. I can guarantee Whelan wouldn't have been as understanding if he was still the boss. Was bringing in an unproven manager in Kolo Toure the right choice? No idea yet. He's been here five games, he inherited a team that's not his and, the worst bit for me, a team that looks like it simply doesn't want to play for him, because they're still pining after their mate Leam. The camaraderie and bond they had seems all but gone, and you can see arguments on the pitch between themselves. Again, a lot of this will be frustration, but they need to realise Leam has gone whether they like it or not, and knuckle down to what Kolo wants, or get off - simple as that. Kolo has said there's players here who want to leave, some who want to stay, and some who want to come in. This window is massive, that's not an exaggeration, it really is. Talal has already made a statement apologising for the form and promising to make things better. Well, it's time for one of his own quotes: 'actions speak louder than words'. Back Kolo, let him get rid of who doesn't want to be here, and those that simply aren't good enough to be here, and let him bring in who does want to be here. Because if he doesn't, we'll simply drift back into League One with a whimper. What isn't acceptable in my eyes is the abuse directed at Talal and especially Kolo. None of us have any idea what cash Mr Al Jasmi/Talal has got or their plans for us, and that's fine by me. But personal abuse they can see? I thought we were better than that. Only time, and some backing, will tell if Kolo is actually good enough for the job here, and we need to let him get on with it. Of course you can criticise him, and nothing wrong with that. But, again, abusing a fella that's been here five minutes because we're not beating teams 4-1 instead of being beaten 4-1 is again too far. We all want what's best for our club and, as we all say, we wouldn't have it any other way. We've seen things 70 per cent of clubs can only dream of, and sometimes we have to take the rough to enjoy the smooth. Let's all just pour a 'Bow and relax a bit. Right, I'm off making my Talal effigy and going down Christopher Park with a crate of Strongbow to boo the players while training. Only kidding! It's raining anyway....and remember...once a Tic, always a Tic! And a Happy New Year to you all, we go again!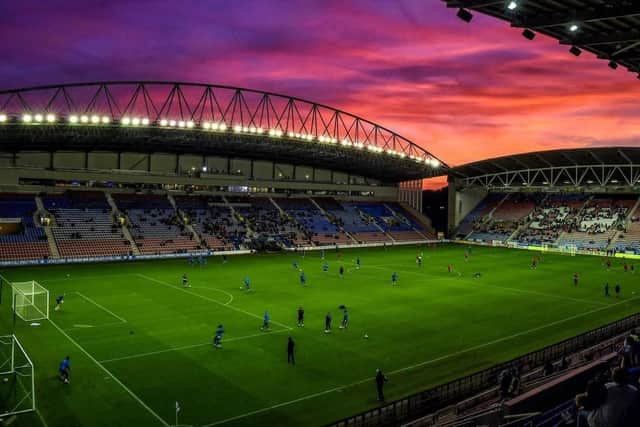 Well, 2023 began in the same way that 2022 ended. A third consecutive 1-4 defeat. Wigan Athletic certainly extended the season of goodwill to Middlesborough, Sunderland and Hull. Latics are rooted rock-bottom of the table. I later heard (jokingly) why are we the strongest team in the division? Because they are holding all the other teams up. This is certainly an unwanted and unwelcome place to be. At the beginning of October, Latics were in the nosebleed territory of 10th place! I thought back then, Latics would be okay in this division and that a mid-table finish was not an unreasonable expectation. Then the rot set in as Latics began to nosedive and then go into freefall as they crashed to the bottom. So, what has gone wrong? I never expected Latics to perform at the same level in the Championship, like they did in League One last season. In the early games this season, the players showed they were good enough to compete and could hold their own, though at some point the squad would need to be strengthened. From October onwards a gradual malaise set in, as the club slowly began their descent to the bottom of the table. What I find most concerning and disturbing is the manner of the defeats. I don't have a problem when Latics, who in spite of giving their best efforts, are beaten by better sides and are worthy winners. What I do have a problem with is, when it is manifestly obvious that some of these players are not putting in a full shift. Maybe it is because some of the players are still loyal to Leam Richardson and do not so readily accept being managed by someone who - although he has coached at some big clubs - has never actually managed at any level before? Their recent performances are NOT acceptable! Too many easy and soft goals conceded, Latics have now conceded the most goals than any other side in this division. The defence is all over the place, players out of position, no communication between the defenders, even the goalkeeping is a cause for concern. For too many of this side, they are not good enough for the Championship, maybe it is for the overall good of the club they leave? Heads appear to have fallen, there is also a lack of confidence, while others are not good enough at Championship level. When there are reports that players want to leave, it is beginning to look like Kolo Toure has already 'lost' the dressing room after only five games and that certain players don't want to play for him. Talk of players wanting out, like rats leaving a sinking ship, do nothing to dispel the problems. If players want to leave, it is for the best they pack their bags. If there is to be an exodus of departures, then replacements will have to be found during the transfer window. The club will be handicapped by financial constraints that were imposed when they went into administration back in 2020. Kolo and his backroom team will have their work cut out for them now. Without the outlay of finance needed to bolster the limited squad, they will need to be doing shrewd business with players on loan from other clubs until the end of the season. It will not be enough to replace the outgoing players with like-for-like. Kolo will need to find experienced players of the right calibre, who have the nous to get Latics out the relegation zone. They will also have to be prepared to graft and put in the 'hard yards' and to show an energy and commitment that is so clearly lacking from this present group of players. This is no time to be despondent, or to let heads fall in despair, there are still another 20 games before the end of the season. There is still plenty of time to turn this round. Latics are in serious trouble, but they are far from being out. This can be turned around, Latics have in the past pulled off some remarkable escapes, from seemingly lost causes. It looks as if 2022-2023, will have to be another one of those great escapes. The DW needs to become a fortress, not a sanctuary for visiting sides who are struggling and need goals, as well as three easy points! As a fan, who is watching from the side lines, I dislike having to criticise the club which I have followed and supported for 50 years since the days of the Northern Premier League at the old Springfield Park.
Where's that famous new manager bounce? It clearly hasn't made its way to Wigan. Or perhaps hiring a manager with zero experience, in one of the most competitive leagues in the world, at a club who has failed to maintain their status in said league almost every time we get here, was a bad idea. Just maybe. I would love to know the exact reasons Talal and co found Kolo a more suitable replacement than the other candidates, because it seems like avoiding relegation was not one of them. Sure the idea of playing attractive football is great, but we need to be practical and realistic. This team needs a proven manager and proven players. Currently we have neither. I would argue the only player that has successfully stepped up to the Championship is Will Keane. He scores goals. Long gone are the days of Jack Whatmough's imperious defending - one I thought would easily step up to the level. At one point he was the only beacon of hope in our defence, now there isn't one. I could go through the whole team but, at the end of the day, the point is we just aren't good enough. The talent is missing. Since the change in management, it looks like the desire is too. Did Leam have the players playing out of their skin for him? As that's what it looks like now, in hindsight. Kolo can't seem to get a tune out of them. I think what should be the overall realisation of Wigan fans is that sacking Richardson was undeniably the right decision. I would have loved to see the Leam fairytale that promised to be turned into reality. But that's not how football works. Halfway through the League One season, it was obvious that Richardson was tactically inept. I think this was highlighted as we somehow managed to clinch the title despite the relegation-worthy form towards the end of the season. In addition to thre tactics. Characterised by the non-existent midfield, with Max Power filling the hole at right-back in possession and then firing a hopeless ball up the pitch, usually into the opposition keeper's arms. Despite the decision to sack Richardson being correct in my eyes, hiring Kolo was the wrong one. I think that's obvious. I hope he proves me wrong. I thought Leam should have been sacked after the 4-1 loss to Boro at home. We were hopeless. But, not as hopeless as we were at home to Sunderland. In recent memory, for me, that's the worst I have seen the team play. Usually I am forever an optimist. It is a trait I feel is crucial to being a Wigan fan. 'Believe'. But, it is hard to believe when my eyes have seen what is in front of them. I'm praying for a miracle in January, but I don't see it happening. We do not have a Championship quality squad, we do not have a Championship quality manager. We look doomed for relegation. It's hard to believe in these circumstances. If it looks like a fish and smells like a fish, it's probably a fish. Hopefully they will lower the ticket prices in League One.
To say the Kolo Toure' reign has not started particularly well is a bit of an understatement. An encouraging one all draw at Millwall has been followed by four defeats, the last three all by the embarrassing scoreline of 4-1. It certainly has been anything but a Merry Christmas at the DW, and already survival is looking like 'Mission Impossible'. We seemed to have suffered the polar opposite of the new manager 'bounce'. Giving an unproven manager the task of keeping a struggling out of form team in the Championship was a very brave and risky move, and so far it is clearly not working. To be honest, getting beaten - especially against the quality of teams like Sheffield United, Sunderland and Middlesbrough - was not really a shock, it was to be expected really. I don't think Hull are particularly great, but we made them look like world-beaters, especially in the first half. It is the manner of the defeats and players' body language that has set the alarm bells ringing. We can argue long and hard about whether getting rid of Leam was the right decision. It would seem the players, staff and fans are still suffering from a little bit of a hangover, which is contributing to the flat performances and strange atmosphere at the stadium. The concern for me is the players don't appear to know what they are doing, and there is a distinct lack of teamwork and any cohesion all over the pitch. We have all heard the usual buzz phrases about it being the 'manager's philosophy' to play out from the back and play 'possession based football' etc but surely it's obvious we simply don't have the necessary personnel to do that currently. That should be a laudable long-term aim, the first brick in the rebuild must be to stop conceding avoidable goals and make us a difficult team to beat. I think this is why Leam adopted the style he did, it wasn't pretty on the eye, but we were competitive in most games and were not suffering morale-sapping hammerings and giving away as many soft avoidable goals. So where do we go from here? Well, in my view, the owners made the call to give an untried manager the job and must have known the risks involved and high possibility of relegation. So now is the time for them to show some moral fibre and real leadership by backing their man via actions behind the scenes. Supportive words in the media and financially in the transfer market. Will it work? Well, I have serious doubts, and the jury is certainly out. But to look to change manager again after five games would not be right in my opinion. Albeit recent fare has been depressing to watch. But changing manager again could send us into freefall where we then end up landing in League Two. Regardless of how much money is made available, attracting the right calibre of player - who will improve the team and help us stay up in January - is nigh on an impossible task. Any decent level Championship player looking for a move will have better options than coming to us. Loan players are probably a more realistic option. But again, would a Premier League team be keen on loaning out one of their highly-rated starlets to a team who are bottom of the league and in terrible form? It's unlikely. In my view, the squad we have are mostly League One level with maybe one or two genuine Championship regulars. I will let you decide who those names might be. Things are certainly bleak at the moment but, to put things into some sort of perspective at least, we still have a club to support, and eventually we will get a result from somewhere, which could trigger a revival. It's happened before, and this is what being a true supporter of a club is all about...grinding out the tough times which then makes enjoying the good times when they come round again even more enjoyable. Up the Tics!
It's remarkable how what was initially a season of such optimism, not just for this campaign but also for the future of the club, has turned into one of the most toxic and utterly depressing in recent memory. As recently as October, we had a manager who was a club legend for what he'd done for us, a team that fought for each other, finally a prolific goalscorer at Championship level for the first time since 2005, and a board who were open and honest with the fans, and positive about the club's future. Fast forward to January, and that same team is now hated by most of the fans, most of them seemingly don't want to be here, the club is dogged by stories of late payments to staff, we have a joke of a coach in charge, who we sacked said club legend for, and we seemingly haven't got much money to spend despite all the bluster. As much as I appreciate what our owners have done in saving us from liquidation, that's about all that they've done right. Leam Richardson heavily overachieved last season by building a positive team spirit out of a group of League One-level journeymen, most of them quite old compared to younger, more progressive teams around them, and largely assembled on frees. Either out of naivety, or because our owners aren't willing to spend anything, they took this team into the Championship thinking they could cope, and after the first two months there was reason to believe we could. Even on bad days (the battering by Burnley) the team were still visibly putting in effort for the manager and for each other. We generally defended competently. Our only major problem seemed to be bottling chances in front of goal. We were on the cusp of the play-off places after an emphatic win over promotion-chasing Blackburn that finally ended a poor run at home. Then what happened? Results went off a cliff and we ended up in the relegation zone, where we expected to be from the very start of the season. For this Leam was sacked, and it's looking like a stupider decision each week. It's evident he was overachieving with these players and disguising some of their weaknesses. Even then, he couldn't stop us dropping off dramatically after our solid start, not helped by injuries to Ryan Nyambe and Callum Lang, which heavily limited us in a few areas of the pitch. But it's clear now from the way we started the season, despite next to zero backing, that he needed more time. Even in most matches where we lost, we weren't necessarily terrible. We had decent first halves against Middlesbrough and Sunderland, before falling apart in the second. We gave two very good sides in QPR and Watford tough games. We were 2-0 up against Swansea in the first half. Now what we have is a team of zombies whose confidence has been completely destroyed by their new manager. I'm a huge advocate for giving managers time myself - I even gave Warren Joyce a chance despite the terrible boring football. But my goodness, how can anyone watch the last three matches and say we should give Toure a January window? What sort of manager at ANY club loses THREE games in a row 4-1?! Especially when the last one was against a bang average team who barely even turned up, in Hull! No matter what players you're working with, that's just unacceptable. And he comes across as worryingly deluded by claiming the scores didn't reflect the game. Me and most of the fans near me who sat through the last two disasters at home in particular were utterly depressed and angered by how inept, sluggish and lacking in any confidence or teamwork we were from minute one of both of those games. Being passed around the park like amateurs, commiting comical Sunday League defensive errors, and the players looking like they either just didn't care to be there or were mentally shot. Playing pass-from-the-back football with players with such limitations doesn't work. We can't replace the entire team in January (and he's quite visibly lost half of it already). And we don't seem to have any clear tactical gameplan. Yet some of us want to give Kolo a transfer window. Boggles the mind! We look very doomed, and - worse - I'm very rapidly losing faith in Talal and co's ability to even bring us back up or run us properly in the long run. Dance around it all you like - the late payments, stupid and ill-thought out managerial appointments, signings made on the cheap, and multiple false promises are all deeply concerning, and just because we 'have a club' now doesn't mean we can't be very worried about what these owners are doing for us in the long run. Because I'm seeing no positive signs right now at all. I want to be wrong, badly. But the last few months have really tested my faith.
It's all for one, said the Three Musketeers; but at Wigan, 4-1 is the norm it appears. Have our performances justified such a miserable score? Well, yes, if we're honest, for the most part, we're poor. The occasional bright spell with missed chances were rued, but Precious McKenzie couldn't lift the Tics' mood. The shape is all gone, and the confidence shattered; and some players playing like they didn't think it mattered. I don't wanna be down, I don't wanna be glum; but there are places I'd rather sit on my bum…than there in that stadium, with misery all round; with happiness and pleasure nowhere to be found. I'll still keep on going like, cos that's what we do, and I hope Kolo figures out just what he's got to do. To listen to some, calling names, like a 'clown; you have to consider they'd rather us go down...than regroup, then recover, and then come out scrapping; giving fans a good reason to stop all their yapping. But history says that it's really not sure - three managers in a season? Yes, we've done it before…
That's 14 goals conceded, only four scored, four defeats - a shedload of injuries and a probable terminal hit to our survival chances. It all looked so different before the festive period, the new era getting underway with a positive draw at Millwall. Even on December 19, we could and should have got a point against Sheffield United, but those two matches look more like outliers for Kolo Toure than anything else. The three matches across Christmas and New Year have been some of the most disheartening I've had watching Latics. Not necessarily for the scorelin,es (as admittedly damaging as they are) but more for the pattern that they follow. Struggle to get into the game, concede then rally. Get back into the game before conceding a second and then being picked off for the third and fourth goals. Three identical scorelines with identical mistakes and a run of form that has us at the bottom of the form table and the actual league table. There is clearly massive issues with confidence at the moment, you saw it against Middlesbrough and then again against Sunderland, where we were on top after scoring the equaliser. But the most blatant example was in the New Year match against Hull. Latics were truly terrible for 45 minutes but, with the introduction of Nathan Broadhead, they somehow got themselves level and for 10 minutes it looked like there would only be one winner. Then a number of awful individual mistakes led to Hull getting back in front and Latics once again crumbling. I know there are strong views on this, and I've already stated I didn't think Leam Richardson should have lost his job. But increasingly, to me at least, Leam wasn't the problem. Ironically, if he hadn't had achieved what he had with this squad last season, he probably would still be in a job. But what's done is done, and it's all about the here and now. It was already a big job for Toure to keep Latics in the Championship. It's now close to looking unachievable, and yet another return to League One could do untold damage to the club. It's not over yet of course, we've nearly half a season left to play, but with games coming thick and fast, we need to see some sort of improvement in both results and performances. We're also clearly desperate for reinforcements, all over the pitch. But who would want to come to play for us in our current state? And will a board* that didn't back their man in the summer do it now? With even less of a chance of succeeding in the aim of remaining a Championship club? He's not been here long, but we also need to see something from Kolo and his management team. I imagine some of the haphazard team selections and substitutions in recent games are down to him getting to know all of the squad. It's much harder to do this mid-season when you haven't had the luxury of pre-season friendlies to iron out tactics and styles of play. Are we reading too much into the more successful performances coming when (one would imagine) Rob Kelly was still leading on the backroom side of things, as the one member of staff who had worked with the players? Perhaps, but it makes you wonder. Anyway, onto Luton on Saturday, and probably the most unappealing draw of the whole third round takes place at the most unappealing time possible of 5:30pm. I've not much to say about the match, apart from a result from anywhere and in any competition would be welcome at the moment. For confidence if nothing else, it feels a world away from when we travelled to Luton at the beginning of September, and pulled off a remarkable win. Who would have predicted what's happened since then?
*I've no issue with the board not making money available for transfers, if the price for a continued Wigan Athletic is one that lives within its means rather than throwing money it doesn't have away. That's absolutely fine. Our natural level is arguably one strand below where we currently are, but that needs communicating with people and expectations adjusted accordingly.