Wigan Athletic: The 12th Man - 'We've come too far to lose faith in this group. Strap yourself in for the ride. There's 13 more cup finals to go...'
Our panel of Latics experts run the rule over derby disappointment at Deepdale...and look ahead to a potentially pivotal game at the bottom against Birmingham on Saturday...
Published 3rd Mar 2023, 10:56 BST

- 8 min read
Updated 3rd Mar 2023, 11:23 BST
For a club that has lost 18 matches across all competitions through the first seven months of the season, you'd think the sting from defeat would lessen as the season goes on. Last Saturday's 2-1 defeat at Preston proved this is all but the case for Latics. A strong first-half performance gave us a deserved 1-0 lead at the break. We had just completed our ninth consecutive half of positive football under Shaun Maloney, and appeared to be comfortably in the driver's seat on the way to three points. Unfortunately, cruising to an easy victory would've been anything but the 'Wigan way', and the game was turned on its head in favour of Preston just before the hour mark. We conceded more goals in a five-minute span than we did over the previous 400-plus minutes. We were on the wrong end of a dodgy penalty decision and were caught flat footed several minutes later, as Preston got behind our defence to score their winner. The two goals and ensuing losing result provided a harsh reminder of how difficult these final few months will be. As much as we've improved under Maloney, we will need to raise our game to a much higher level in order to stay up come May. A very important next step on our road to survival will involve taking three points from Birmingham at home on Saturday. The Blues have lost four consecutive matches and are just a few bad results away from getting dragged into the relegation dogfight with us and several others. With the rest of the March fixture list appearing to be nothing short of brutal, this weekend's match is by all means a must-win affair. After a disappointing result at Deepdale, Maloney will have some tough decisions to make when choosing the team. Do we stay unchanged and hope our current line-up can re-establish their positive form from the four matches prior to Preston? Or do we bring in some talented but less proven replacements off the bench in an attempt to make the breakthroughs necessary to win more matches? The pressure will increase as the games go by, which means positive fan support will be as crucial as ever. Regardless of our points return from the past five matches, our collective performances should continue to propel us up the table - even if it happens at a much slower rate than we would like. However, there is no denying we will need to start scoring more goals. There should be a belief that, with the right combination of players on the pitch, we will be able to see improvement in that department. We've come too far to lose faith in this group. Strap yourself in for the ride. There's 13 more cup finals to go.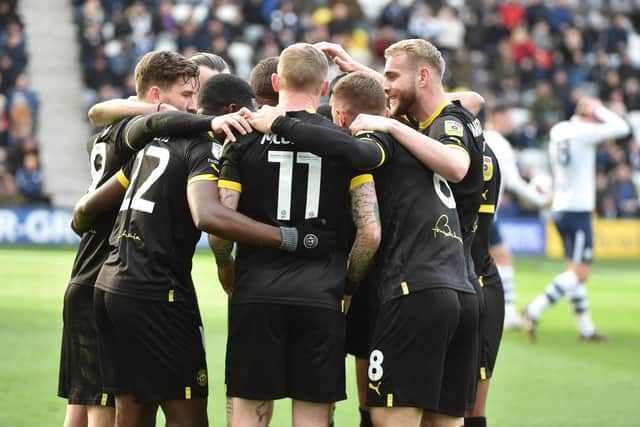 Well the first loss under Shaun Maloney at Preston, but not the hammering of recent visits. First half we played well, second half total turnaround, after what can be best described as a 50/50 penalty decision. Our problem now is finding the back of the net when we have good spells in the game. Results around us kept it the same as before kick-off. Birmingham, we need to win and bring them closer to us on Saturday. Stay safe.
We're at the bottom. Still. In the place everyone told us we would be before the season started. There's not much to celebrate as of late, but even saying that feels wrong at the moment. As it always seems to be here, there's a massive sense of hope around Wigan despite tough times. Shaun Maloney has injected a new life into the club and the fans are replicating the spirit of the players on the pitch. Our out of nowhere, four game undefeated run ended at Preston, of all clubs, but that fire under us is still lit. The back four, or sometimes back five, have been excellent and, as Maloney said himself, they have been the foundation of the resurgence along with the defensive midfielders. Charlie Hughes signing his new contract only adds to the hope that, in the long run, we may be okay in the relegation battle, and even in future seasons. But the fear that happens every time Jack Whatmough starts limping points to a bigger issue of impending doom. It almost feels like it's a matter of time before we crumble under Maloney, like we did under Kolo Toure, and the fact we have scored three goals in five games is worrying. Individually, our front half of the field are nothing to bat away, especially Callum Lang who gives his all every minute he plays, but together? Something just isn't clicking. This needs to improve the most and it needs to happen immediately, or we could face a danger a lot of us have been prepared for since our promotion. If the energy we have in the stands, that sets off six flares for the opposition getting an own goal, gets put into our attacking force, then it'll be Maloney-ball for the rest of time. Until then, take the situation for what it is. We're still bottom.
After a solid start in which Latics went four games unbeaten, Shaun Maloney tasted defeat for the first time as Wigan boss at Preston. We were always going to face a loss together at some point, and now it's about whether we can bounce back or not. The squad seem to have rekindled some of last season's camaraderie, which could have helped Jack Whatmough and Charlie Hughes come to their decisions regarding new contracts. Christ Tiehi's recent comments about the club - referencing Charles N'Zogbia – were also great to see too. There is still an overall atmosphere of positivity surrounding the club. The fact last Saturday's defeat came after having a 1-0 lead just made it a more bitter pill to swallow. The main concern is we are seemingly unable to score more than one goal a game, which usually means that even if we take an early lead, we are having to hang on. The last time we scored two goals was in November's win over 10-man Blackpool. The last win in which we scored twice against 11 men came on the first weekend of October in the Rotherham sunshine. It is crucial we get a victory against Birmingham, as our run of fixtures after that is very tricky on paper, with upcoming trips to West Brom, Burnley and Watford. But we are Wigan Athletic, we don't do things the conventional way. Obviously football results are the beating heart of a Saturday afternoon, but it should be a good day regardless this time round. The Wigan Beer Festival at Robin Park should be great fun to attend before the match. Most importantly, the club are dedicating Saturday to the 'Her Game Too' ahead of International Women's Day on March 8. The club's continued support in tackling 'Period Poverty' across Wigan is brilliant to see too, and it goes to show what a community asset the club is.
Latics recorded their first loss under new gaffer Shaun Maloney at Preston. The Tics went in front midway through the first half and it was all smiles as the second half kicked off, but it was sadly short lived. Once again, the officials at the EFL have come under fire this week on the wafc hashtag. Firstly, for the awarding of the penalty that wasn't a penalty at Preston. And again when Charlie Hughes - who's just penned a long term deal with the club, yay! - was subject to a dangerous challenge that could quite easily have broken his leg. Thankfully, the Academy graduate is fine and available for Saturday's visit of Birmingham. If we're to have any hopes of surviving the drop this season, we desperately need to claim the points from this game, and the few that follow. However, I do firmly believe that if any club is capable of turning this around last minute, it will be us. We've got the right man in charge with the right lads ready to fight for him...and us - the fans! Everyone's pulling in the same direction, and after all, a team aligned behind a single vision can move mountains.
The wheels on the bus, they go round and then, they fall off at Deepdale with the award of that pen. As poor decisions go, it was one of the worst, and it may very well have made our bubble burst. First half in control, we were looking assured, but the second half was more to be suffered and endured. Our mojo was lost, we just couldn't get going, there were folk in t' canoe but wi' no beggar rowing! And then they got t' second, our heads, they just dropped, the feeling was that our balloon had just popped. Even a rousing finale just couldn't see us score, though that's currently our problem, score one, but no more. But in Shaun we trust, well, there's not much else to do, cos there's no beggar else t' get us out of this poo. So onward we go, and this Sat'day it's Brum, God knows what delights (and despair) we've to come. And remember that no matter what else you've heard, Frankie Valli was wrong, it's 'believe' that's the word.
How will we react? I imagine that was the challenge posed to his players by Shaun Maloney after Saturday's defeat at Preston. It was the first real blip of the new era, and ironically came in a game where we looked in complete control. We've a horrific record at Deepdale in recent history - compared to how well we did before we were promoted to the Premier League, it's not been a happy hunting ground for us since our return to the Championship. Saturday followed that recent trend to a tee, in no small part thanks to referee Thomas Bramall who, it seems, is a big fan of fellow Championship strugglers Rotherham United. Who'd have thunk it? The penalty awarded early in the second half completely changed the direction of the game. A softer penalty you will never see as Daniel Johnson knocked the ball past Ben Amos and proceeded to fall over the goalkeeper. To rub salt in the wounds, a penalty that should have been given to Latics in the closing stages was waved away, with Charlie Hughes writhing in agony in the box as he had been taken out by a Preston defender. Now I'm not saying the defeat was wholly the responsibility of the aforementioned Mr Bramall, but it is fair to question what it did motivationally for a Preston side who hadn't had a foothold in the game until that point. Their tails went up and unfortunately ours didn't, resulting in defeat for the near-4,000 Wiganers that had used plane, bus and automobile to reach central Lancashire. Not trains, though, thanks to engineering works at Preston. How we react to this will define the battle for Championship survival. We're still in with a chance and the improvement under Maloney has been clear for all to see. But - and it's a big 'but' - we need to start turning draws into wins, and good performances into results. We have very little goal threat up front, and that needs to change. This Saturday feels pivotal in many ways. We faced Birmingham back in March 2011, when we were in the bottom three of the Premier League, and a last-minute winner from Maynor Figueroa saw us take all three points off a relegation rival to move within two points of safety. If we beat Birmingham again, we can move to within a point of safety, dependent on results elsewhere. With West Brom and Burnley to follow next week, it's essential we get that win - by hook or by crook. Come on lads, make us proud!