England's Herbie Farnworth says rugby league has always been his main passion as he discusses why Wigan feels like a second home
England's Herbie Farnworth says Wigan feels like a second home to him.
Published 24th Oct 2022, 12:00 BST

- 3 min read
The Brisbane Broncos centre, who originally comes from Burnley, played his junior rugby with St Patricks before being spotted by scouts in the NRL.
Farnworth was also a talented footballer as a youngster, but admits he was only interested in one sport.
He said: "I played a little bit (of football) but I wasn't serious, as soon as I started playing league that's when I found my passion.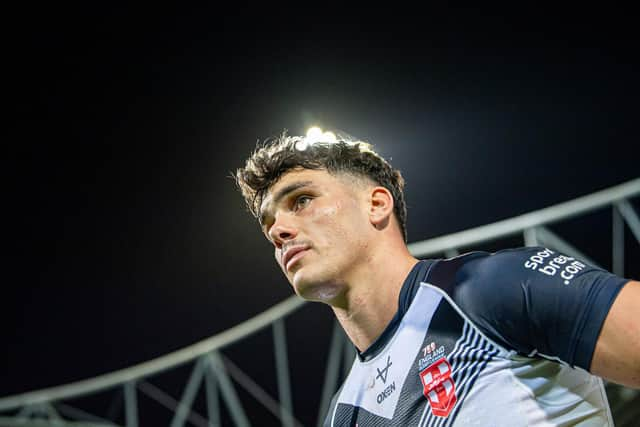 "Burnley isn't the biggest rugby league place, but I started playing tag rugby with my primary school and we ended up winning the Lancashire Cup, so I took an interest in it from there.
"I played a year of union, and then gave league a crack. I went down to play for St Pats and it snowballed from there.
"I then played for the England schoolboys and signed for the Brisbane Broncos.
"I hadn't been back to Wigan for a long long time. It feels like a second home to me. I played pretty much all my junior rugby there, and have some good mates in the area.
"I might go down to St Pats, see if any of the juniors are playing and sign them up to the NRL."
Farnworth says it was good to play so close to his home in England's 42-18 victory over France at the University of Bolton Stadium, but believes the performance could've been better.
"I've not been back playing over here since I was 16, so it was a pretty cool moment being in front of my family and friends again," he added.
"A lot of people from back home came, so it was nice. It's a shame I couldn't get over the line or do a bit better for myself, but I'm just glad the boys got the win.
"We were pleased with the first game (against Samoa) especially, but the France one was a bit sloppy from us. I don't think the boys are too happy with how they've played, but we got the result and that's what matters.
"We started well but just let them back into the game. It wasn't up to our standards so we'll have to get better if we want to win this thing, which is obviously our goal for this tournament.
"France are a strong side, and I think they love playing against England, which makes it better for both, so it's always a good game.
"They came out firing, and made us pay for our sloppy mistakes.
"We will build on it for next week against Greece and hopefully keep pushing on into the finals.
"Nothing beats English fans. They're very loud and very passionate, so I'm loving every minute of it. We just need to get better and not get carried away after that first win.
"It's a great honour for me to be part of this side.
"I'm a big passionate English boy, I was born and bred here. People think I'm an Aussie, but I'm definitely not.
"I've loved being around this group, it's nice being with all the new boys. I've played against a couple in the NRL, so it's good to be playing with them instead of against them.
"All the boys are really good lads."