Plan for video refs at every game and Super League on BBC
Video referees and a big screen could be seen at every Super League match from next season as part of the new two-year deal with Sky Sports, says executive chairman Ken Davy.
Published 29th Apr 2021, 17:45 BST

- 2 min read
Updated 29th Apr 2021, 17:46 BST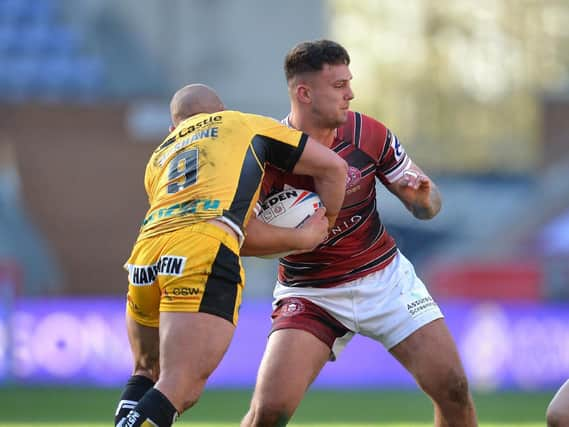 Sky will have first pick of 66 live matches throughout the regular season, as well as the play-offs, in each of the next two years while retaining exclusive rights to the Magic Weekend, Grand Final and World Club Challenge.
Addressing a media briefing on Thursday afternoon, Davy admits that relaxation paves the way for other broadcasters to bid for fixtures and opens up the possibility of the BBC once more showing live rugby league on a Saturday afternoon.
"That would be an exciting proposition, like the old days of Eddie Waring," Davy said.
Sky have been the main partners of Super League since its formation in 1995 but for the first time the satellite broadcaster has given up its right to show matches outside Super League, freeing up the Rugby Football League to negotiate its own deal.
And Davy says 10 Super League matches a season are now set to be aired on free-to-air channels as part of the new deal, which kicks in at the end of the year.
Davy added: "We are in discussions with a number of broadcast parties and one of the really exciting things about the new Sky deal is that there is going to be enhanced production coverage in 2022 and 2023 of every match so there is going to be a big screen and video referee potentially at every match going forward.
"That gives us the opportunity for some free-to-air matches with other broadcasters and also the opportunity to beam every game direct to supporters and the wider public."
Davy says the extra production costs are included in the new agreement, which signifies another drop in the value of Super League, which benefited to the tune of £87million when it made the switch to summer 26 years ago.
Davy has declined to reveal the value of the new deal, describing it as "commercially sensitive", but it is thought to be worth around £25m a year, compared to £40m a year at present.
"We're all having to take a hair cut because it's common knowledge deals have been south of what they have been previously," he said.
There were fears that, after the 12 Super League clubs take their share, there would be little or nothing left for the RFL, which lost the right to conduct the broadcast negotiations when Super League clubs broke away from the governing body in 2018.
But Davy revealed that RFL will be given a share and it will be up to the governing body how to distribute it to the Championship and League 1 clubs.
"We haven't started any discussions of consequence yet because we wanted to complete the Sky arrangements first," he added.
"Now that has been completed, I'm looking forward to meeting with the RFL and to sorting out a mutually satisfactory arrangement.
"We are at the top of the pyramid and the pyramid doesn't amount to all that much if you take everything else away from underneath it.
"Super League is undoubtedly the jewel in the crown of the game but not at the expense of the game."