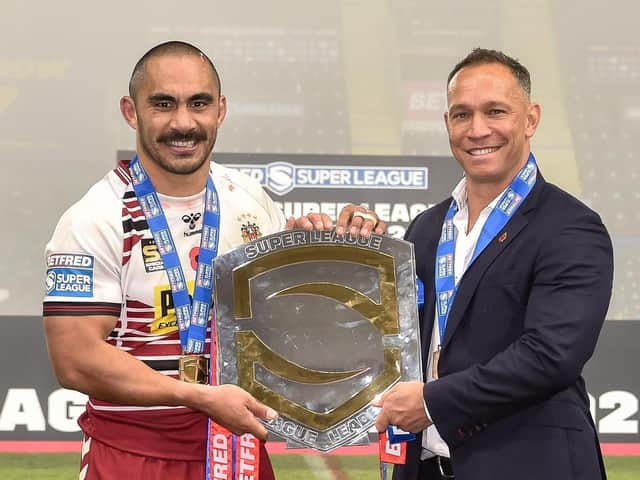 Wigan finished top of the table last season, which saw the introduction of the points percentage model
The decision has been made to allow for the possibility of postponements as a result of Covid-19.
Clubs will be required to have played a minimum of 70 per cent of their scheduled fixtures to qualify for the top six play-offs in September (18 matches out of 25) - unless they have earned a position in the top six through league points despite having played fewer than 18 matches.
The regulations surrounding postponements have been broadly carried forward from the 2020 season, with clubs permitted to withdraw from a fixture if they have seven or more of their top 25 players unavailable either because of a positive Covid-19 test or following test and trace analysis – or if they are prevented from playing or travelling to play as a result of governmental restrictions.
The fixture will only be rearranged if both clubs have the same available match slot.
Win Points Percentage will be calculated as follows: the number of league points of a club divided by the number of matches played by the club, multiplied by 50.
If four or more clubs have not played the minimum match requirement (70 per cent of scheduled fixtures), the RFL Board will have discretion to determine an alternative minimum figure.
If a club is unable to fulfil a tie in the first two rounds of the Betfred Challenge Cup, it will be awarded to their opponents. If a club is unable to fulfil a tie from the Third or Fourth Round because seven or more players are unavailable as a result of Covid-19, the tie will be rearranged, taking precedence over league fixtures.
The framework applying to the semi-finals and final, and Super League play-off matches, will be considered nearer the time.