Wigan Warriors: Liam Farrell shares frustration following the defeat to Catalans Dragons
Liam Farrell says Wigan Warriors will learn a lot from their loss to Catalans Dragons.
Published 10th Mar 2023, 12:00 BST

- 2 min read
Matty Peet's side were defeated 18-10 at the DW Stadium on Friday night, with errors proving costly.
Farrell states the visitors dealt with the tough conditions better than Wigan, who he admits needed to be "smarter" in certain periods of the game.
"It's frustrating more than anything," he said.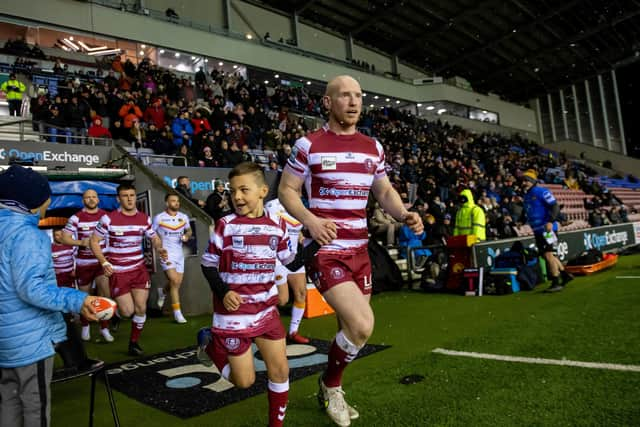 "Before the game we knew the conditions were bad and that we needed to play in a certain way, but I think Catalans did it a lot better than us.
"They slowed the game down and forced a few uncharacteristic errors out of us.
"When we let them get in front early we always knew there was going to be a battle.
"We gave ourselves a chance, we came out in the second half and got to a point where it was 12-10, but we couldn't consistently get some flow of the game and that's what we lacked a bit.
"There are areas we could've been better with.
"We tried to force too many plays instead of playing a bit smarter.
"If we could've completed a few more sets better, and finished down their end, then we saw early on in the second half how they started to crack a little bit, but we couldn't capitalise on that enough.
"We always knew Catalans were going to be a different challenge, but we wanted more of the same of what we've been doing.
"They just slightly beat us to the punch early on and when they beat us to the scoreboard, we were chasing the game a little with the conditions.
"It was a disappointing result in the end but we will learn a lot about it when we've got another game like that in similar conditions.
"There were also some positives- even though they scored 18 points, we defended pretty well and were dominant in what we were doing.
"We were tough and resilient but we made a few errors that cost us at times, and a couple of soft tries.
"It's a hard one to take against a high quality team, but we didn't lack the effort or desire, we just missed a few opportunities with the ball."