Wigan Warriors: The 18th Man -'Ian Lenagan's passion and commitment will never be forgotten. Let's send him on his way as a champion'
Our panel of Warriors experts look ahead to the last two games of the regular season, and hope their side can finish with a bang to mark the end of Ian Lenagan's reign in style...
Published 14th Sep 2023, 12:34 BST

- 8 min read
Updated 14th Sep 2023, 12:35 BST
Watch more of our videos on Shots!
and live on Freeview channel 276
Visit Shots! now
When Leeds player Harry Newman plonked the ball over the line early last Saturday, and told the Wigan fans to shush with his finger to his lips, little did he know the disallowed try would be the least of his worries. At 50-0, we handed the Rhinos a pasting, and it made me smile all weekend when I thought of it. Our plan was well-drilled and, while much of the efforts seemed free and off the cuff, our ball movement was structured in its direction, while our defence was well-drilled and complete. Great game, superb performance, and one which sees us still table-topping with a couple of mouth-watering games to come. The only dark cloud was losing Liam Byrne to a hamstring strain early on, but hopefully it will not be serious, and a couple of weeks should see him ready for the play-offs. This week, Castleford will be hungry to make a point against us and, with their relegation battle all but decided, they will no doubt be eyeing up their last game against Leeds as the big one. But they can't afford a big loss, so a dedication to defence is what I expect from them in attitude. They have shown they are well able to trouble opponents and, while overall their year has not been a good one, we must treat them with the utmost respect, or the seasonal title will be lost. We can't secure the League Leaders' Shield this week, but we can certainly lose it if we don't perform.
A busy week, though, has seen much great news at the club. Mike Cooper has extended his deal for next year, and Matty Peet has signed a four-year contract, which is simply brilliant. On Tuesday evening, I - along with my wife, Glenda - went to the event at Robin Park, where Ian Lenagan was interviewed by Kris Radlinski for the Loch Lomond interview series. Wow, what a night! An amazing and often touching interview with laughs along the way, and special guests which included Matt Peet, Shaun Wane and both of Ian's sons, Adrian and Simon, who spoke very well indeed, while their proud father looked on. Video messages from Pat Richards and George Carmont, along with Neil Hudgell, the chairman of Hull KR, who had made the trip over, showed just how highly thought of our chairman is, and the standing ovation as the evening closed spoke volumes. It would be great to get the League Leaders' Shield topped with a Grand Final win to top off his 16 years with a total of 16 trophies. The event was filmed and will be on Wigan TV soon, well worth a watch if you have a subscription.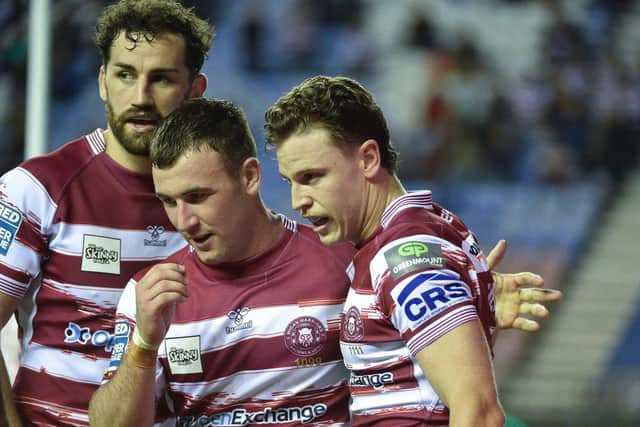 I was quite confident of a win at Leeds, but never in my wildest thoughts did I think we would post 50 points on them, and to also keep them pointless was a major bonus. Despite Leeds having quite a few youngsters in their ranks, it was a fantastic victory and maintains our great form since our Challenge Cup semi-final loss. From such a great team performance, it is difficult to highlight individual performances, but I thought Jake Wardle had a really good game and, as the season has progressed, he has got better and better. Wardle has been a very astute signing, and I like his classical centre style of play and his sound defence. Jai Field continues to improve after his long-term injury and, for me, he now looks to be back to full fitness, and he looks dangerous every time that he gets the ball. Harry Smith is the proverbial glue that holds the team together. His kicking from hand is the best in the competition by a country mile, and it's imperative he remains fit and available for the remainder of the season. All of the forwards performed well and, for me, the big improvement in the team in recent weeks has been driven by our forwards. The one downside in the victory was the injury to Liam Byrne. He has been playing well in the last few weeks after quite a low key season, and if the rumours are correct - that his season is over - it is a major blow to our play-off chances. In the continued absence of Mike Cooper, Ethan Havard and Willie Isa, the loss of Byrne will stretch our forward resources, but hopefully Harvie Hill can up his minutes on the pitch, and Junior Nsemba can continue his fine progress this season. The latest information suggests Isa may be available in a couple of weeks, and Havard might make the Grand Final if we are successful in getting there.
We are on a roll now, so hopefully we can maintain the momentum despite the injuries in the coming weeks. With the Byrne injury, it will be interesting to see who Matty Peet brings into the 17 for the Castleford game. I am hoping Hill gets the nod, as I feel we need to maintain a strong and large set of props, and Hill has performed well, albeit with low minutes, when he has been selected. I wouldn't be surprised if Joe Shorrocks gets selected, with maybe Kai Pearce-Paul and Morgan Smithies spending some game time in the front row. I am uncertain if we should look to rest a player or two for the Castleford game. We obviously must get the two points. However, players like Ryan Hampshire and Iain Thornley have had very little game time recently, so maybe Peet could look to give one of them a run out, particularly if any of the backs are playing with an injury. Castleford appear to be safe from relegation, so hopefully they will approach the game in a low-key mode, which would be welcomed if they did that. Since Danny Ward has taken over the coaching job, Castleford have appeared to make some improvement. However, we should still be too strong for them on Friday. I'd like a victory by 30 points, but will be more than happy just to win the game by a few points, as the top two spots in the league are very much up for grabs, and I think it is vital we obtain one of them, preferably the top spot.
The victory over Leeds was very sweet indeed, and the margin such a pleasant surprise, which gives our points difference a much-needed boost. The first 20 minutes was pretty even and, apart from the 'no try' by Harry Newman, they could have scored from the palmed back kick when there was no score. However, once we scored from the excellent Jake Wardle, we seemed to up a gear, as Leeds wilted in the sun and offered little resistance. Jai Field was also very influential, and had a hand in a number of tries, while Liam Farrell had one of his best games of the season. It was very pleasing to see us dominate a team so comprehensively, and must give us confidence in the two games to come. The loss of Liam Byrne was the only blot on an otherwise perfect day. Big shout out to the Warriors faithful, who turned out in great numbers again, and were loud and proud from start to finish. Think this means people like Kai Pearce-Paul may have to step up to the front row in the coming weeks, and I just hope we can remain injury free from now on. We need to remain focused on Friday, and get the two points in the first instance. But if we can win by a comfortable margin, all well and good. The League Leaders' Shield is achievable but by no means a certainty, so fingers crossed we can keep our foot on the gas, and set up a great final round game at Leigh Sports Village, where the atmosphere will be white hot.
Before I get into the action on the field, I was fortunate enough to attend the Loch Lomonds Legends night in honour of Ian Lenagan before he steps down on November 30. It was an emotional night filled with memories of his 16-year tenure, and he leaves the club in wonderful shape. He's brought in some incredible people to continue his legacy on and off the pitch at the Warriors. From his first Grand Final in 2010, up to the magical day at Tottenham to win the Challenge Cup, his passion and commitment will never be forgotten. Let's send him on his way as a champion. I am sure the players will be doubly motivated to ensure this happens at Old Trafford in October and, on recent form, you'd be a fool to write off Wigan. A superb display from start to finish from an energetic, powerful and on-song Warriors side effectively ended the Rhinos' season in emphatic style at Headingley. Harry Newman shushed the Wigan fans when he thought he'd pinched the lead for the Rhinos, but he was wrong, and Wigan turned on the style. It really was a day in the sun for the Warriors fans, giving Leeds their biggest margin of defeat at home in the summer era. There are too many names to mention, but once again the Wigan centres Toby King and Jake Wardle oozed class. With the confirmation this week King will return to Warrington, the glimmer of hope Wigan fans had of him staying was extinguished. He will be missed at the club as he's done everything asked of him, and really bought into the culture, but I think on this occasion he will miss us more. Wigan haven't closed the door on a return and, who knows, unless he signs a new deal at the Wolves, he could well make a quick return next May, should he still be of interest.
This week is the last regular home game of the season, and Mr Lenagan will lead the players through the fan village to the stadium before the game, where we take on an all-but-safe Castleford Tigers. I'd expect Wigan to really go for the jugular against the Tigers to ram home their points difference advantage over Catalans and Saints. Wigan, arguably, have the toughest final game at a Leigh side that may be in danger of missing out on the top four and a home play-off game, so it's important to keep up the momentum. There is no Liam Byrne due to his muscle pull last week, and I am sure we are all hoping it is a minor one and he can return soon. Tyler Dupree isn't a bad swap, though, and Wigan are white hot at the moment. I was also delighted to see Mike Cooper be rewarded with a new 12-month contract. His experience could be invaluable around what will be a very young pack next year. As long as the defence stays firm, there is every chance the Warriors will rack up another impressive win this weekend, and be within touching distance of the League Leaders' Shield.