Inquest hears emotional testimony from those caught up in horror smash
A taxi driver said he "thought he was going to die" when a Mercedes being driven at high speed crashed into him, killing a Wigan man and his friend.
24th Jan 2023, 4:54pm
- 2 min read
Updated
26th Jan 2023, 9:36am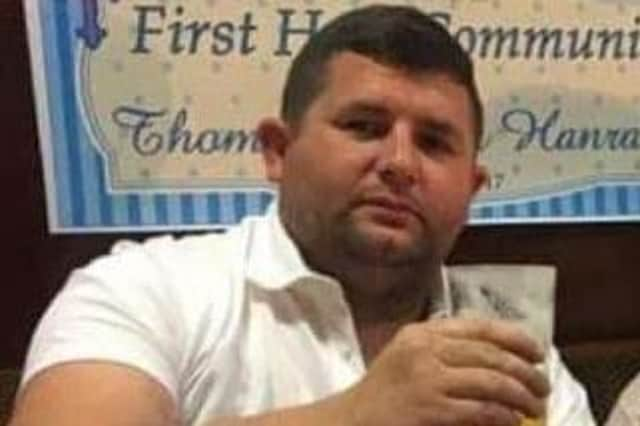 The inquest into the deaths of Patrick Connors, known as Paddy, and Thomas Sharp, known as Tommy, heard emotional testimony from those caught up in the traumatic crash on Wednesday, September 23, 2020.
The jury at Bolton Town Hall had previously heard that Mr Sharp was driving a Mercedes C200 through Lower Broughton in Salford, with Mr Connors, from Golborne, in the front passenger seat.
They passed a marked police vehicle at 11.48pm, which began to follow the Mercedes. The speeding car reached an incline and was on the wrong side of the road, when it collided with two Volkswagen Passats on Frederick Road.
The jury heard from the drivers of both the VW cars, who were Uber taxi drivers. Wasquas Pervez was taking two young women back to their student accommodation at Salford University when he suddenly saw headlights coming towards him from a car being driven on the wrong side of the road.
Mr Pervez told the jury: "It all happened in the blink of an eye. As soon as I saw the headlights approaching on the wrong side of the road, I blinked and thought 'I'm dead,' before it smashed into me.
"I had no chance to warn my passengers."
The coroner, Timothy Brennand, also read out written evidence from the two passengers in Mr Pervez's car, who both suffered serious injuries when it was struck head-on by the Mercedes.
Amber Jones, a second-year student at Salford University, was returning from waitressing at a socially distanced event held at Trafford Park to her halls of residence when the collision occurred.
She suffered serious leg and rib injuries, as well as a punctured lung, and also developed an infection while being treated in hospital.
Her statement said: "It was an awful time of my life. One minute the world was my oyster, then in the blink of an eye it was all wrenched from me.
"I was fighting for my life and my world was turned upside down."
Her fellow passenger, second-year student Jessica Stenstrom, said in her statement: "Amber and I were chatting when suddenly I heard an almighty bang and a tremendous jolt. The back of the car seemed to lift up and I felt a rush of pain throughout my body."
She also required hospital treatment for multiple injuries.
In their statements, police who arrived at the scene of the crash described "a scene of utter carnage and devastation," with one experienced road traffic officer saying "it was one of the worst I've seen."
Both Mr Connors and Mr Sharp were given emergency first-aid treatment at the scene, but were described by police as being "unresponsive."
Two police officers, referred to as B1 and C1 for legal reasons, have since testified.
They both said that insufficient risk was posed during the brief chase - which lasted only 46 seconds - to abort it. They said the pursuit happened on quiet roads and in dry conditions, adding that the suspicion that the car's two occupants had been involved in criminality was the reason why the response was "proportionate".