New date set for delayed World Pie-Eating Championships in Wigan
The delayed 2022 World Pie Eating Championships (UPE 28) will take place on Tuesday, January 24, 2023 at pie noon in Harry's Bar in Wallgate, Wigan.
Published 17th Jan 2023, 16:19 GMT

- 1 min read
Updated 17th Jan 2023, 16:30 GMT
"We've consulted with the elite competitors and found a slot in a crowded January 2023 calendar that doesn't clash with kebab night, Chippy lunch day, or times when Asda discounts the 'best before' sandwiches and pasties. The sporting world is used to fixture congestion, but we're challenged with fixture digestion," said organiser and Piemaster Tony Callaghan, owner of competition venue Harry's Bar.
Competitors are invited to speed-eat a regulation meat and potato pie to win the Bradley Piggins Trophy.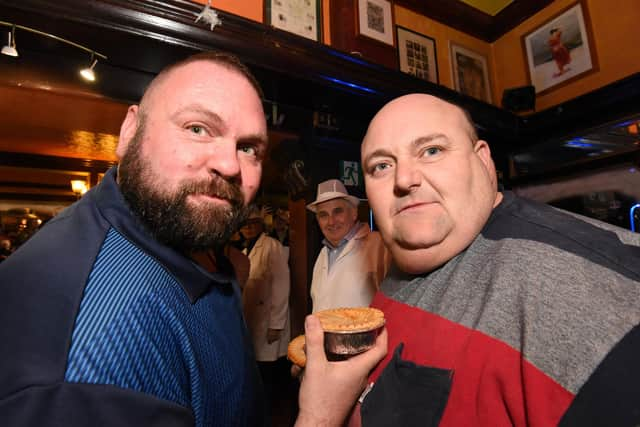 Bricklayer Ian Gerrard, 43, from Wigan, won the last pre-pandemic World Pie Eating Championship in 2019, polishing off his pie in 35.4 seconds.
Gerrard bit back against nemesis and five-times champ Martin Appleton-Clare, 41, a salesman from Wigan, at UPE27 - the 27th annual World Pie Eating Championships - when Appleton-Clare encountered swallow stall in the final few seconds of the contest.
The cooked dimensions of the official regulation pie are a diameter of 12cm and a depth of 3.5cm, and a pie wall angle from base to top of between zero and 15 degrees.
The tournament was axed from its usual December slot because of transport strikes.
Hungry contestants come from all over the North West to take part.
The championships have featured on national and international TV and also hit the headlines seven years ago when organisers became the first people to launch into space on a helium balloon.