Viral TikTok video shows how a B&Q worker got banned from every UK store after x-rated rant over tannoy system
The B&Q worker reacted to losing his job by going on an x-rated rant over the store's tannoy system.
Watch more of our videos on Shots!
and live on Freeview channel 276
Visit Shots! now
A TikTok video appearing to show a B&Q worker's last-ever customer announcement has gone viral online. The employee had just lost his job when he decided to go on an explosive x-rated rant that saw him banned from every store in the UK.
Adam Powis filmed his foul-mouthed tirade against his fellow colleagues and uploaded the clip on the social media platform on January 5. The moment, which has been viewed over three million times, has been branded as the 18-year-old "leaving in style".
The college student has claimed that he was sacked for vaping outside the designated smoking area and was angered that other staff, who he says do the same, were not punished. He admitted that he "acted irrationally" and has since had his TikTok account banned and the video removed.
As a consequence of the viral video, Adam received a letter directly from B&Q that was titled 'banning notice'. It notified him that as a result of his firing and explosive tannoy rant has been branded as a trespasser and is therefore banned from every store across the country.
The now disgraced ex-employee, who is from Weston-Super-Mare which is 20 miles outside of Bristol, had been working part-time at the discount retailer for six months.  Adam told a national publication that his heart "was racing" when he made the controversial customer announcement.
He said: "I don't really get embarrassed but my heart was racing. I was on my way out and I thought it would be funny so I acted a bit irrationally. I didn't really think about it.
"I made a mistake at work and then they took it further than they needed to so I was a bit annoyed. It wasn't anything serious. I didn't think I deserved it because people have done worse things and they've not been fired. I've seen other staff [vape outside the designated area] and that's why I was a bit baffled."
Adam continued: "I actually enjoyed the job. I was good at it and I was never late. I wouldn't even talk bad about the company but I felt I was treated differently. I understand the criticism, but a joke is a joke and you can either take offence to it or you don't. It was directed to staff in a sense but it wasn't malicious.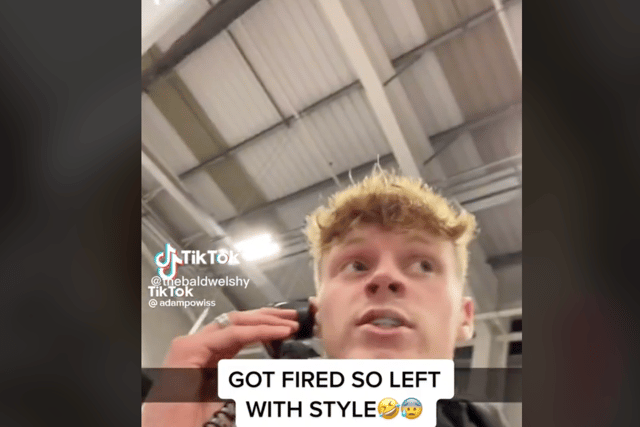 "I didn't hear anything from them afterwards so I thought I'd put it on TikTok for a joke. It's so unexpected that some people think it's fake, but the banning order proves it. I probably shouldn't have [made the announcement] but it happened. I do regret it a bit. Not because of what I said but more about future job opportunities.
"If a company sees it then they might think I'm that sort of person but I'm good at my job and [in] the moment I got a bit heated. I'm not too bothered about the ban, I don't shop there on a regular basis so in future I might just have to get someone to go in for me."