Yoga expert Carrie Froggett explains how to have a giving and sharing Christmas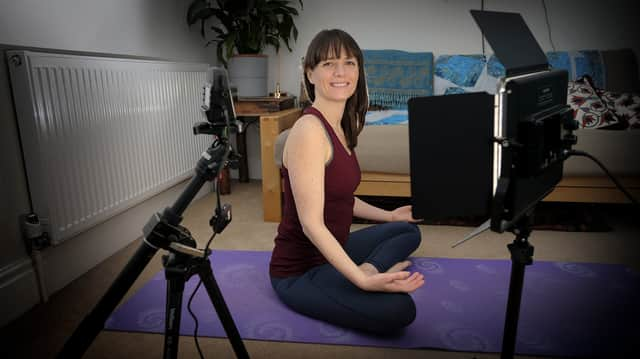 Here at The Frog Project we have decided to take a leaf out of the book of the Green Friday ethos, which is all about giving, sharing and experiencing rather than buying.
So rather than being stuck indoors on phones and laptops, competing for discounts and buying products we don't need, let's instead work towards a much more positive relationship with ourselves, our world and our loved ones at this special time of year.
With this in mind, here are a few tips from us on how to make your experience a little more relaxed, healthier and a lot greener.
Don't panic buyIt's so easy to fall into the trap of trigger happy 'buy now' fingers when you are bombarded with "only one left in stock, buy now!" and "sale ends in three minutes, buy now!" messaging.You have more time than you think, and indeed you really do have time to consider "do I actually need this?"
This is where yoga can come to your aid, take a few deep breaths, maybe even retreat from your laptop for five minutes of child's pose, and come back with a clearer mind and better able to decide calmly and confidently if you want to make your way to the checkout.
Shop SustainablyIt's very hard to resist the allure of big sales, but we still have Christmas shopping to do and want to share that wonderful gift giving and receiving experience with our loved ones. A great way to have your proverbial Christmas cake and eat it is to choose to shop sustainably.
Buy local, shop ethically, choose a good quality gift that will stand the test of time.
Gift an ExperienceChristmas presents don't always need to be in the form of physical gifts.Sometimes gifting an experience can be more personal and just as tangible. For a gift that lasts, give a precious experience to a friend or relative – it could even be one that you can share and enjoy with them. Here at The Frog Project, we believe time spent together – even though you may be miles apart - is the greatest gift of all.
So we are proud to launch our very own Green Friday Special '2-for-1' Offer of Three Months of Unlimited Live Online Yoga for you and a friend to enjoy together.
Because, let's face it, do you even know someone if you haven't wobbled in tree pose together or gave each other the giggles during meditation.
We wish you best of luck in navigating the season and we hope to see you – and a friend – on the mat soon.