PART ONE: Wigan Athletic: The 12th Man - 'There's a good chance we haven't hit rock bottom yet. What does rock bottom look like? I'd prefer not to speculate...'
Our panel of Latics experts are on their knees, praying for some good news to lift the doom and gloom in and around the DW Stadium...
Published 11th May 2023, 10:59 BST

- 10 min read
Well thank the Lord for that, this God awful season is over. We now know we were starting at a disadvantage, having a League One squad, despite being the 12th-highest paid in the Championship. This in turn led to lack of transfer activity, and the help the squad needed. The decision to sack Leam Richardson was fair enough, but he wasn't given the tools to compete at Championship level. Then we had the Kolo Toure shambles. Now we have Shaun Maloney in charge, and there was a positive vibe about the place, only for the owners to repeatedly take a view that wages can be paid whenever they feel like it. And to our cost, a three-point deduction all killed our chances of avoiding the drop. I can't fault the players for their efforts this season, or those who didn't play against Rotherham. In the end, Maloney was having to talk to much about off-field matters, while the silence from the owners and board was deafening. A summer of uncertainty lies ahead and, if we have not sorted this wage issue by August, if I was at the EFL, I wouldn't let WAFC start the season. Clearly, points deduction doesn't work with these owners. I don't see a massive queue of people wanting to buy us, so these lot need to up their game and sort out paying wages on time. Stay safe.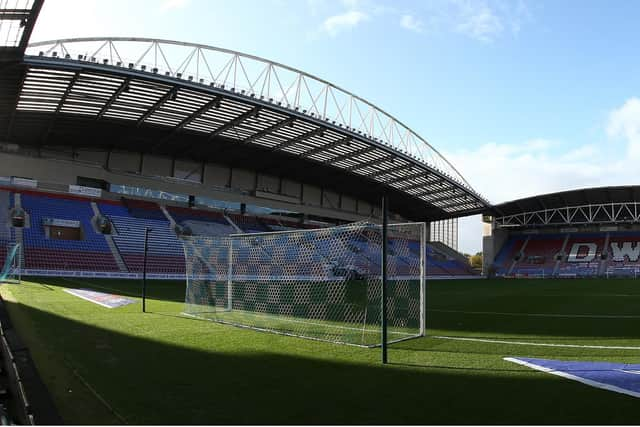 A single week can produce a year's worth of mayhem in the world of Wigan Athletic, and this past seven days provided no better example of that phenomenon. The club failed to pay wages on time for the fifth time in 12 months. It was unacceptable when it first happened last June, and it is infuriating the problem is still plaguing our club and affecting the well-being of its employees. Our chairman recently told the fanbase this issue would never rear its ugly head again. Yet, here we are, facing even greater uncertainty as the financial future of Latics lies in jeopardy. As a fanbase, we are more distraught than ever. Our trust in the board and our ownership is at an all-time low. One week ago, many of us were looking forward to a 'rebuild' in League One. Now, there's an increasing possibility there may not be a foundation to build upon by the start of next season. There is obviously a great deal of turmoil related to club funding going on behind the scenes. We don't know where the heart of the problem lies, and if a long-term solution will ever present itself. More important than anything else, any club employee who hasn't been paid for the month of May must be paid immediately. There's a good chance we haven't hit rock bottom yet. What does rock bottom look like? I'd prefer not to speculate. The next positive update to come from our situation will likely do little to repair the great amount of damage that has already been done. I'm generally an optimistic person. Even through the many letdowns of this past season, I wanted to give the benefit of the doubt to those with the money and the power in hope they would stabilise the club and propel us in the right direction beyond this summer. I find myself very dejected right now. The question still remains, 'if not Phoenix 21, then who?' Mr Al-Jasmi could still have Latics' best interests at heart, and could be undergoing a period of financial hardships that is limiting his ability to best support the club. The alternative is he is looking for an immediate way out and could greatly debilitate the club as he makes his exit. Are we a more attractive investment now than we were two-and-a-half years ago? Would we attract more legitimate suitors now we are further removed from the pandemic? There are no guarantees of a positive outcome regardless of the next path we traverse. Amidst all of the negative happenings at Latics, there have still been some positive developments at the DW. Peter Sutton, a terminally ill Latics fan, received a heartfelt stadium-wide applause during the 83rd minute of the Rotherham match and, by all accounts, experienced a great day out with his family. This Sunday will also provide a tremendous opportunity to celebrate the 10th anniversary of our 2013 FA Cup triumph, as many of those trophy-lifting heroes will face off against a star-studded team of Latics Legends in the biggest Joseph's Goal charity match yet. Let's hope for plenty of goals, many reasons to smile and cheer, and a massive amount of money raised for a cause that is very dear to our club and the Wigan community. We needed a whole lot of 'Belief' to find success at Wembley on 11 May, 2013. We may need just as much 'Belief' to keep this club alive over the coming months. Keep the faith!
Wigan Athletic are in an absolute mess at the moment, and Monday's bizarre matchday squad was a clear indicator of that. But amid this turmoil, that group of players still had that real Latics grit and determination and were thoroughly deserving of a 0-0 draw with a Rotherham side which was near enough to their strongest starting 11. Credit once again must go to the Academy staff, as many of the young players who took the field looked comfortable. Abdi Sharif in particular looked a great prospect. The more senior players in the squad, who turned up having not been paid, showed just how big their hearts are too. None less so than James McClean, and it was really nice to see him acknowledged with the captain's armband. If that's the last we see of him in a Latics shirt, then it was nice to have a big crowd on to thank him for his excellent service. Players like him, with that much passion and desire, are a dying breed, and he does it all against the backdrop of disgraceful abuse he receives. What a legend, and I'm glad that we have been able to provide him with a good home in English football. Cheers, r Macca! What a welcome surprise it'd be if that man stays. Will Keane showed how much he cares about the club as well. Although he may not have been present on the pitch, he was in the kids' community zone prior to kick-off and, after the final whistle, he applauded our efforts, as supporters as we applauded his. Again, should Keano choose to leave Latics in pursuit of the Championship career he deserves, then good luck to him. I've never known such footballing elegance from a player with the typical 'target man' build. Five times this season now, the players and staff have been paid late. It's absolutely ludicrous, and the language being used in the mainstream news coverage surrounding the future of the football uncomfortably echoes that of the administration of summer 2020. In an interview with BBC Radio Manchester's Mike Minay (well worth a listen, and easy to find online), Shaun Maloney spoke about fighting while the club still had a 'beating heart.' In my opinion as a supporter, a club legend such as Maloney would only use that sort of terminology if he felt as though the prospect of a grim situation was very, very real. As with three years ago, Colin Murray has once again covered Latics' plight with real quality and genuine care (again, I'd thoroughly recommend any Latics fan to go and find the section about Wigan from his Tuesday night show on Five Live.) One final message, I'll use this platform to voice is that as a fanbase we should all stick together. Whether or not you wanted to go on the pitch in protest at the end of Monday's match, if you have endured this season, you are a proper Latics fan. Now is not the time to have a go at local journalism (sadly this has been happening on Twitter), which is providing us vital information on the welfare of this football club. Yes, sometimes publications such as Wigan Today may not be able to share all the details we would like to know as a fanbase, but it's not due to their own fault. These things take time, and as fans we have to remain patient. Furthermore, I don't know who needs to hear this, but stop trusting random accounts on Twitter who claim to be '24/7 football experts', who have paid for their verification tick. Although sometimes in-depth information may be bare, trust the likes of Paul Kendrick, trust the likes of Mike Minay, and trust the likes of Colin Murray. Keep it in mind your mate whose friend's dog who goes on doggy walks with the ex-kitman's husky may not be the most reliable source of information. If it comes to it, this fanbase will be able to save this football club. Through togetherness. The biggest community group we all belong to is Wigan Athletic. It doesn't matter whether or not you are a member of the Official Supporters' Club, whether you get your football news from BBC, Sky or Wigan Today, whether you sit in the East or the West Stand , whether you're from Wigan or support Latics for another reason, or even whether you drink at the Springfield Hotel or Brickmakers Arms pre-match. The faction you belong to in life is that of Wigan Athletic Football Club itself so let's all band together as we may need such unity.
What a difference a year makes. Last May, Latics were celebrating promotion after winning League One. Fast forward 12 months, and Latics have been relegated after only one season in the Championship! And yet it began well enough. Up until the beginning of October, Latics reached the top 10 in the Championship, and I dared to believe they would be able to compete and hold their own. However, it was then that the wheels came off, with a poor series of results, Latics slipped down the table like a mudslide to the bottom and into a position from where they never recovered and would ultimately spend the rest of this miserable season. So where and why did it go so badly wrong after a promising start? Initially the players were competitive and playing at their optimum level, but they were unable to sustain this. The lack of quality and experience playing at a higher level was becoming apparent, as a number of players had been 'found out'. A lack of investment to strengthen the squad during the summer, and no Plan B, led to the demise. It was not for the want of trying, most of the squad were not up to task. As the decline followed, panic began to set within the boardroom. The rest is history and water under the bridge with so many 'what if's'? Personally, I would have kept Liam Richardson. He worked miracles during the two full seasons he had, and deserved a third season, no matter what. After two further replacements, Latics still got relegated anyway! The club would still have been no worse off. However, there is no loyalty or sentiment in football today, only results. So what now? As the Latics faithful look to next season to life in League One, it is time to take stock, pause and reflect in which direction we intend to go, not just next season, but in future seasons. We need to take a long hard look at what type of club Latics are really capable of being. During their 44-year tenure in the Football League, the majority of those seasons have been spent in the third tier, what used to be called Division Three. Promotions followed as Latics reached the heights of the Premiership and an FA Cup win. These were only possible due the benevolence of Dave Whelan. It was his financial backing that made this possible. Without such a benefactor, Latics would have been playing on a quagmire of a pitch at a dilapidated Springfield Park, in League Two, in front of crowds of about 2,000 people. Dave Whelan was a marmite-type figure, who did a lot for Wigan Athletic and the town. He cared about the club and the fans, and had a long-term vision for the club that became a reality. Once he stepped down and new owners took over, it was then that Latics fortunes took a turn for the worse. Some stability was established when Phoenix 21 took over ownership. The Latics faithful will always owe an everlasting debt gratitude to them for saving the club in its hour of need. But that was two years ago, we now have to look to the future. What future plans do Mr Al-Jasmi and Talal Al Hammad have? In which direction do they intend the club to go? For those fans who are still hankering for a return to the Premier League, forget it! For this to happen, it will need a huge financial outlay on a scale Whelan brought. From what I have seen so far, the current ownership shows no sign of putting their hands in their pockets, which is a safe bet as to what their intentions are for next season. During the Premiership era, I always thought Latics were punching above their weight and that this could not be sustained, unless Whelan continued to bankroll the club. The good times were great, while they lasted. After the Premiership years Latics flirted between the Championship and League One. Although there is no harm in being ambitious and aiming high, the sobering and painful reality is Wigan Athletic (in reality) are a third-tier football club. The so-called supporters who basked in the glory of the Premierships days, went on to drop off like lizards' tails. In spite of a loyal fanbase, the attendances will at best only ever half-fill the DW Stadium, which is too big for the club. The only time the DW will hold anything like a full house is when Wigan Warriors play St Helens in the Good Friday derby! Maybe a few seasons in League One will be a blessing in disguise? After the recent turmoil, some much-needed stability won't do Latics any harm. During this period, Latics can consolidate with their more experienced players and, through the youth academy, Shaun Maloney can rebuild the squad and a new team? One that could restore Latics fortunes and bring success back? Though this will take time, patience is needed. There will be various comings and goings over the summer. For now, we have to take relegation on the chin and prepare for the new season. In an odd sort of way, I feel a sense of excitement and am looking forward as to what will happen between now and the 2023-2024 season. Come on you Latics!