Wheelchair Rugby League World Cup: Adam Rigby hopes for a growth in participation as England prepare for final with France
England's Adam Rigby says wheelchair rugby league is an "amazing" sport to be part of.
Published 16th Nov 2022, 12:00 GMT

- 2 min read
Tom Coyd's side face France in the World Cup final at Manchester Central on Friday evening (K.O. 7.30pm), after comfortable overcoming Wales 125-22.
Rigby, who plays his club rugby for Wigan Warriors, hopes momentum will continue to grow after the tournament to provide others with the opportunity to play the sport.
He said: "I've been playing since 2008. I was involved in the inaugural World Cup in Australia, and I've been doing it ever since.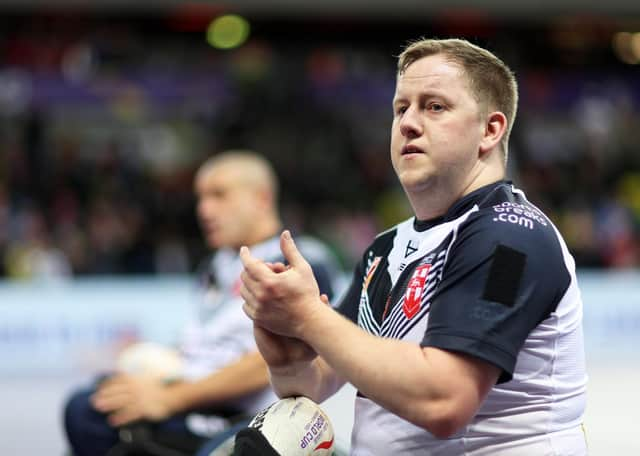 "I'm probably one of the longest standing ones in the England squad.
"I started after getting an invite for an early session at Wigan from someone at school because I was always talking about rugby.
"Since then, I've never really looked back.
"I was attracted to it because of the way it follows the rules of the running game and the way you can play it alongside able bodied friends.
"My dad also comes down to Wigan, so playing alongside him is amazing.
"I love everything about rugby, but it's not a very well-funded sport, especially the wheelchair game, which gets little to no funding, so all the players work alongside training.
"I work for North West Ambulance Service in Trafford region, doing a lot of event planning and future planning.
"Rugby league is a breakaway from that and a release.
"It's a real mental health and well-being relief.
"With the home World Cup and the amount of promotion we're getting, with live games on the BBC, it's a million miles away from where we were.
"When we won the tournament in 2008, we came back to a couple of guys from the local newspapers with their phones, and that was as much media attention we got.
"Hopefully we can keep this momentum going and increase participation so we'll have a brand-new team for the next World Cup."
The Wheelchair World Cup final is the first of three games across the weekend, with both the men's and the women's competitions concluding in a double-header at Manchester United's Old Trafford on Saturday afternoon.