Wigan Athletic striker 'would be open to loan extension'
Wigan Athletic striker Stephen Humphrys admits he would be 'all ears' to the prospect of remaining with Hearts beyond the end of his season-long loan spell.
Published 1st Feb 2023, 19:26 BST

- 2 min read
Updated 1st Feb 2023, 19:27 BST
The 25-year-old will see out the campaign in Edinburgh after Latics declined the opportunity to cut short his loan spell.
And that was more than all right with Humphrys, who has more than embraced the lifestyle north of the border - and is in no rush to return to his parent club.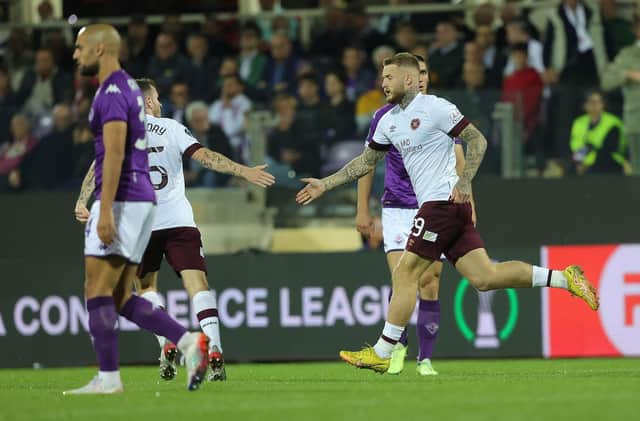 "I made it very clear I want to stay here," said the Oldham-born forward. "Wigan is a great club but I made the decision to come here at the start of the season, so I want to honour that and do my best for this club.
"I spoke to the manager here. He asked me if I want to stay here and I said: 'Yeah, I really love it here. I love the fans and my team-mates so why not stay?'
"I've literally moved everything up here to be here. My girlfriend is up here, my dog is up here. I don't see the point in getting halfway through and then throwing all that away."
Hearts boss Robbie Neilsen revealed last month he would be very open to keeping Humphrys on a permanent basis - while acknowledging the situation was largely out of his hands, and the final decision would rest with Latics.
For Humphrys - who joined Latics from Rochdale in the summer of 2021 - it's a case of waiting to see where the land lies.
"We will have to see what happens in the summer I suppose," said Humphrys, who has scored three times for Hearts in 16 appearances, after being sidelined for the whole of November and December through injury.
"I have got another 18 months left on my Wigan contract from now, so it's not really in my hands.
"I don't know what Wigan's stance would be, I don't really know what Hearts' stance would be.
"I read an interview with the gaffer where he said it would be something he would revisit in the summer. If that happens, I'm all ears."
After slipping down the pecking order at Wigan, Humphrys has been given a new lease of life at Hearts - even playing, and scoring, in European competition."It's been so valuable for me," he added in the Edinburgh Evening News. "It's been good to come to such a positive dressing room where literally everyone gets on and everyone is friends.
"You can have a day off and sometimes, at other clubs, you think: 'Oh, I've got to go into training tomorrow.' Here, I actually look forward to seeing the lads.
"Just training with them and playing matches has been a pleasure. I've really enjoyed that, then there have been the European experiences.
"Games are on Sky Sports, like Sunday, so the whole thing has been really good for me.
"I want to score more goals and hopefully I can add some more to my tally."